Meghan McCain Admits to Andy Cohen That She and Former 'View' Co-Host Abby Huntsman Got into a Fight
On Wednesday evening, Meghan McCain sat down with Andy Cohen on "Watch What Happens Live," and discussed her relationship with her former co-host on "The View" Abby Huntsman.
The conservative television personality told Andy that she and Abby Huntsman became friends over a decade ago. Their parents became friends through politics years ago, and the pair even worked together at Fox.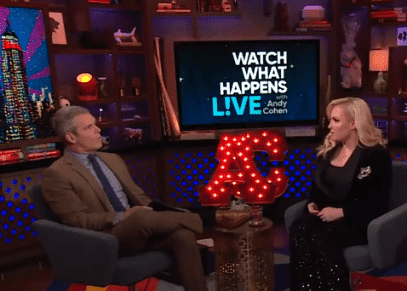 According to Meghan, Abby partially decided to join "The View" because of their friendship, which remained intact despite rumors of behind-the-scenes drama on the talk show, as Meghan said:
"We are still very good friends. We are very close. I just talked to her yesterday morning. She's campaigning with her dad."
When it came to Abby's decision to leave "The View," Meghan added that it came from Abby's desire to help her father while he runs for governor. That's not to say that Meghan and Abby didn't have a falling out.
Any relationship has its ups and downs, and Meghan admitted that she and Abby did have a "very small friend fight." However, what Meghan found "bizarre," is how their fight became "weaponized" after the story got leaked, as she added:
"It was sort of bizarre for me, we got in one fight the two years that we worked together on the show, to be put under dissection in the media, to be weaponized."
Meghan didn't want Abby to leave "The View," she loved having a friend on hand and found Abby to be a great co-host. But she also admits that the way their friendship got "used" took a significant toll on her.
Abby alluded to the same point during her last day on "The View" earlier in January. She said that her last week on "The View" had been no exception as "people go nuts with rumors on this show." 
Abby also wanted to make it as clear as possible, that her exit from the show after two seasons came due to personal reasons.
Her job as a co-host on "The View" was a "dream come true," but her first priority will always be her family.
The importance of her family also had Abby Huntsman away from the show before her resignation, as she went on maternity leave for three months after the birth of her twins.
As "The View" kicked off its 23rd season, Abby's twins, Ruby and William, became the star attraction of the show's season premiere, and the new mom felt grateful to be back at work, but also for the ability to see her feet again.