Hoda Kotb from 'Today' Says She Didn't Know She Could Love Joel Schiffman More after His Beachside Proposal
Hoda Kotb recalled how her love for her fiancé Joel Schiffman changed her outlook on love after he shocked her with an unexpected marriage proposal on a beach.
During an episode of the Ellen DeGeneres Show, newly engaged Hoda Kotb couldn't hide her glow when she recalled how her fiancé Joel Schiffman proposed to her on a beach in November 2019.
Leading up to the proposal Kotb said she and Schiffman were enjoying tequila and churros and a huge bowl of chocolate sauce before Schiffman broke into a speech about love.
.@HodaKotb is a precious gem of a human. pic.twitter.com/vPIEuuPbii

— Ellen DeGeneres (@TheEllenShow) January 29, 2020
Kotb and Schiffman have been together for six years and have two daughters they adopted together, Haley and Hope. 
She said after having two children they had been talking about marriage but were planning on tying the knot much later on.
Kotb said when Schiffman started his proposal she didn't think much of it because she was used to him sharing speeches about love, but as he went on, she realized that he was leading up to something big, she recalled:
"He literally kicked the seat out from under him and dropped down on one knee. I didn't know I could be shocked, and I didn't know I could love him more … but I did … in that moment."
Kotb admitted that everything in her life has come together at the perfect time, something that if she had told her younger self, she wouldn't have believed how well her life has turned out.
She told PEOPLE, she wouldn't have believed as a little girl that all the good things were coming later in life; that she would fall in love at 49-years-old and have children at 55-years-old.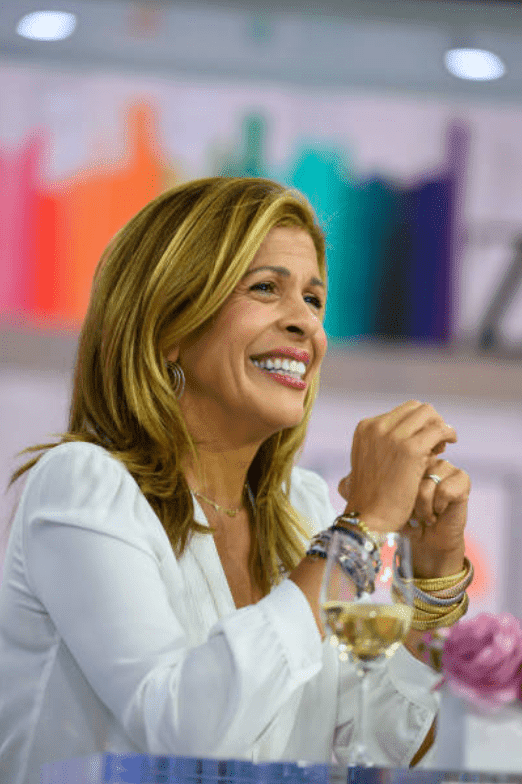 Kotb
 gushed to DeGeneres saying motherhood has given her a sense of clarity. Revealing if she wants to have more children, she said she likes to follows signs and had gone through the process of looking for  a sign, she 
explained:
"[scribbling in my journal] 'I'm wondering if we should.' I wrote, 'Do we have enough love?' I wrote, 'Yes.' And I said, 'Do we have time?' And I wrote, 'Yes.' And, 'Would our family be more enhanced?' I wrote, 'Yes.'"
Craziest thing happened at @TheEllenShow . I was playing @aliciakeys song #Underdog on repeat!! Full blast!! And guess who walked by my dressing room ? Freakin' Alicia ! I yelled out her name and this happened! pic.twitter.com/XyGHxMzZLA

— Hoda Kotb (@hodakotb) January 30, 2020
As for her wedding, Kotb told DeGeneres that she wants to have it in the fall but doesn't want a huge affair. She is hoping that they will have their wedding on the beach.
In a previous interview, she told PEOPLE, they could possibly have the wedding in Mexico where she got engaged. But she is certain that she doesn't want any bridesmaids, and wants people to wear whatever they choose to wear on the day.