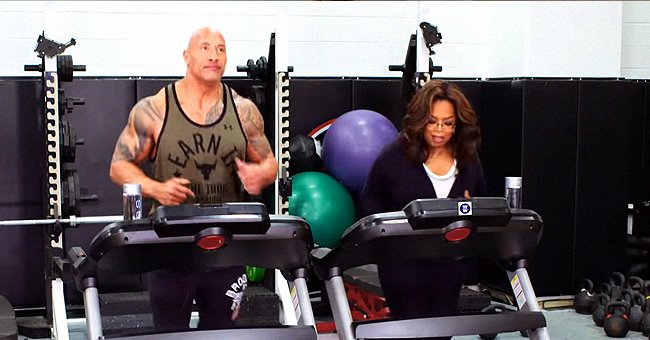 YouTube/WW formerly Weight Watchers
Dwayne Johnson and Oprah Winfrey Joke about Being Running Mates While on Treadmills in WW Super Bowl Ad
Oprah Winfrey and Dwayne Johnson teamed up to inspire with their funny new commercial that debuted before the big game at Sunday's Super Bowl.
In the new commercial for Weight Watchers, Dwayne Johnson and Oprah stepped up their performance on treadmills as they humorously agreed to be "running mates."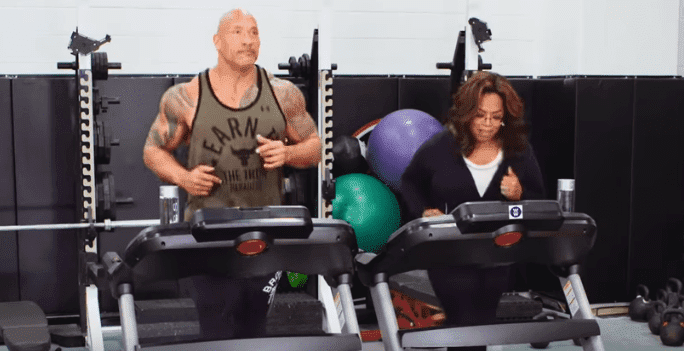 Dwayne Johnson and Oprah running the treadmill in their new 2020 Weight Watchers commercial. | Source: YouTube/WW formerly Weight Watchers.
"Hey Oprah," Dwayne said as he and Oprah jogged along on their treadmills. "We're running; we're mates. You thinking what I'm thinking?" Oprah gave a sly smile as she replied, "I'm in, you in?"
The joke alluded to overwhelming support both celebrities received back in 2018 to place their 2020 presidential bids. However, the pair quickly shut down talks of joining the presidential race this year.
The timing of the new commercial falls in line with Oprah's 2020 Vision Tour with WW (Weight Watchers), which kicked off recently.
The media mogul aims to make 2020 a year of "transformation and triumph," and taking the lead; she hopes that she can motivate others to focus on "what makes us well" through her tour.
The pair's joint commercial comes a week after Dwayne joined Oprah for an interview as a part of her 2020 Vision Tour in Atlanta.
Dwayne spoke candidly about the loss of his father, Rocky Johnson, who passed away on January 15, and the duo shared a sweet moment in his honor.
A bottle of Dwayne's tequila brand, Teramana, made it onstage, and the pair raised a glass to the late wrestling legend before the actor surprised Oprah with a special gift.
Since the celebrity's brand of tequila is not on the shelves yet, Dwayne gave the "first bottle ever" to Oprah, a self-proclaimed lover of the distilled beverage.
This year includes another first for Dwayne, as NBC reportedly gave the go-ahead for eleven episodes of "Young Rock," a comedy based on the formative years of his life.
No stranger to television or working with NBC, Dwayne hosted and served as executive producer on the series "The Titan Games," which premiered last year.
Keeping busy on television and film, Dwayne also recently starred in the HBO comedy "Ballers." His much-anticipated movie "Jumanji: The Next Level" hit the circuit in December, while his upcoming films include "Black Adam" and "Jungle Cruise," among others.
Oprah Winfrey's 2020 Vision Tour includes the appearance of several celebrities, including Jennifer Lopez, Michelle Obama, Lady Gaga, and her best friend Gayle King, as she visits major cities around the US.
The shows are set for every Saturday from January until its last stop at the beginning of March in Denver, Colorado, for a total of nine appearances.
Please fill in your e-mail so we can share with you our top stories!