Kobe Bryant Honored at 2020 Super Bowl as Teams Stood on the 24-Yard Line for a Moment of Silence
The NFL paid an emotional and symbolic tribute to the basketball legend Kobe Bryant before the big game kicked off at the Super Bowl on Sunday - exactly a week after the tragic helicopter crash.
Since a helicopter crashed in Calabasas, Los Angeles, with nine people on board, including Kobe Bryant and his 13-year-old daughter Gianna, last Sunday morning, the world had been in shock. 
To honor the contribution Kobe made to sport, and his fellow man through the way he helped others, the Kansas City Chiefs and the San Francisco 49ers made an epic stand. 
Before the start of their game, both teams stood on the 24-yard line for a moment of silence as they paid their respect to the late basketball legend, who wore the number 24 during his career. 
The NBA also found symbolic ways to honor one of the greatest basketball players of all time. Players temporarily wore some of Kobe's numbers, while teams also allowed the 24-second shot clock to run out at the start of their games.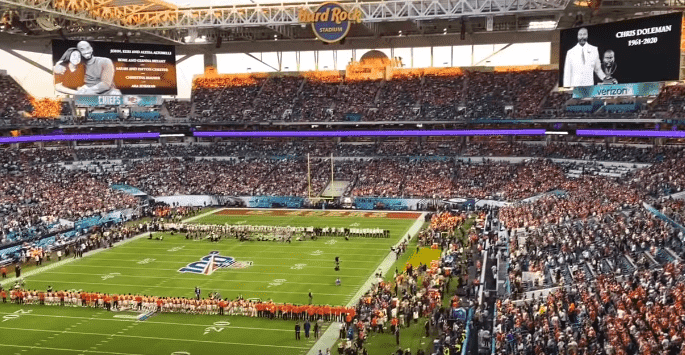 When NFL commissioner Roger Goodell announced the honoring of Kobe Bryant during the Super Bowl last week, he called the tragic crash "hard to process."
Even though Roger never had the opportunity to meet Kobe, the impact he had on the lives of others both on and off the court, had not passed him by, as he said:
"He obviously brought a lot to our world and I think all of us not only feel for the tragic events to his family but as well as everyone else who was a passenger."
Roger also noted that he felt "proud" for the way the league and the players responded after news of the helicopter crash spread. 
One of the players made a very touching gesture during Super Bowl weekend. Kobe's previous Los Angeles Lakers teammate and friend, Shaquille O'Neal, announced that his Funhouse Super Bowl Party would go ahead as planned.
In light of the tragic events, Shaq considered canceling the party, but then he decided to do something endearing after contemplating what Kobe would want him to do. 
The NBA star shared that the proceeds from the party would be donated to the Kobe and Vanessa Bryant Foundation and the families of the other seven victims of the crash. 
Since their days together at the Lakers, Shaquille O'Neal and Kobe remained friends. But as Shaq had to come to terms with his Kobe's passing, he shared regret knowing they will never speak again.
During an episode of his podcast show, "The Big Podcast with Shaq," he noted regretting not having "communicated more" with Kobe before he died, wishing he could have had one more conversation with him.