Tamera Mowry from 'Sister, Sister' Reveals Meaning behind Her First Name
Tamera Mowry proudly revealed the tree that inspired her name and the qualities that it represents. Some of these qualities are very evident in the television star.  
Tamera Mowry has every reason to be proud of her name. According to her recent post, it takes its roots from a tree and means many beautiful things.
On her Instagram story, Tamera shared an image featuring a description of her name, a derivative of the Hebrew palm tree, Tamar. It also indicates that the name appears in the Bible as the mother of Judah's twin sons, and as the daughter and granddaughter of King David.
But more importantly, the name Tamar represents beautiful qualities. These include talented, humanitarian, generous, compassionate, energetic, fearless, intelligent, optimistic, and honorable. That being said, we can't help but highlight some of these qualities that Tamera evidently possesses.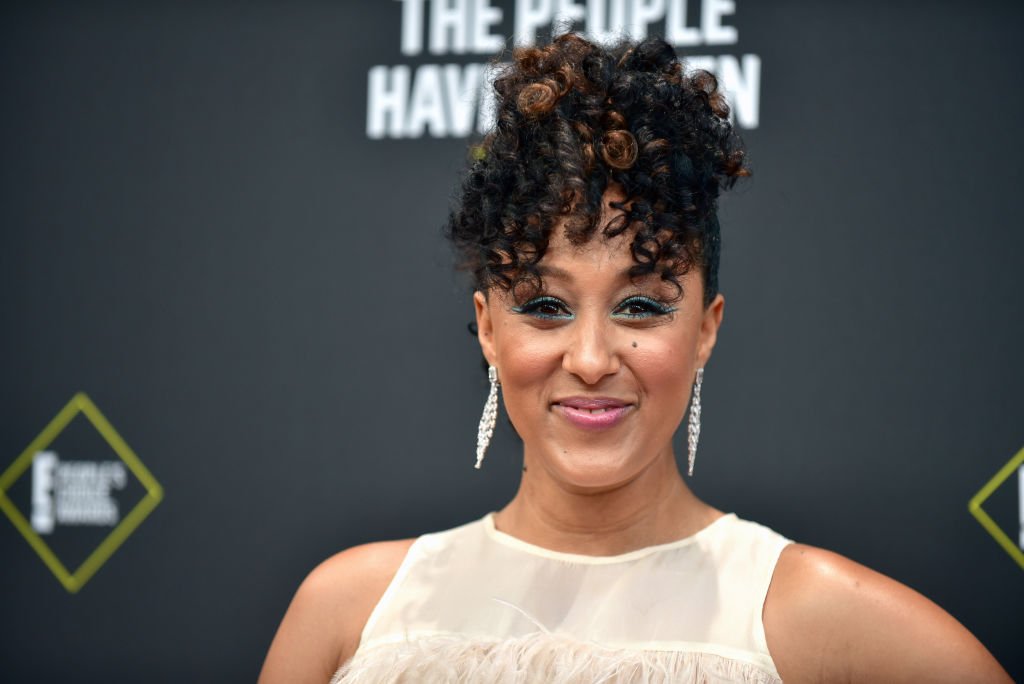 TALENTED AND INTELLIGENT
As an actress, television host, and social media star, there is no doubt Tamera is talented. Since making waves in her teens as the star of "Sister, Sister," with her twin, Tia Mowry she blossomed to an even remarkable actress and now television host of "The Real."
On her show, Tamera is insightful, providing her opinions on issues she and her co-hosts tackle on a daily basis. Her intelligence shines through when she speaks her mind.
As for Tamera's twin sister, Tia, upon research, we discovered that her name has Spanish roots and means "aunt."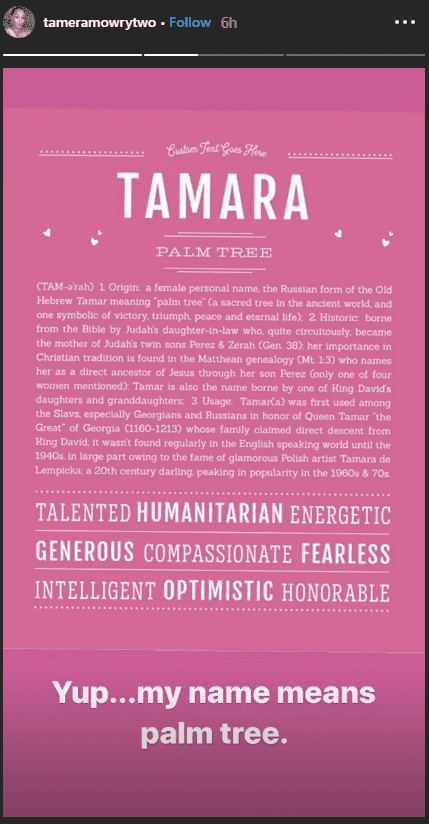 COMPASSIONATE
Tamera is also compassionate when she expresses her emotions on-air and displays empathy towards others. We saw this during the death of her niece, Alaina Housley and even with the death of Kobe Bryant.
Tamera shed tears on her show as she mourned for Kobe whom she met on the set of "Sister, Sister" when they were 19. As a mother, she likewise felt heartbreak for Kobe's wife, Vanessa Bryant who lost her daughter along with Kobe.
A LOVING TWIN SISTER
It's not difficult to see how a mere meaning of a name could actually reflect the person who owns it. In the case of Tamera, her name exemplifies who she is.
As for Tamera's twin sister, Tia, upon research, we discovered that her name has Spanish roots and means "aunt." It is also Greek for "princess."   
Tamera and Tia are very close. The siblings recently celebrated their bond when they posted their selfies on Instagram. Tia's version was captioned, "Caught up with this one! Womb mate," while Tamera's read, "My sissy. My heart!"
Tamera and Tia grew up in the limelight and have shared their joys and successes together. Each with their own families and with different career paths, they still manage to stay connected.
Often times, the sisters appear on each other's social media feeds and make it a point for their children to be close. Tia also says she would often drop by in her sister's show just so they could see each other since Tamera's schedule is busier than hers. 
Tamera and Tia are what #sistergoals are all about and we're glad they are celebrities who shine the light on that important aspect in their lives. Many can learn from the love these two share.