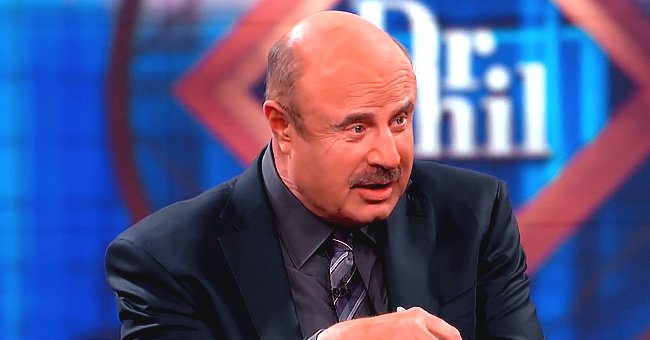 Youtube.com/Dr. Phil
Dr Phil Sets Record Straight on Much Talked about Home Which Recently Sold for $5.75 Million on 'The Talk'

Dr. Phil made a few things clear when he sat down on "The Talk" to discuss a recently sold house that was reported to have a gun display. Even pictures can lie.
On Wednesday, Dr. Phil McGraw joined the women of "The Talk" and broke open the case of a seemingly bizarre house the public thought he put on sale last month.
While McGraw's trust company owned the house, a lot of false assumptions were made after people got wind of the listing. McGraw set the record straight in the clip found below.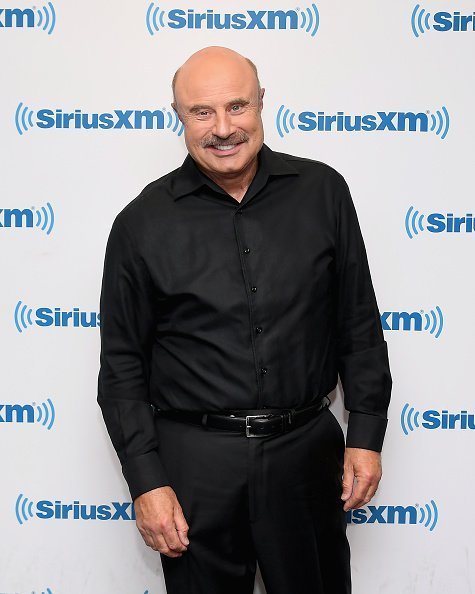 Dr. Phil McGraw at SiriusXM Studios on April 24, 2019 in New York City | Photo: Getty Images
It's not even his home
During the interview, photos of the house in question were put up on a large screen behind hosts Sheryl Underwood, Carrie Ann Inaba, Sharon Osbourne, Eve, a guest host, and McGraw.
In the clip, McGraw responds to something Underwood has said. He puts his hand up and leans across slightly. "Number one, it is not my house. I've never spent a night in that house," he said.
McGraw, 69, then went on to explain that the decor that looks like a gun display is, in fact, an anti-gun display. The guns were melted gun and "covered up in black tar wax," McGraw noted.
Getting the details right
The talk show host also clarified that there were no deer antlers. Instead, the balcony design was inspired by Tim Burton and is reminiscent of "Harry Potter" tree roots.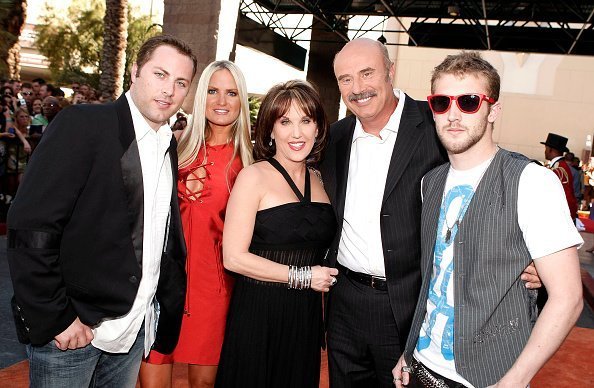 Jay McGraw, Erica Dahm, Robin McGraw, Dr. Phil, and Jordan McGraw at the MGM Grand Garden Arena on May 18, 2008 in Las Vegas, Nevada | Photo: Getty Images
Furthermore, McGraw's son Jordan is the owner of the house, which, thanks to the free publicity, sold within 10 hours. The "Dr. Phil" host saw that as a huge bonus despite all the false reports.
The $5.75 million property that hit the market is located in Beverly Hills and includes five bedrooms, six bathrooms, a recording studio, a spa room, a pool, and a private balcony.
The initial report
Last month, the Los Angeles Times' article that initially shared the story of the house prompted many to dub Trump an avid gun user as people got carried away with the photos. The magazine did say he didn't live in it.
Meanwhile, on his show, McGraw is busy dealing with drama in other families' lives. Last October, for instance, he sat down with Lindsie Chrisley of "Chrisley Knows Best."
Dr. Phil interviews Lindsie
At the time, the 30-year-old estranged daughter of Todd Chrisley spoke with McGraw about how Todd accused her of having an affair with a tax official involved in investigations against him.
McGraw asked some hard-hitting questions as the two went into Todd's alleged threat about some sex tapes Lindsie's brother Chase had of her. It looks like McGraw gets down to the bottom of everything.
Please fill in your e-mail so we can share with you our top stories!