Jane Fonda from 'Grace & Frankie' Stunned in Recycled Red Gown at 2020 Oscars after Vow to Stop Shopping
Jane Fonda stuck to her no shopping promise and dug into her closet for a timeless red gown as she stepped out in full gray-haired glory on Sunday night. She's definitely not slowing down soon. 
For the 2020 Academy Awards on Sunday, Jane Fonda, 82, stepped out in a gorgeous red dress from Elie Saab's fall/winter Haute Couture Collection. 
It came out in 2013. You might recall that Fonda wore the dress in 2014 to the 67th International Cannes Film Festival. It's not often — if ever — that celebrities do this. The pics are found below.
Fonda's pledge to recycle
Last year, Fonda took up the cause for climate change action by protesting. She even got arrested four times. At the U.S. Capitol, Fonda vowed she'd never purchase another piece of clothing. 
So far, Fonda seems to be sticking to her word. When she stepped up to present the award for Best Picture on Sunday, she displayed the red piece in its full glory.
Her Oscars 2020 selection
The red down features a nude illusion around the top area, a nipped waist, and closes around the knees before opening out in a flowy design. Glitter touches the waist, knees, and arms.
This time, Fonda carried a red cape-like coat as an accessory — the same one she wore to the Capitol protest. She further accessorized with Pomellato hoop earrings, a bracelet, and a ring.
Fonda took her bold look a step further by wearing her gray hair out in a pixie cut. Typically, the actress dons a curled blonde bob. Loyal fans would have seen the preview on her Instagram hours earlier. 
Rewearing inside of a week
Fonda re-wore another outfit last November when she stepped out in a glittery black suit twice in one week. She first showed the suit at the Glamour Women of the Years Awards on Monday.
Jane Fonda wears same suit twice in one week after vowing to stop shopping https://t.co/N5uzxyDGTk pic.twitter.com/kto1Gi3ji4

— Page Six (@PageSix) November 15, 2019
Then, on Thursday, she attended the GCAAP Empower party in Atlanta, Georgia with the chic piece. Like last night, Fonda looked amazing in both instances. 
How Fonda keeps up her looks
Fonda's focus isn't just on the external, though. The "Barbarella" actress is also taking care of her health if her good looks are anything to go by. Luckily Fonda revealed some beauty secrets last year.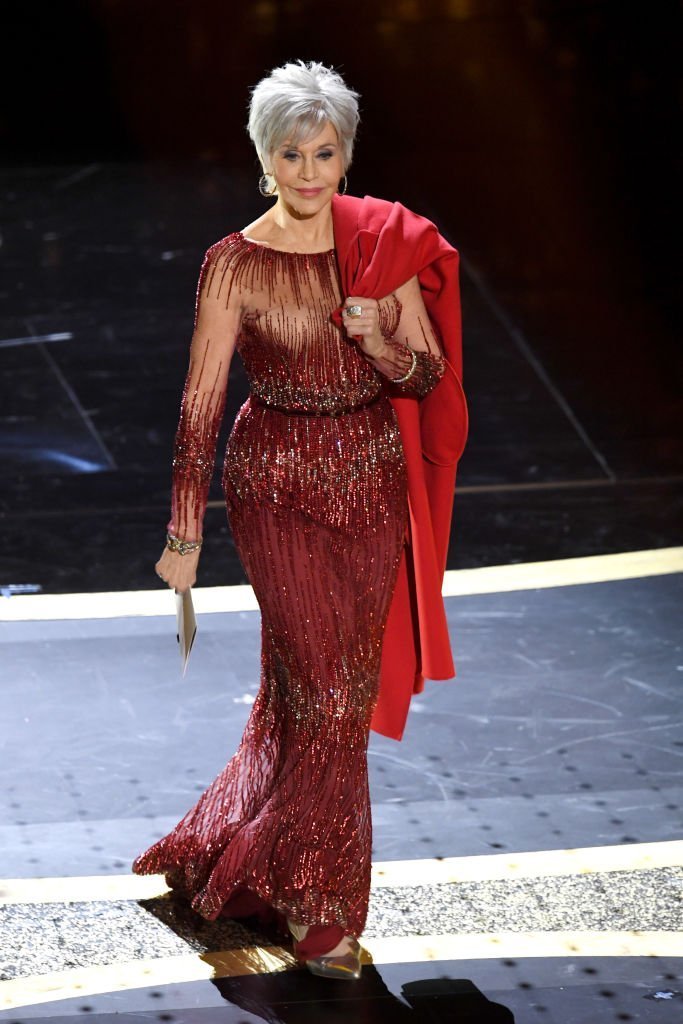 She said "Maintaining a healthy weight, strong heart and bones through regular physical exercise is a major ingredient for successful aging." We believe you, Jane.