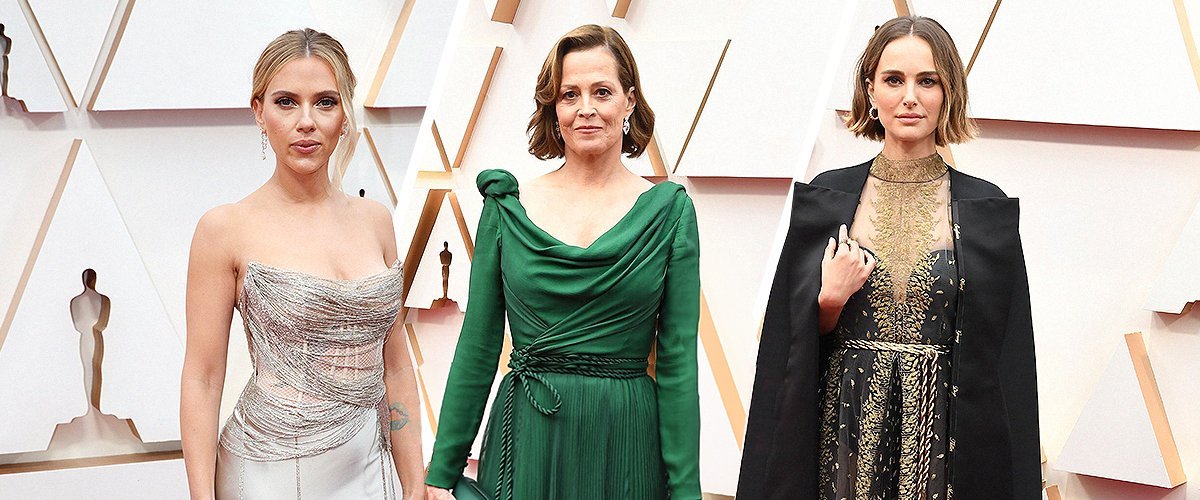 Getty Images
Stylist Breaks down Sigourney Weaver's Dress and Other Oscars 2020 Best Looks

Although the Oscars ceremony is supposed to commemorate the best films and performances of the past year, people also focus a lot on the celebrities' outfits.
The event held at the Dolby Theatre in Hollywood, Los Angeles on February 9 was no different, and we got our stylist Elena Milovidova, who previously analyzed Meghan Markle's outfits during one of her African tours, to exclusively break down some of the best looks of one of the biggest nights in the entertainment industry.
Elizabeth Banks put on the same dress she wore for the 2004 ceremony.
STYLIST ELENA MILOVIDOVA ON SOME OF THE OSCARS 2020 OUTFITS
According to Elena, the most prevalent colors of the event were black and white in all shades. The stylist remarked that people opted for a powdery and monochrome makeup.
Considering the fact that celebrities also chose smooth hairstyles, Elena labeled this year's Oscars as "very calm and minimalistic" in terms of fashion. According to her, the best-dressed actresses were: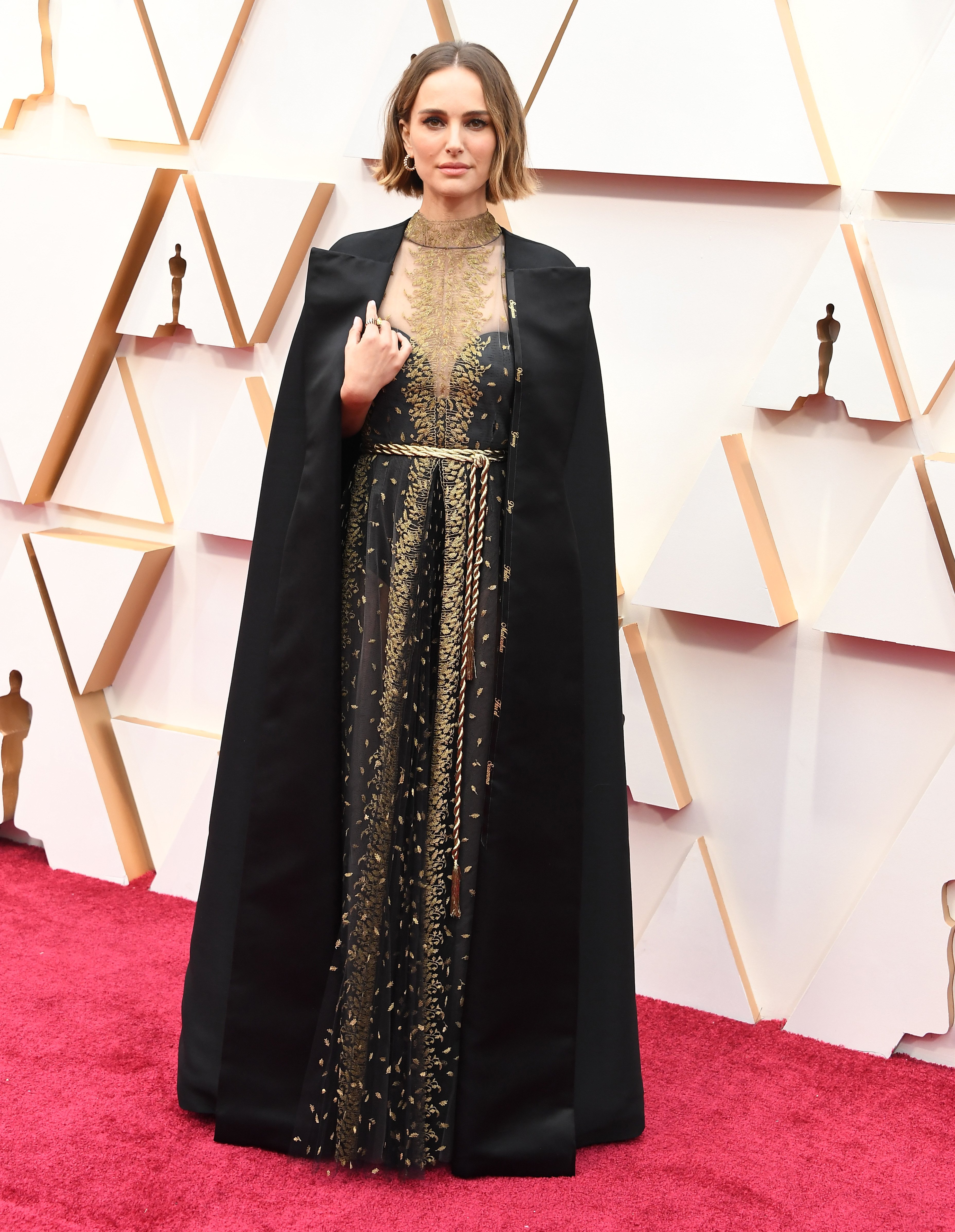 Natalie Portman at the Oscars on February 09, 2020 in Hollywood, California | Photo: Getty Images
NATALIE PORTMAN
The "Lucy in the Sky" actress set the bar very high by wearing an outfit that resembled Padme from "Star Wars," said Elena. Natalie put on a beautiful, black and gold gown with a black Dior cape that featured the names of the female directors who were not nominated.
Some of them were Lorene Scafaria for "Hustlers," Lulu Wang for "The Farewell," and Greta Gerwig for "Little Women." With her wardrobe choice, not only did Natalie looked gorgeous but she also shared a strong message against gender-based discrimination.
ELIZABETH BANKS
The 2020 Oscars ceremony was filled with social messages, and Elizabeth Banks shared one of preserving the environment by wearing the same red Badgley Mischka dress that she chose for the 2004 ceremony.
Our stylist confessed that she would have given the "Charlie's Angels" actress a "Green Oscar" for her outfit due to her look and brave approach.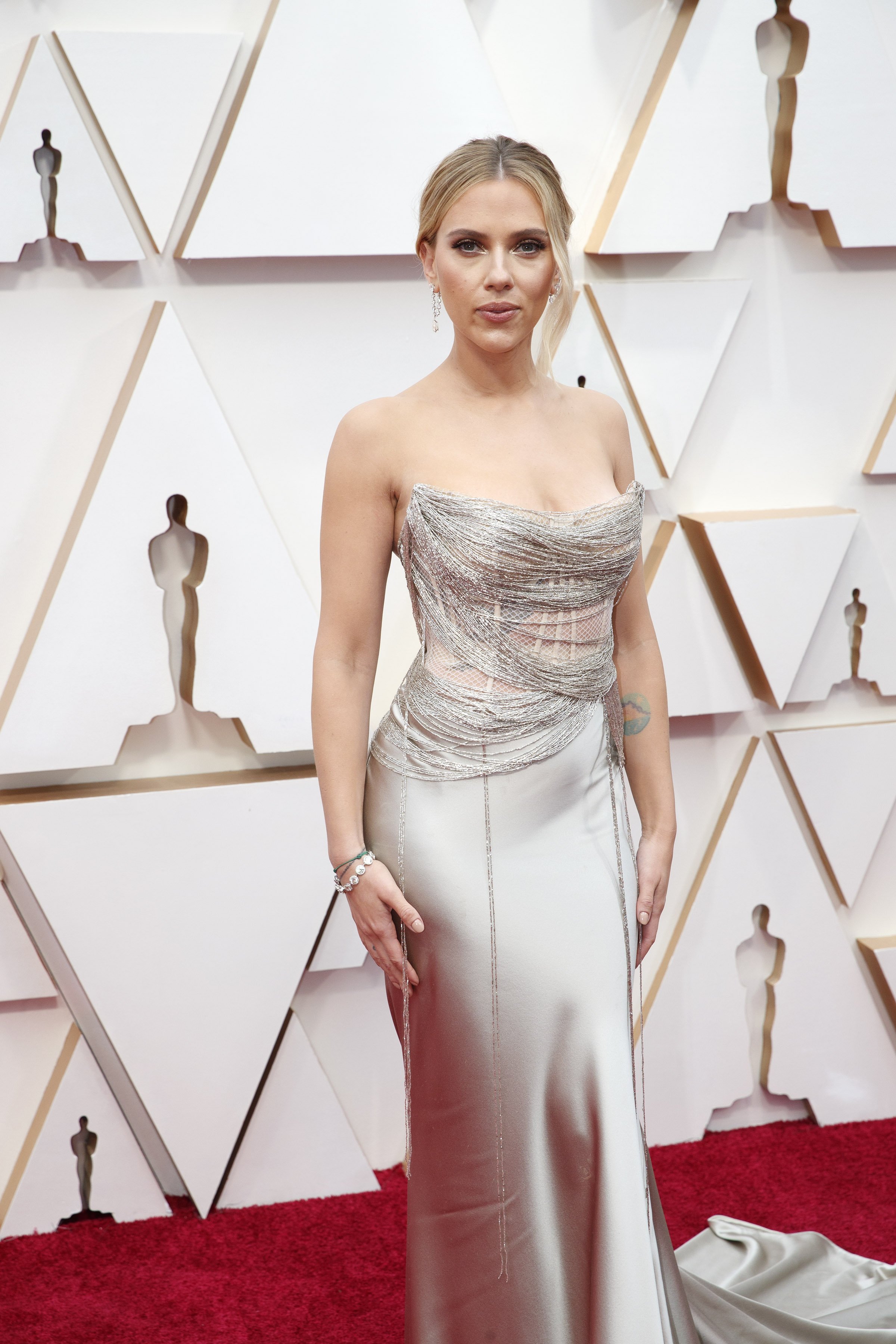 Scarlett Johansson at the Oscars on February 09, 2020 in Hollywood, California | Photo: Getty Images
SCARLETT JOHANSSON
If being nominated for Best Actress and Best Supporting Actress in the same year wasn't enough, the "Marriage Story" star attracted a lot of attention with her silver gown that, according to Elena, it was the perfect balance between elegance and sexy.
Our expert added that Scarlett showed what stylish exposure looks like through her Oscar de la Renta gown as she gracefully displayed some skin without losing taste.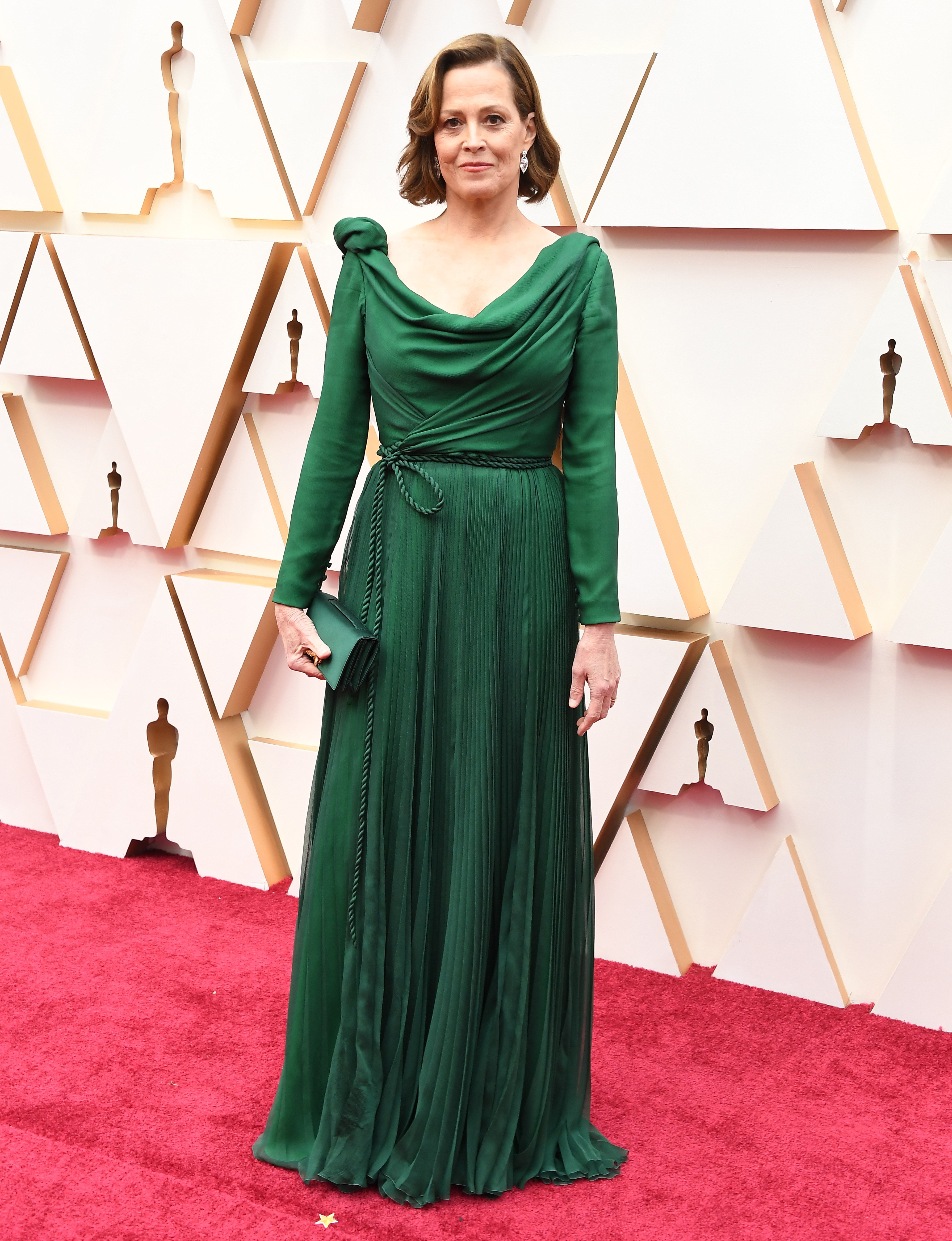 Sigourney Weaver at the Oscars on February 09, 2020 in Hollywood, California | Photo: Getty Images
SIGOURNEY WEAVER
The "Avatar" actress was another celebrity who captivated plenty of people with her Oscars' outfit. In her case, she opted for a long-sleeved, loose, green Dior dress with a deep neckline that sat perfectly on her body.
According to Elena Milovidova, Sigourney proved that everybody could look beautiful no matter their age. Our stylist added that the star didn't try to hide her age (she is 70 years old) or look younger than she really is, which attracted the admiration of many.
BILLIE EILISH
Another celebrity who made it into Elena's main list was singer Billie Eilish, who was probably the attendee that chose the most laid-back yet interesting outfits of all: a Chanel pantsuit.
Our stylist pointed out that her wardrobe choice was both a challenge and a way to remark that she is still a young and "naughty girl" who could get away with it.
BONUS OUTFITS
Finally, Elena wanted to highlight some outfits that, although were not as great as the previous ones, they were still shocking and deserve to be mentioned.
The dresses that Saoirse Ronan and Geena Davis wore, for example, were surprising due to their deep yet beautiful necklines. The asymmetrical gown that Charlize Theron chose was also breathtaking.
Speaking of Charlize, she was the best-dressed celebrity at the Oscars 2019's ceremony according to Harper's Bazaar. For the event, the "Mad Max: Fury Road" actress put on a backless, dusty blue, long-sleeved Dior gown.
Last year, the colors were prevalent as the "Crazy Rich Asians" star Constance Wu wore a sleeveless yellow dress, the "Rainbow" singer Kacey Musgraves opted for a layered light pink gown, and the "Glass" actress Sarah Paulson chose an elegant bright pink ensemble.
OSCARS WINNERS
This year's ceremony was unprecedented because "Parasite," the South Korean black comedy thriller directed by Bong Joon-ho, became the first foreign-language film to win Best Picture.
Apart from that, it was awarded for Best Director, Original Screenplay, and International Film. There were no surprises with the Best Actor and Best Actress awards as Joaquin Phoenix for "Joker" and Renée Zellweger for "Judy" won.
Please fill in your e-mail so we can share with you our top stories!