Stylist Analyzes Meghan Markle's Outfits during African Tour: 'Her Clothes Are Part of Diplomacy'
Prince Harry and Meghan Markle's tour around South Africa has come to an end, and besides the work they've done with local authorities and communities, the Duchess' wardrobe has also garnered a lot of attention. Here's a rundown of her outfits with commentary from an expert.
The Duchess of Sussex packed approximately 30 outfits for her and Harry's first royal tour as a family, as they also brought baby Archie along on the trip.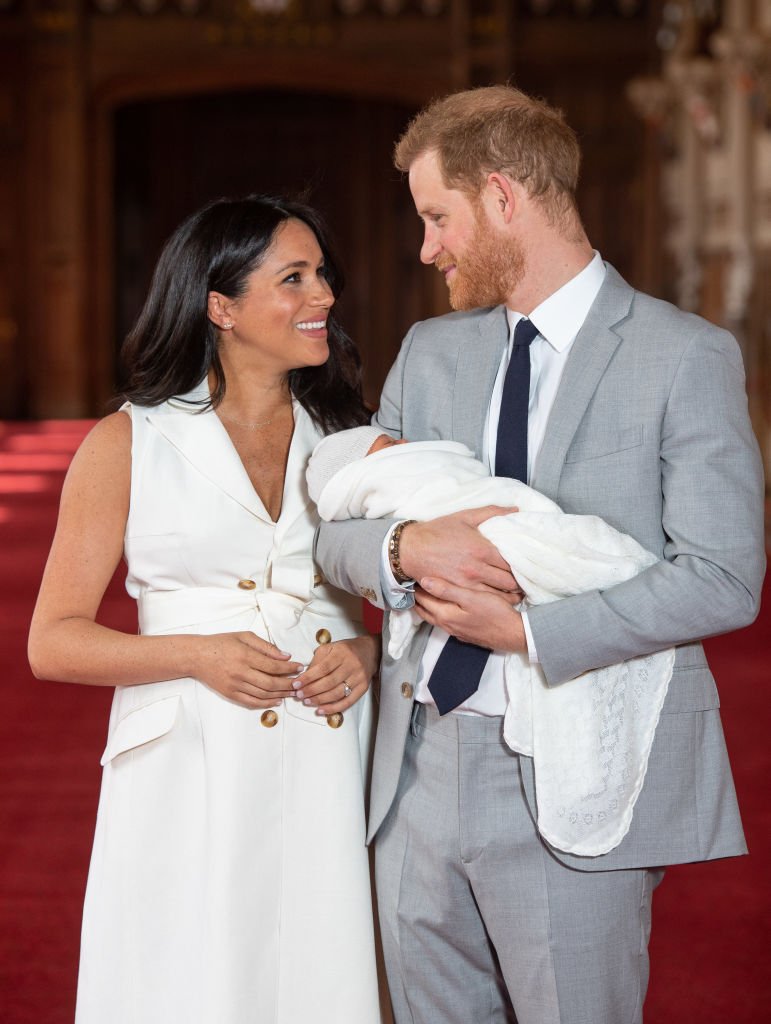 The royals arrived in Cape Town, the legislative capital of South Africa, on September 23 for their official tour. From the moment they stepped out for their first official schedule, Markle outfit caught the media's attention for being at an affordable level.
Meghan's wardrobe, through the entire visit, followed the same pattern. She kept it simple but comfortable and classy without showing off the usual pricey designer clothes we are used to seeing her in.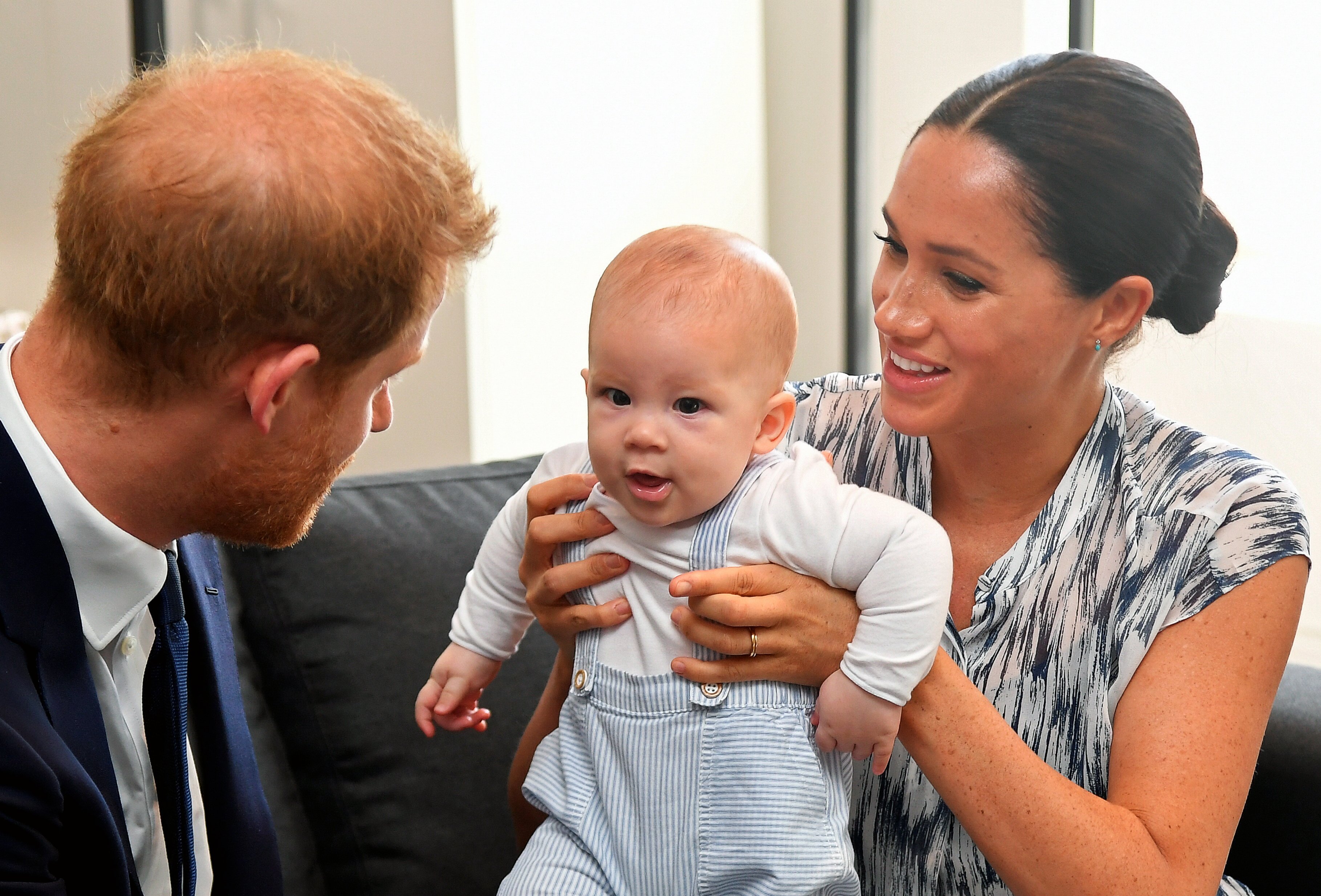 Talking about Meghan's choices, personal stylist and shopper Elena Milovidova explains that Markle intended to send a clear message with her wardrobe, and it translated perfectly for those well-versed in the fashion industry.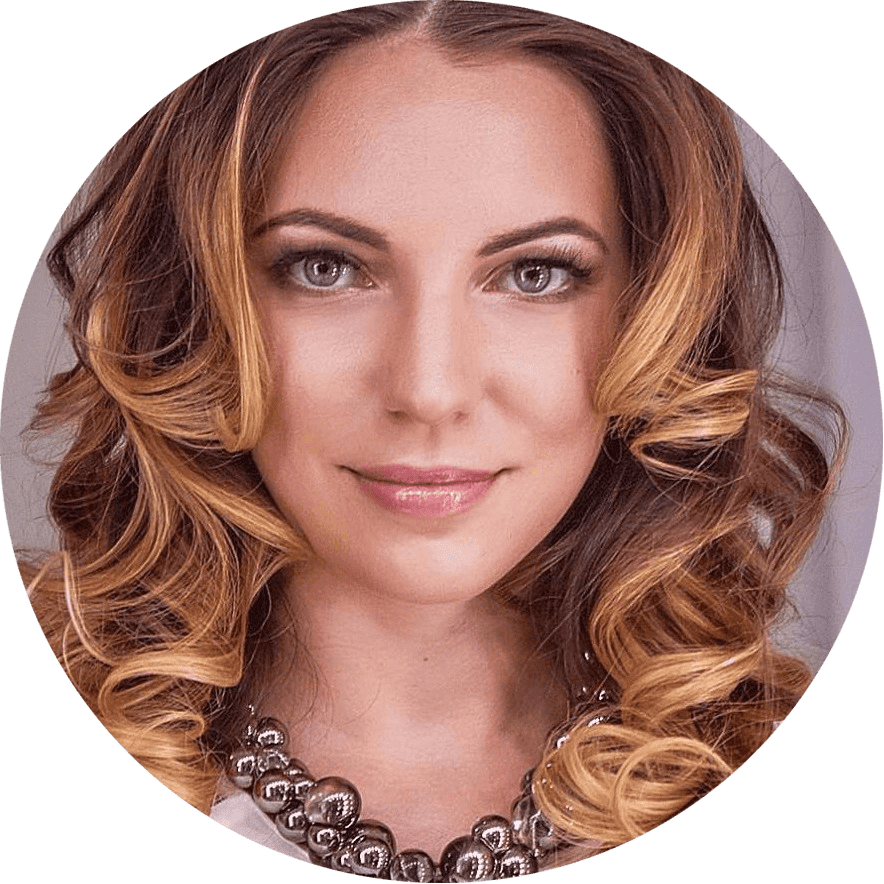 "Someone may call simple her outfits from the African tour. But Megan didn't go to fashion week - she is in a developing country with a charity mission," - says Milovidova.
Adding:
"Another reason for choosing relatively simple styles and neutral colors from black, white, and beige is the comfort of communication. She has the desire not to distract attention from the primary purpose of the events and not to annoy the audience with inappropriate glamour."
Meghan's minimal makeup and the lack of accessories, also prove she wanted to emphasize her work and not her wealth.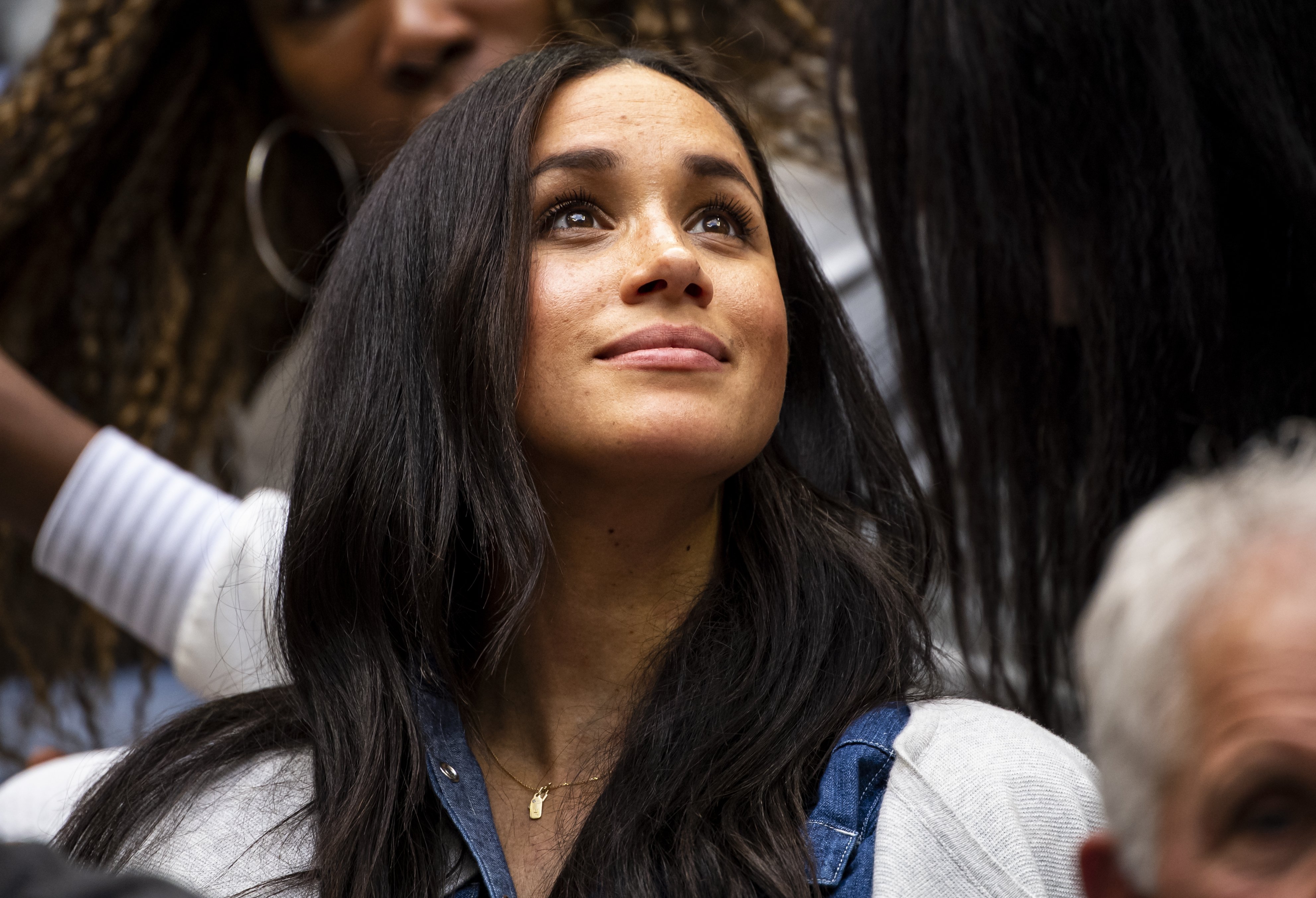 Here's a list of all the outfits Markle donned during the royal tour. 
September 23
Meghan and Harry kicked off their tour in Nyanga, one of Cape Town's townships.
The duchess donned a black and white wrap dress with African motifs by sustainable Malawian brand Mayamiko, which sold out within hours of her wearing it.
She completed the look with a pair of black Castañer espadrille wedges delicately tied around the ankle.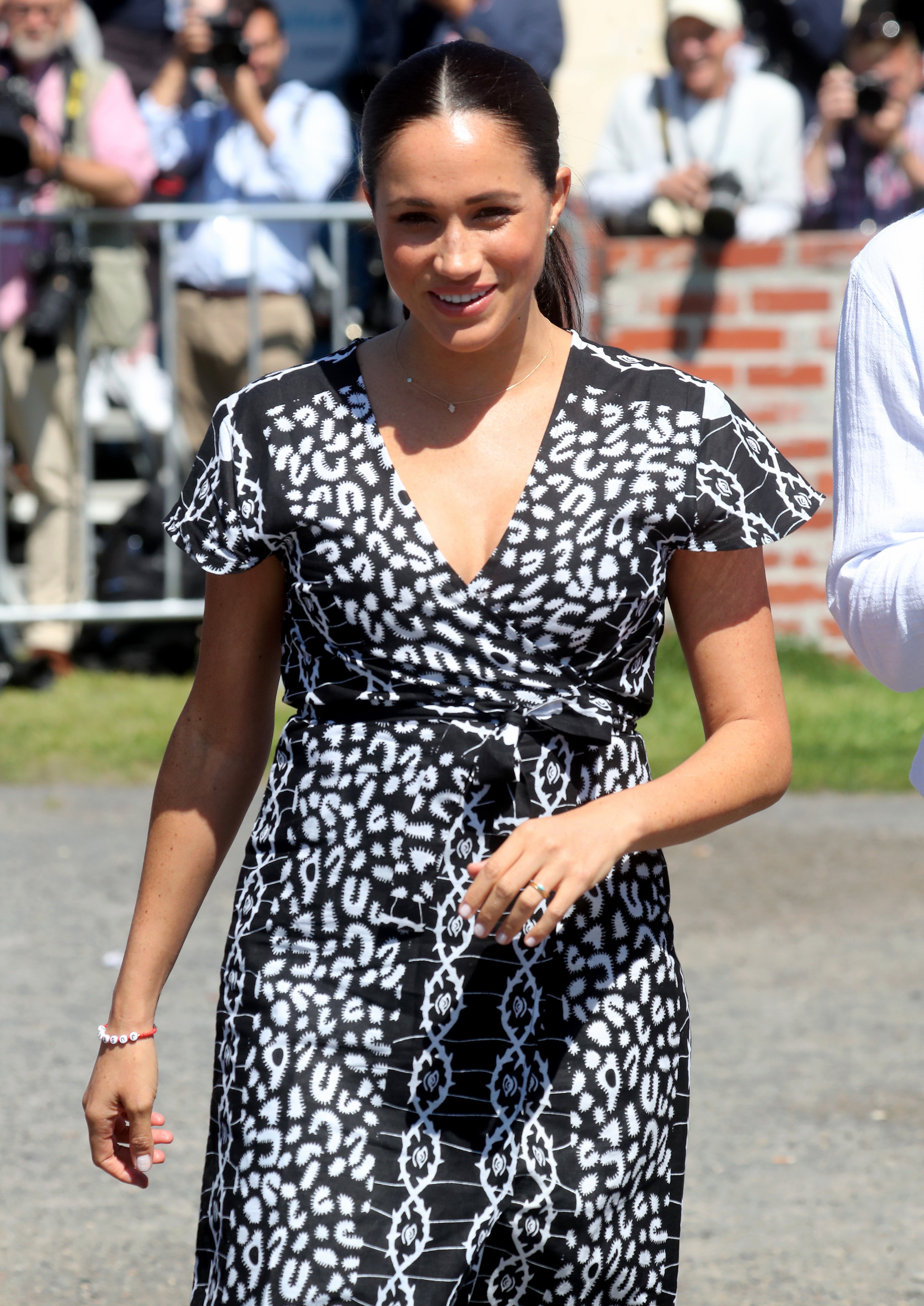 For her second look of the day, Meghan donned a Veronica Beard blue shirtdress tied at the waist that she first wore last year in a visit to Australia. She kept the same Castañer shoes.
Milovidova says:
"Megan's clothes are part of diplomacy. Both color and price matter here. And in addition to diplomatic interests, the Duchess takes care of slightly hiding the small tummy left after childbirth."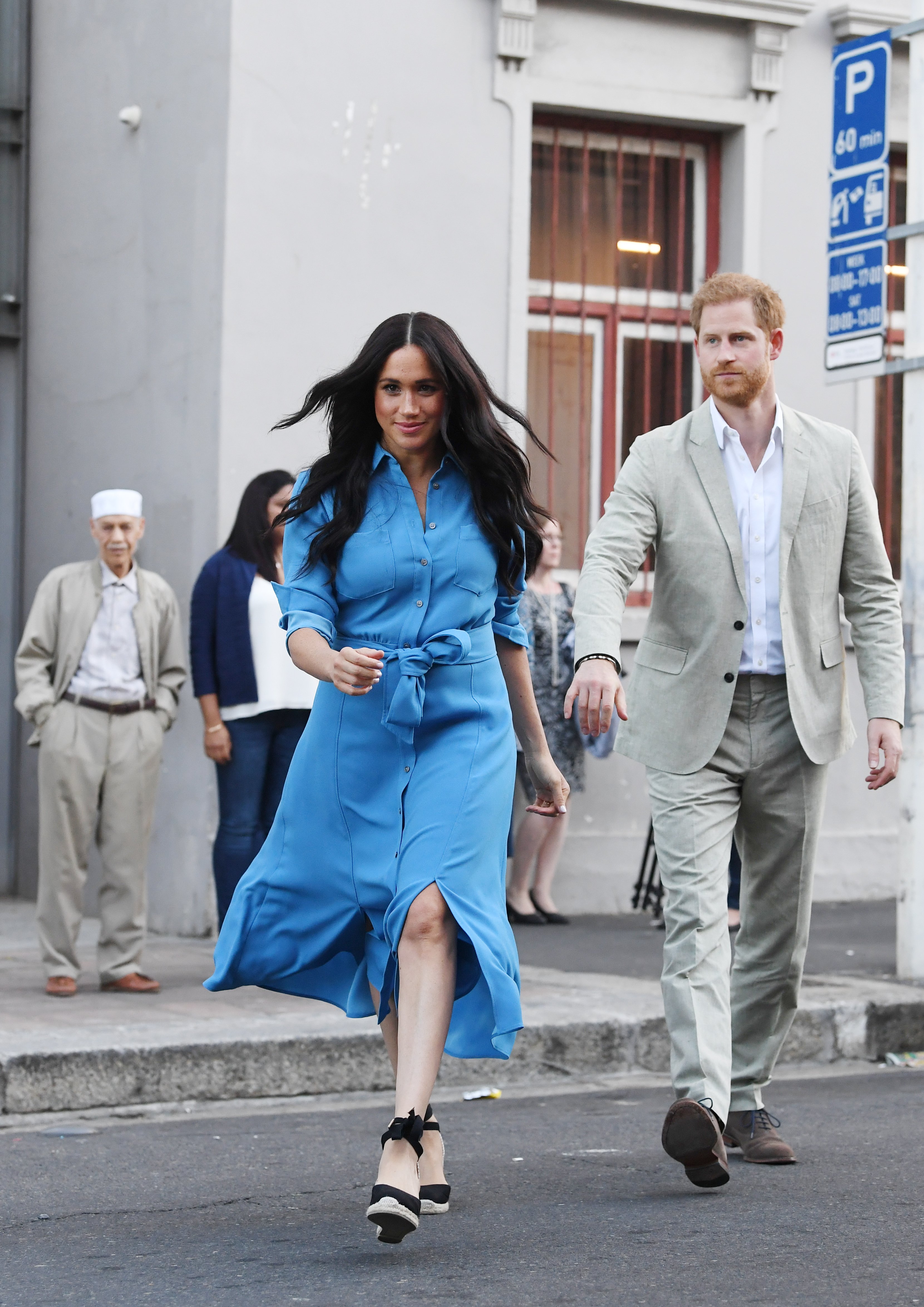 September 24
On their second day in Cape Town, Meghan and Harry visited Monwabisi beach, where they talked about mental health and did some group bonding activities.
The Duchess went for a sporty look wearing her favorite Madewell denim jacket, a white button-down shirt, black jeans from Mother Denim, and a pair of leather flats.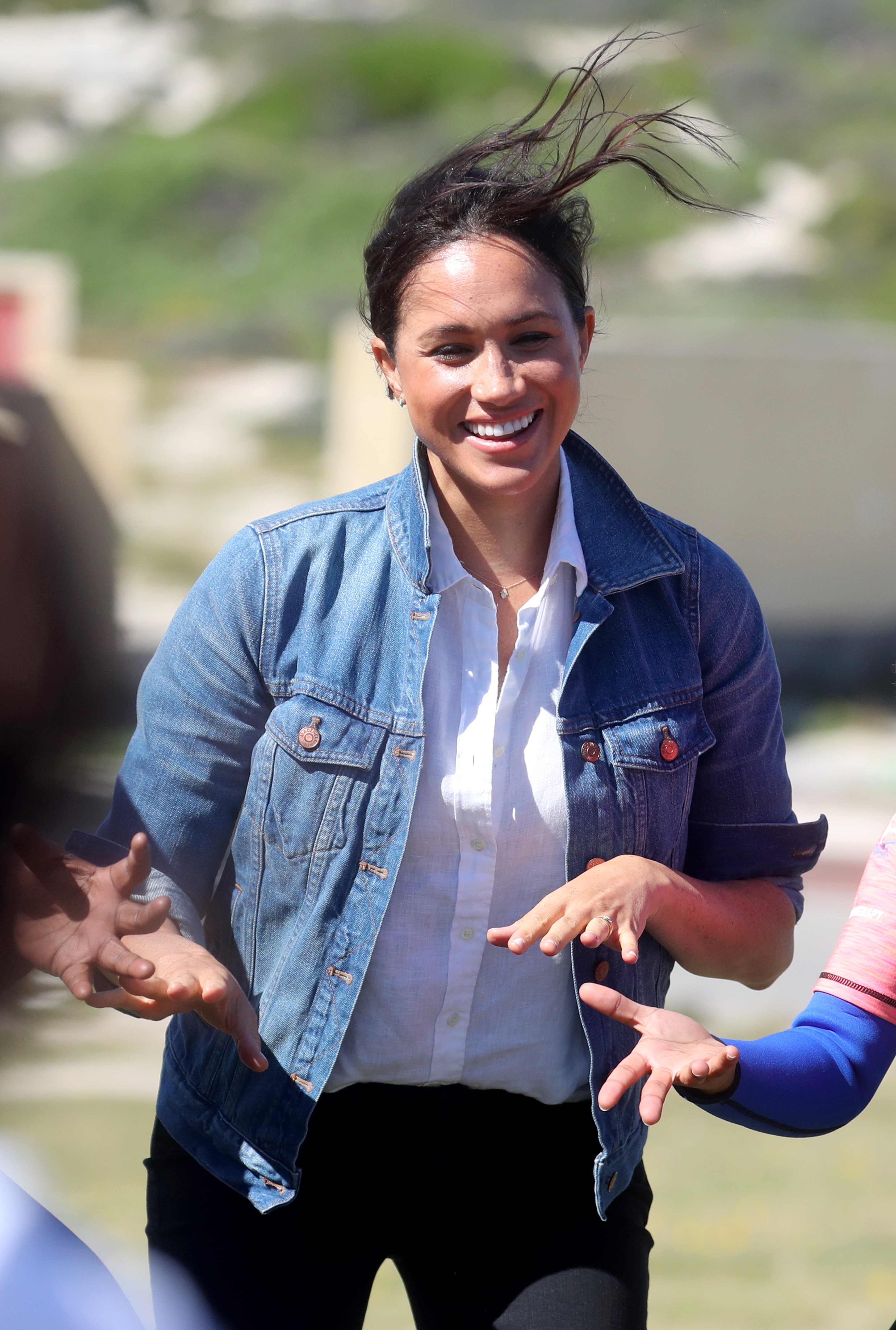 During an afternoon visit to the Auwal Mosque, Markle wore an olive green button-down maxi dress with a belted waist by STAUD.
She accessorized with a pair of cream Sam Edelman flats, a flower in her hair, and later on the service, a scarf on her head.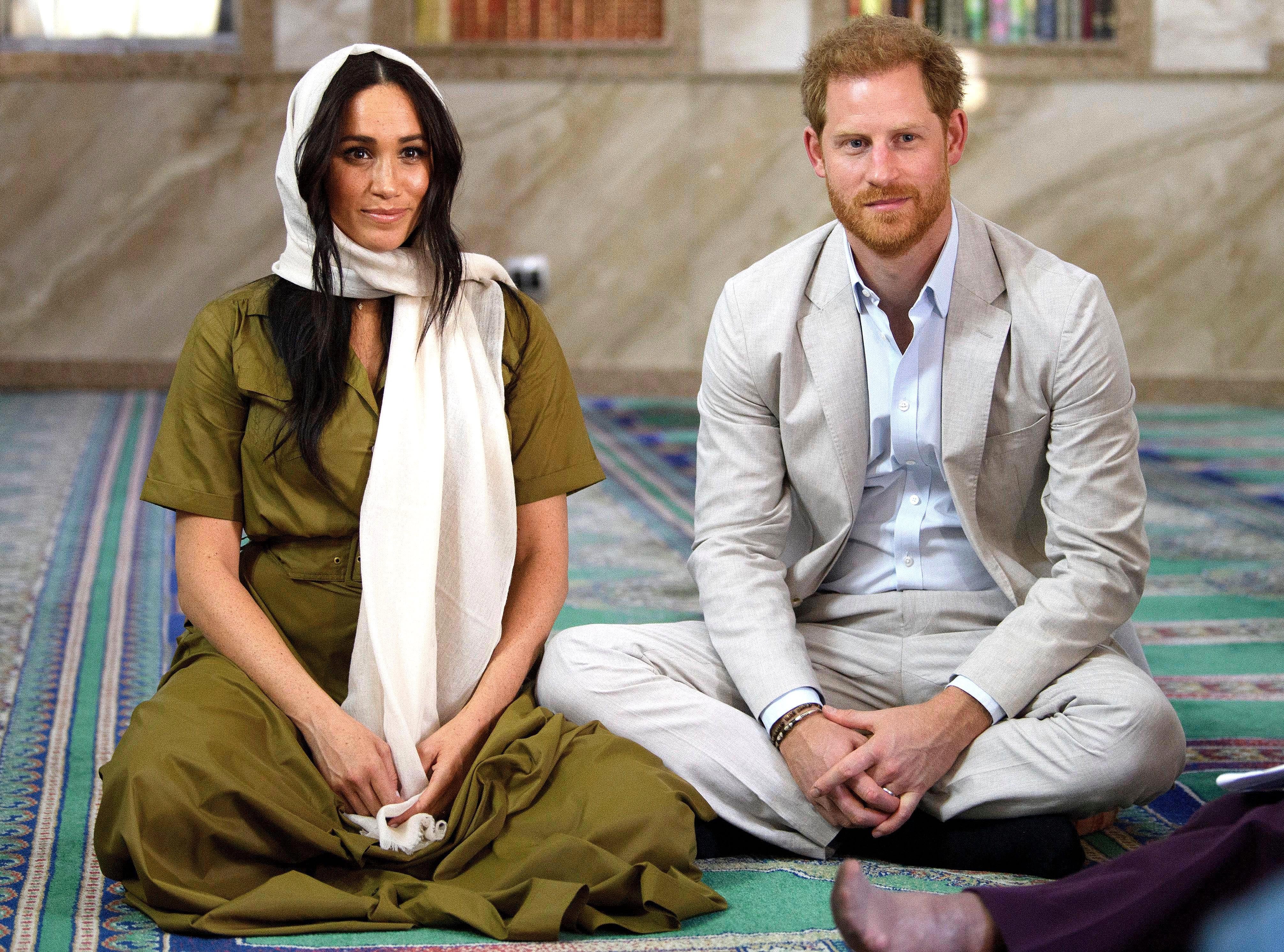 For a visit to the British High Commission in Cape Town, Meghan re-wore a striped maxi dress by Martin Grant, black pointy shoes, and a pair of porcelain earrings from South African jeweler Nina Bosch.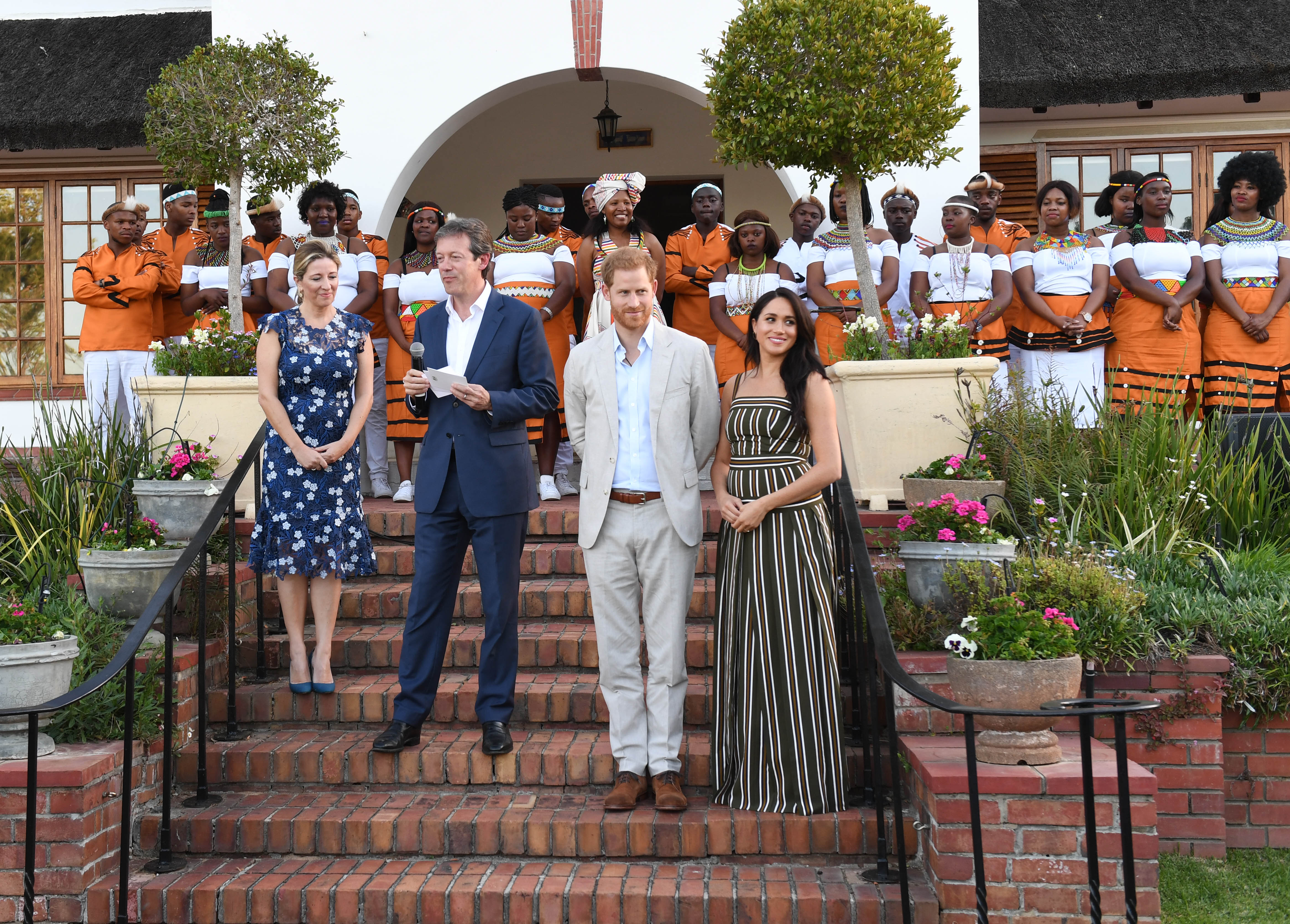 September 25
The Sussex family—including 5-month-old Archie—visited Archbishop Desmond Tutu and his daughter at their legacy foundation in Cape Town.
For the outing, Meghan looked radiant in a two-tone printed silk dress tied at the waist from Club Monaco, and black suede pumps.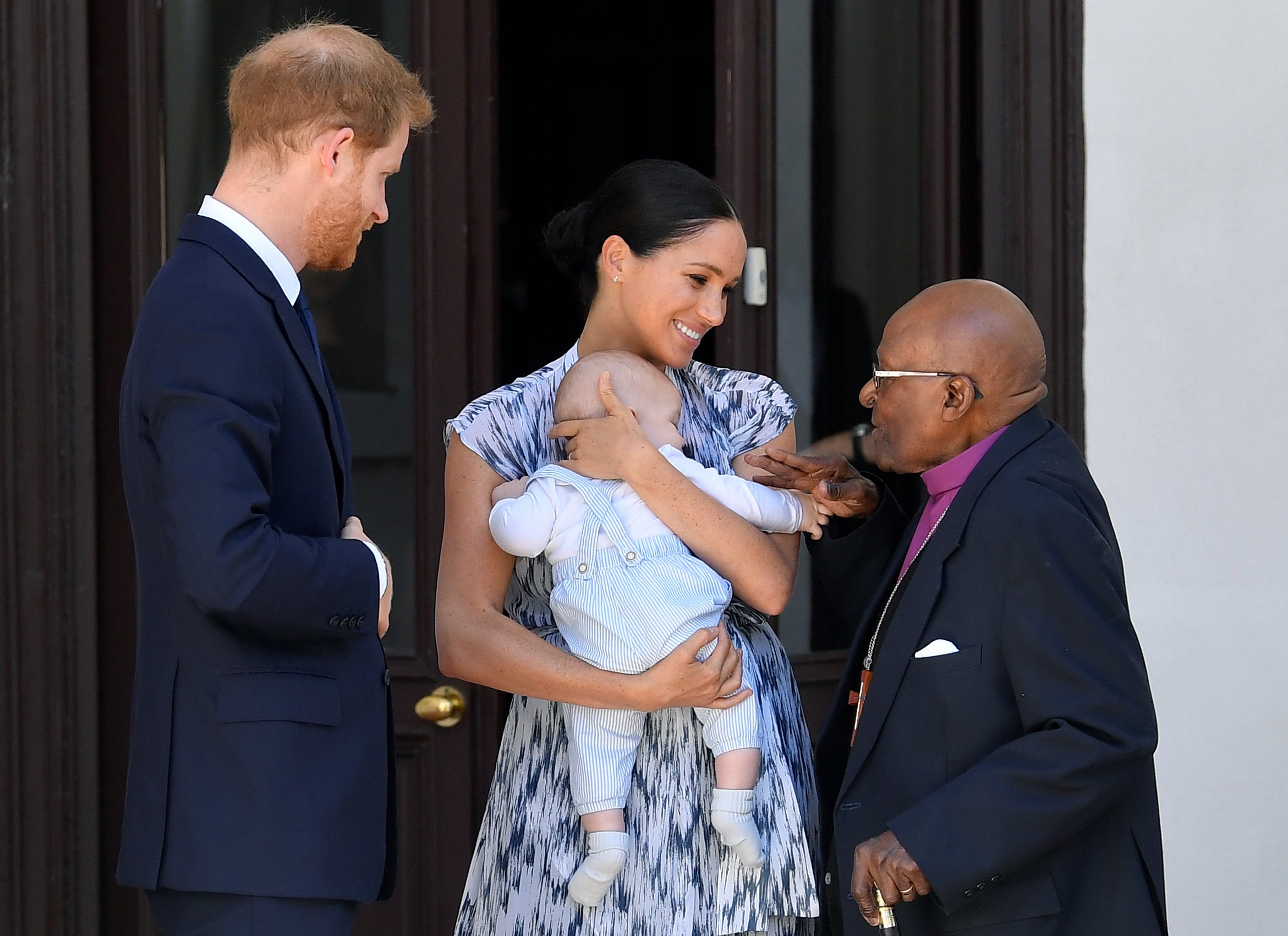 Then, for her first solo outing of the tour, Meghan met with female entrepreneurs at the Woodstock Exchange in Cape Town.
She went for a more business-ready look with a black Everlane jumpsuit, Manolo Blahnik pumps, and a pair of statement gold earrings from GAS Bijoux.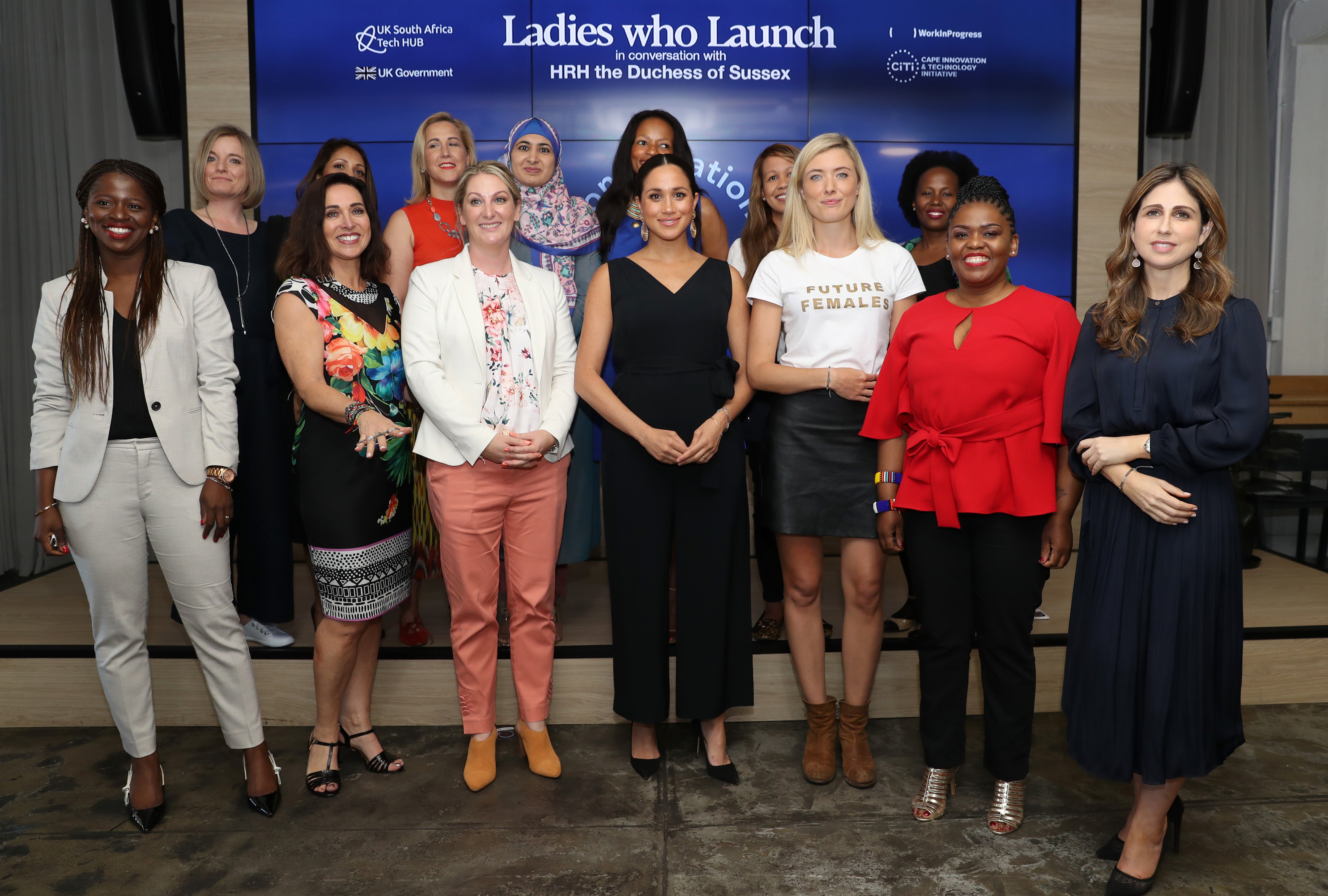 September 26
On Thursday, Meghan had a private meeting with nine local female activists.
For the occasion, she wore a sleeveless black top, a striped midi skirt from J. Crew, and her black pumps.
September 30
Meghan did a surprise visit to Johannesburg's Victoria Yards, a place where artisans share their creations.
She wore an indigo Wilfred by Aritzia shirtdress with buttons down the front, and red Everlane flats.
October 1
Meghan visited the University of Johannesburg to attend a roundtable on women's education with the Association of Commonwealth Universities.
She opted for a beige trench dress by Banana Republic and a pair of nude Stuart Weitzman pumps.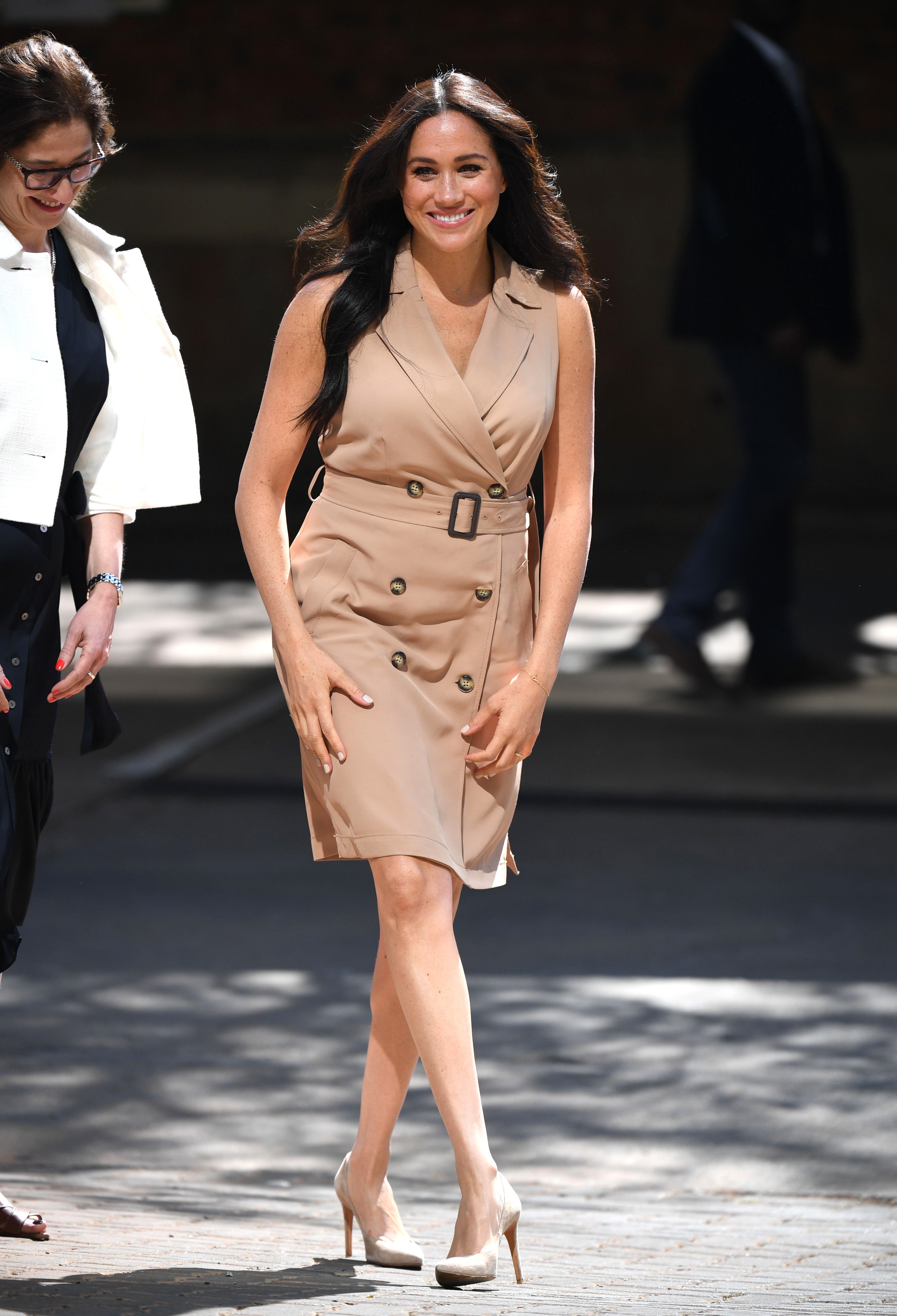 Talking about Meghan's choice of prints and shapes for the tour, stylist Milovidova says:
"The prints on the dresses were chosen vertical, which stretches the silhouette. Buttons on a dressing gown also work on the same principle: it creates a vertical line and distracts attention from the tummy."
The same day, Meghan followed the pattern by wearing a green belted shirtdress from Room 502 and black pumps to her visit to a local school.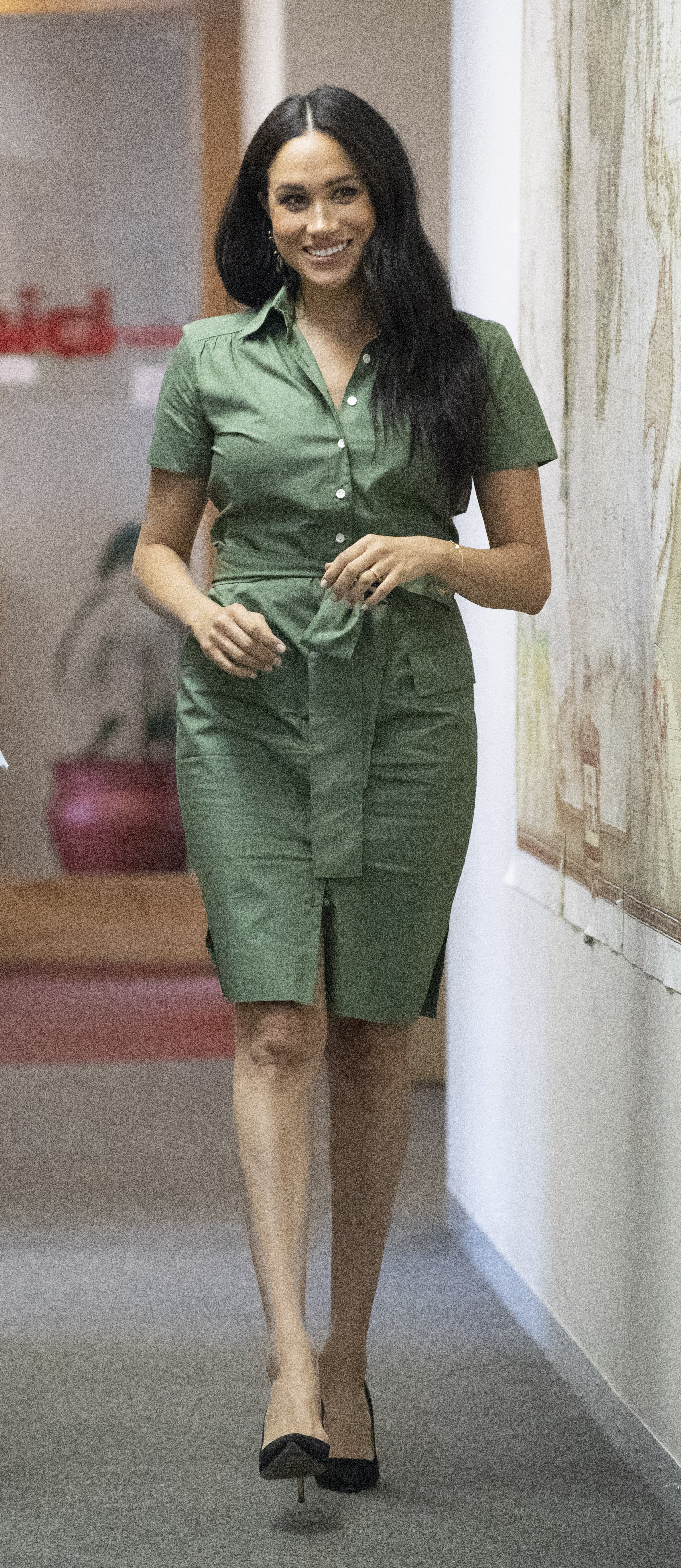 October 2
After reuniting with her husband, Meghan and Harry stepped for their last day in South Africa.
Markle wore a white shirt dress from Cape Town-based designer Hannah Lavery, nude pumps, and red tassel earrings.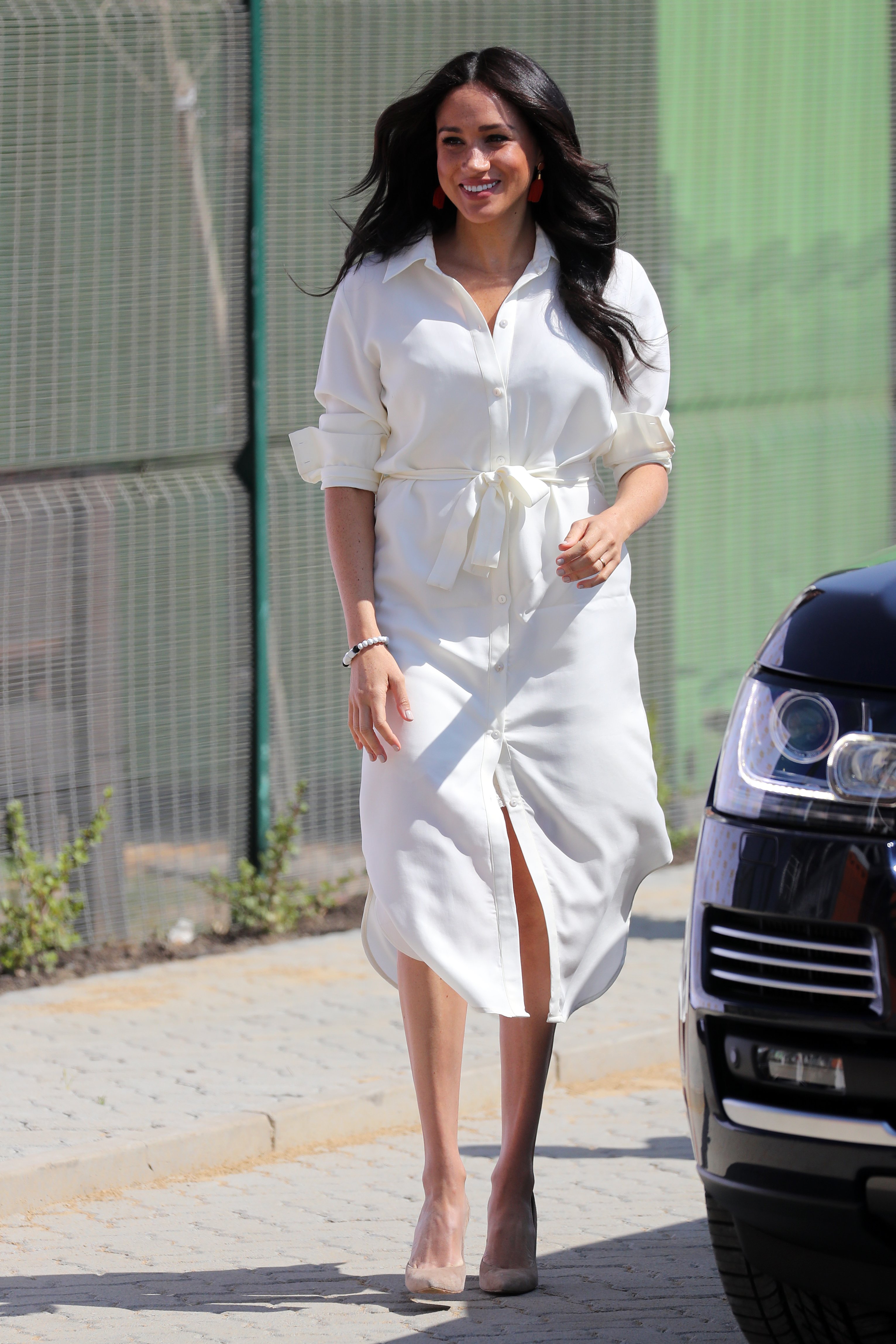 Then, the royal couple visited Nelson Mandela's widow, Graça Machel. For the visit, Meghan donned her NONIE Trench Dress, which she previously wore to an event celebrating Mandela in 2018.
She kept the look simple but stylish with nude pumps and her hair tied back in a low bun.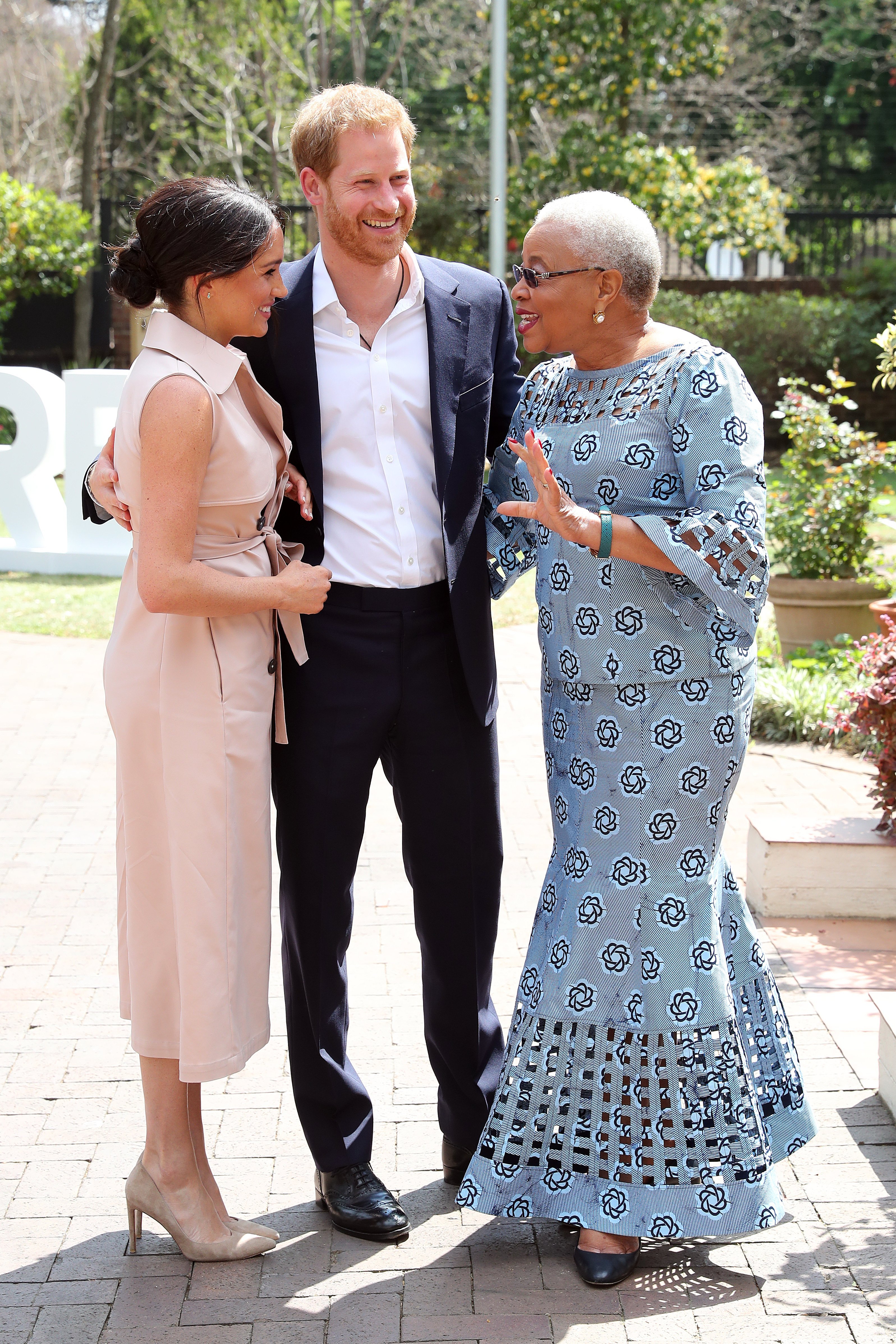 It's safe to say that Meghan nailed her fashion choices for this African tour. No wonder why she's considered a fashion icon around the globe.