Royal Tour: Meghan Markle Paired Navy Midi Dress with Red Slingback Flats for Her Solo Johannesburg Visit in South Africa
The Duchess of Sussex graced the streets of Johannesburg on Monday wearing a navy midi shirt dress which she paired with red slingbacks. She paid an unexpected visit to Victoria Yards where she met with a local denim designer to claim a pair of pre-ordered skinny jean shorts.
The Royal family of Sussex have taken their outreach and good works to new heights. The Royals began this week in Johannesburg, where the Duchess had her solo little side engagements. 
THE ROYAL FASHIONISTA
Meghan Markle stepped out in style during her South African tour, as she stormed Victoria yards, Johannesburg adorned in a gorgeous outfit.
The mother of one was dressed in a Navy midi Wilfred by Aritzia shirt dress, buttoned down to her knees, and a pair of red Everlane slingbacks.
Her aura was matched by the beautiful smile she wore throughout her solo visit. She spotted a pair of 45 Euro black earrings she acquired from a local designer in Cape town.
Neither her husband nor her son, Prince Archie was in sight. It was gathered that she left the one-year-old in the care of his nanny, while Prince Harry was faced with other engagements.
MEGHAN HAS THE HEART OF A QUEEN
While on tour of the Victoria Yards, the Duchess met with several local artisans, artists, sculptors and fabric designers. However, her primary engagement appeared to be to get her order from a local denim artisan, who was the founder of Eponymous Brand Tshepo.
The Duchess had earlier ordered a pair of jeans from the brand, but no one could have predicted that she would show up in person to get the jean shorts.
Tshepo Mohlala is the founder of @TshepoJeans, a sleek denim brand that features a crown on its logo. He told the Duchess: "The crown on my jeans represents the three ladies who raised me. Enjoy wearing this crown." pic.twitter.com/QfYhaW6Ry3

— Omid Scobie (@scobie) September 30, 2019
The designer spoke about the idea behind his choice of design, saying:
"From what we have seen on the internet, she is the type of person who loves skinny fit, so that's what we made." 
Meghan's reaction to the denim piece proved that his effort was worthwhile. The young entrepreneur further revealed:
"When she saw the jeans, the words she said were, 'o my, o my' she was very impressed. She loved the jeans. She said she couldn't wait to try them on."
The denim designer also gifted the 38-year-old some dungarees for the little prince.
Meghan also spent time connecting with the children and founders of the Timbuktu in The Valley development programme, which hells equip local youth with skills that allow them to become independent citizens and respond to the prevailing exclusivity of opportunity in South Africa. pic.twitter.com/XUMKn92wEC

— Omid Scobie (@scobie) September 30, 2019
FROM A BOOK-BINDING COACH TO ROYALTY
Their Instagram page @sussexroyal shared photos from the visit as well as an account of Meghan's activities while on tour. The images included her encounter with some of the children and upcoming artists, whose works she appraised.
The Duchess made a shocking revelation at the Young Bucks organization that she used to be a book-binding coach, after which she purchased three recycled notebooks from the brand interns.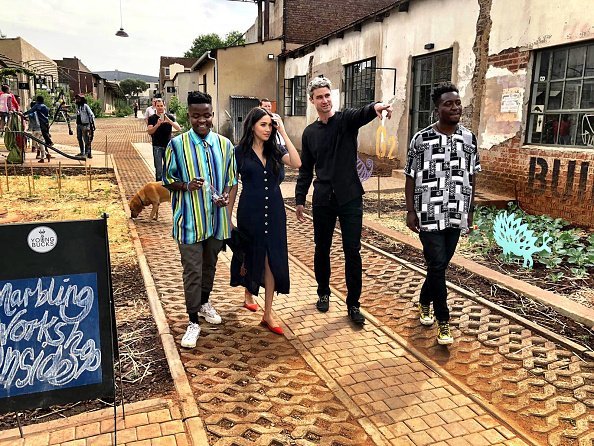 She, however, did not mention if her book-binding career came before or after her years as an actress. The royal mother's secret visit to the Victoria Yards was undoubtedly an impactful one, and a day to remember for the locals.