Steve Harvey's Wife Marjorie Posts Snow-Filled Pics with Their Grandchildren While on Colorado Vacation
Marjorie Harvey shared some amazing pictures of herself and her grandchildren having a wonderful time skiing and building snowmen in Aspen Colorado
Having your children and watching them grow to have theirs is quite fulfilling. You get the chance to correct some mistakes you made while raising your children; most importantly, you have the opportunity to feel young again.
Marjorie Harvey is having the time of her life as she enjoys the chance to raise her grandchildren while indulging in all the fun things they can do together.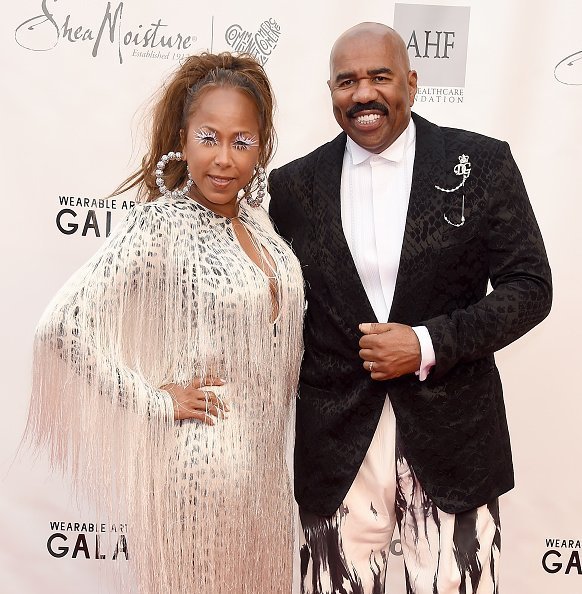 The grandmother of five gorgeous grandchildren took to Instagram to share a picture of herself and her grandchildren while enjoying outdoor activities in the winter in Aspen, Colorado.
The image showed the grandmother standing at the back of four of her grandchildren wearing black ski attire with sunshades on. The grandchildren were dressed in pink and black coveralls. The picture was captioned,
"A little bright out but too cute not to post ❄️? #thecrew #cheese #harveys #grandchildren."
The grandchildren who all looked to be the same height had their faces set in a cheesy smile while Marjorie had her hands flunk out wide over her head with a massive grin on her face.
Steve has joked that he wants to have an empty nest.
In another similar post, Marjorie shared an image of the complete brood of five seated in the snow grinning broadly with their snowman in front of them.
The fashion icon could be seen holding the youngest of the brood, and she captioned the picture,
"Teamwork makes the dream work ❄️ PawPaw the snowman ⛄️ #grandchildren #harveys."
Fans of the Harvey family took to the comments section to express their thoughts on the grandmother and her gang of five. The comment section was awash with love emojis and heart emojis.
While some fans expressed their love for the grandchildren, some could not help but reveal that the grandmother did not look like a grandmother; instead, she would pass for the mother of the children.
Another user hilariously commented, saying: "Ima call my grandma right now and tell her she slipping!!!! ?????."
Marjorie and Steve got married in 2007 after their initial meeting in the 1990s. The two were once married to separate partners and have children from their previous marriages.
Marjorie has three children from her previous marriage, while Steve has four. When the duo got married, they decided to blend their families, a feat which seemed impossible at first but was accomplished when everyone chose to embrace each other.
The couple shares five grandchildren from their seven children. The grandchildren, all ranging from 2 years of age to 7, are adorable and keep Marjorie company. Their names include Benjamin, Noah, Elle, Rose, and Ezra.
While Marjorie is open to the idea of having more grandkids, Steve has joked that he wants to have an empty nest.
The Harveys who are a close-knit family, always make sure that they do better for someone else other than themselves, and as such, the family bond is strong.