Fantasia Flaunts Her Legs in Red Long-Sleeved Minidress in New Video & Concert Photo
American R & B singer, Fantasia, has dazzled fans, friends and family, by showing off her legs in a new Instagram video and photo. 
The video begins by showing her backup singers taking vocal rehearsals as the singer sways past them in a sequined long-sleeved red dress, parading her legs teasingly.
The picture shared with the video showed Fantasia and her back up singers on stage at a concert wearing the same sequined outfits, as they did in the video.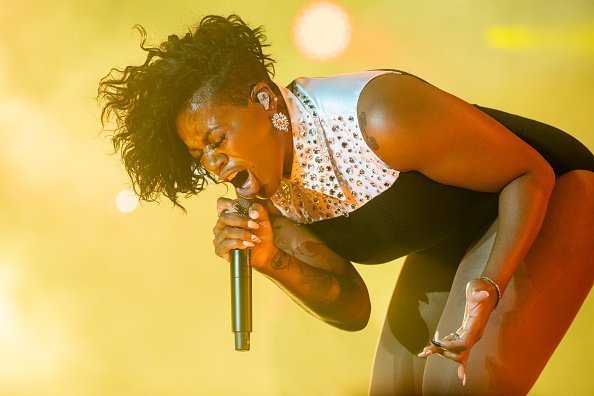 The songwriter admitted to doing things in "chaotic situations" in her caption of the post, but this isn't the first time the "Something to Talk About" crooner has given her fans something to talk about.
In September 2019, the Grammy-Award winner left everyone in awe when she made an appearance at the New York Fashion Week in another shade of red. The singer wore an extended gown that made her curves more pronounced.
She took to Instagram to share a photo of her fully clad in the outfit inspired by Victor Glemaud, appropriately decked by matching gold necklaces designed by Laruicci and a couple of others.
FANTASIA'S STYLE EVOLUTION
A few years ago, Essence magazine made a top-ten feature for the actress's fashion style and its evolution over the years.
The catalog displayed how the 2004 American Idol winner struck different poses at awards ceremonies, her backstage and on stage moments. The images were nothing less than amazing. 
The songstress got married on a yacht to her current husband, Kendall Taylor.
WEIGHT LOSS
In 2016, Tasia, who was initially a plus size figure, dropped about 20 pounds by strict diet regimens and dedicated workout sessions.
The songwriter revealed in a chat with People that to keep up with Hollywood's pressure of being perfect, she had to make some tough decisions.
FANTASIA'S LOVE LIFE
Fantasia isn't just known for her music or movies. The singer has made headlines regarding relationship issues with her ex, Antwuan Cook.
While dating Cook, Fantasia came under scrutiny because he was still married at the time. Their relationship produced one child; son, Dallas Barrino, 8.
The songstress got married on a yacht to her current husband, Kendall Taylor, in 2019. The couple got engaged in 2014.