Kylie Jenner from KUWTK Is Mom-Shamed after Photos of Daughter Stormi in Large Gold Hoop Earrings
Kylie Jenner is mom-shamed for choosing an unsafe fashion choice after showing her two-year-old daughter wearing large custom hoop earrings.
Kylie Jenner has a little fashionista on her hands with her daughter, Stormi Webster, and the proud mother displayed her adorable new accessories.
Showing off her two-year-old wearing a pair of gold custom earrings, Kylie cheered her on in her caption. writing, "go best friend."
The picture, which has already received over 7 million likes on Instagram in less than 24 hours, appeared to be a hit with of her followers.
However, there were a few people who were concerned with the toddler wearing the hoops, which have her name emblazoned across the middle. One fan said they were not appropriate for Stormi's age.

According to Daily Mail, Stormi had her ears pierced since she was 5-months-old. So fans have been used to seeing her wearing jewelry ranging from small diamond studs to gold bracelets and necklaces.
Many mom-shamers were quick to caution Kylie on the dangers of allowing a toddler to wear such large and possibly unsafe jewelry.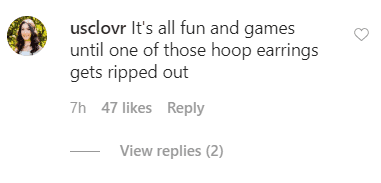 In a series of pictures, Stormi looked fashionable in an all-white ensemble, which included a white tank top, basketball shorts, and Nike sneakers. One fan had a mixed reaction over the look admitting:
"Earrings quite big so it's unsafe for a baby in her age…she is so cute by the way."
Her statement earrings prove that she is taking after Kylie's bold fashion choices. Sharing with Harper's Bazaar another thing Stormi inherited from her, Kylie said:
"If there was like a face of hangry it would be me. And Stormi has it too because when that little girl's a little hungry, she turns into a different baby. So, if you wonder where she gets it from, it's me for sure."
Kylie probably won't let her critics bring her down any time soon. Earlier in the month, the young billionaire threw her daughter an extravagant birthday party.
Complete with its own tagline: "2 is better than 1," and enchanted forest and characters from "Frozen" and "Trolls," entertained guests as they were given maps just to get around.