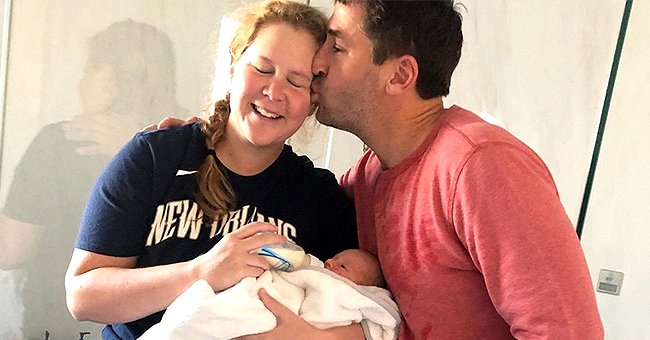 Instagram/amyschumer
Amy Schumer & Husband Chris Fischer Share Funny Parenting Advice on YouTube
Amy Schumer revived her YouTube channel by sharing parenting hacks with her husband Chris Fischer. She revealed that she wanted to share the things she has learned with her son.
Welcoming her son was just as life-changing; she shared everything from her weight gain, wearing maternity diapers to breastfeeding with a complicated breast pump.
It seems nine months into motherhood, Amy is getting the hang of things and wants to share some of the "parenting hacks" she is learning along the way. Reviving her YouTube channel, she revealed:
"We wanted to give our advice about parenting because we've learned so much. Our first advice/tip is a good toy for a baby around 7, 8, 9 months old — and it is exactly free."
Giving the camera a closer look at her discovery, Amy showed off an empty cardboard box, which she presented as a makeshift playpen for babies to entertain themselves in, explaining how it to set up she said:
"So you get a big box, okay? You clean it out and make sure there is no staples in it, and then you put blankets around it, and you put some toys in it."
It wouldn't be a "parenting hack" if it was just any ordinary cardboard box. Amy showed off all the details that made it the perfect toy for a baby.
She had all the sides of the box neatly draped with blankets and towels. She chose blue and grey to make a little gender-specific to her son.
Amy showed off the blankets and pillows all around sides, and as she moved in closer and showed that foam egg crates had been put on the bottom for comfort, she added:
"They can, like, hold on to the edges and stand or fall or whatever, and they really like being in their box."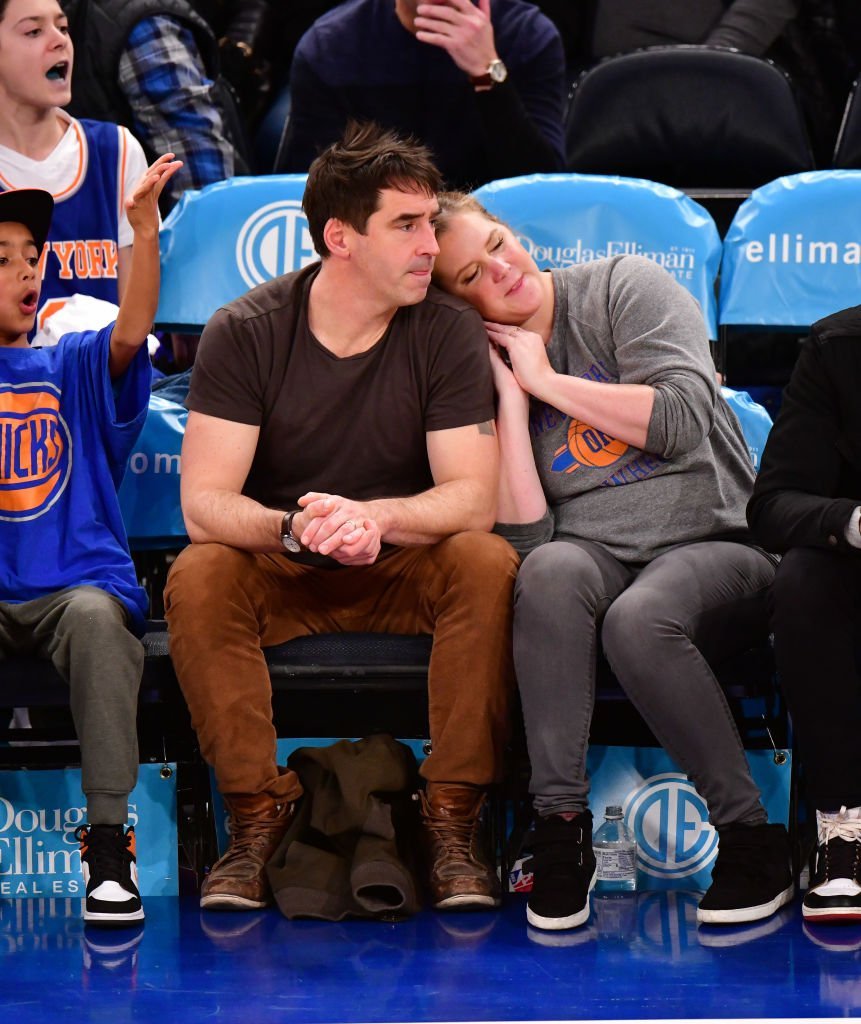 Amy Schumer leans on her husband Chris Fischer's shoulder while watching a basketball game for the Washington Wizards versus New York Knicks game, at Madison Square Garden on December 23, 2019, New York | Source: James Devaney/Getty Images
chose to disable her comments on her YouTube video However, it has received over 55 000 views, it was likely a hit with some parents.
In the past, her channel was used to promote everything from her comedy shows to her life backstage. With parenting making a feature, her "hacks" are more than likely to have a comedic spin as she has promised to share more.
Please fill in your e-mail so we can share with you our top stories!