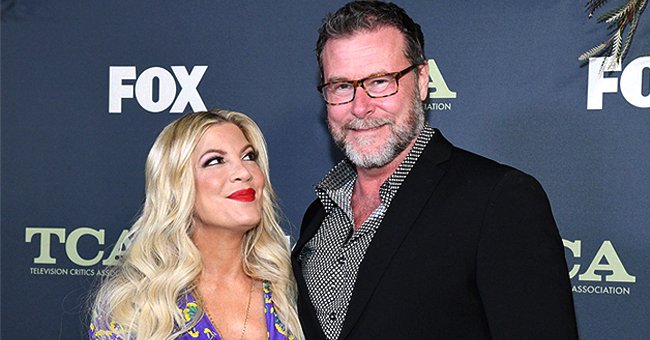 Getty Images
Dean McDermott's Ex-Wife Leaves Sweet Comment on Tori Spelling's New Post Featuring Their Daughters Stella and Hattie
Dean McDermott's ex-wife, Mary Jo, got the attention of fans after she sweetly commented under Tori Spelling's post. This could mean that Mary is cool with the family.
Tori Spelling recently shared a heartwarming post of her daughters, and this stirred fans in the sweetest ways as they gushed over the girls.
However, Spelling's hubby's ex, Mary Jo, might have also become her daughters' fans as she also took to the comments to share lovely thoughts.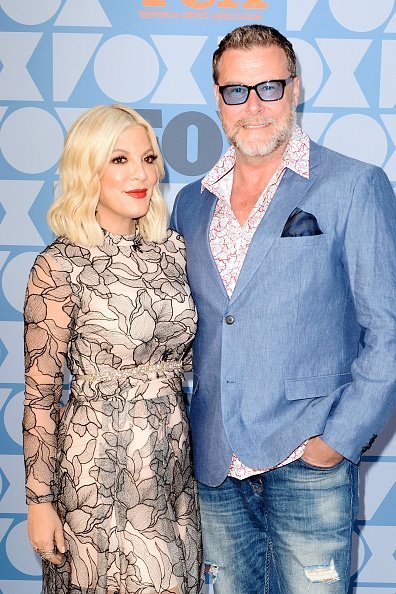 Tori Spelling and Dean McDermott arrive at FOX Summer TCA 2019 All-Star Party at Fox Studios Aug 7, 2019 | Photo: Getty Images
Tori shared a photo of her daughters, Stella and Hattie, showing sibling love in the most heartwarming way. This must have sparked Mary Jo, who couldn't help commenting as she wrote:
"@torispelling beautiful picture, mama. #day #drinks #choppedsalad # not."
Other fans were also captivated by the love emanating from the post as someone wrote, "A girl without her sister is like a bird without wings." Another fan gushed as they referred to the girls as "perfection."
Before Dean Mcdermott and Tori Spelling became man and wife, the Hollywood star was married to Mary Jo. The two became man and wife in 1993 and had a son. Theirs wasn't to last as the two went through a lousy divorce.
Mary jo wrote a book, "Divorce Sucks," where she penned details of their separation. The two had a longstanding feud and weren't able to stand each other.
In years following their divorce, the Hollywood stars weren't amicable with each other until they had to come together for their son's 21st birthday. Dean said on his podcast,
"Our son, Jack, turned 21, so he came into town… and we went and had a lovely dinner. and the dialogue got friendlier and friendlier."
Subsequently, Mary Jo and Tori got close. The two were able to work out a suitable relationship between themselves. Mary made it known on her ex's podcast that she and Spelling had similar personalities.
Tori Spelling's adult life with her hubby and his ex-wife may be amicable, but her kids might have had some hitches during childhood.
The celebrity mom once made it known that her children, Liam and Stella, had had to endure bullying when they were little.
The bully in question had referred to Stella as "patient zero," a movie character infected by a virus, and nothing was done about it. She changed her kids' school, and presently, they are at a place where kindness is taught.
Please fill in your e-mail so we can share with you our top stories!