Michael Jordan Brought to Tears Honoring Close Friend Kobe Bryant during Memorial Speech
Michael Jordan broke down in tears when talking about his friendship with Kobe Bryant during a tribute at the celebration of life held at the Staples Center.
During the celebration of life at the Staples Center held for Kobe Bryant and his daughter, Gianna Bryant, who died in a helicopter crash on January 26, Michael Jordan broke down in tears during his tribute he revealed:
"It may be a surprise to people that Kobe and I were very close friends. He was like a little brother. Everyone always wanted to talk about the comparisons between he and I. I just wanted to talk about Kobe."
Amongst the many records Kobe broke during his career, in 2012 he also broke Michael's record for the most points scored in an All-Star game. 
In Michael's tribute, he praised Kobe's talent and said his friend worked hard at being the "best basketball player that he could be."
11 years ago today, Kobe Bryant broke Michael Jordan's record for a visitor at MSG with 61 points.

Mamba mentality 🐍 pic.twitter.com/YwX9WXNgRd

— ESPN (@espn) February 2, 2020
He was there for him as a friend and mentor. Michael admitted that as they got to know each other, they struck such a strong bond that he found himself wanting to the best brother he could be to Kobe. 
He was proud of getting to know Kobe, who was focused on becoming a better person, and joked that sometimes their brotherly relationship meant a lot of "dumb questions" and "late-night phone calls."
With tears streaming down his face, Michael's speech hit a lighter note when he poked fun at himself for getting so emotional and risked another viral meme, he joked:
"Now [Kobe's] got me, I'll have to look at another crying meme. I told my wife I wasn't gonna do this because I didn't want to see that [meme] for the next three or four years."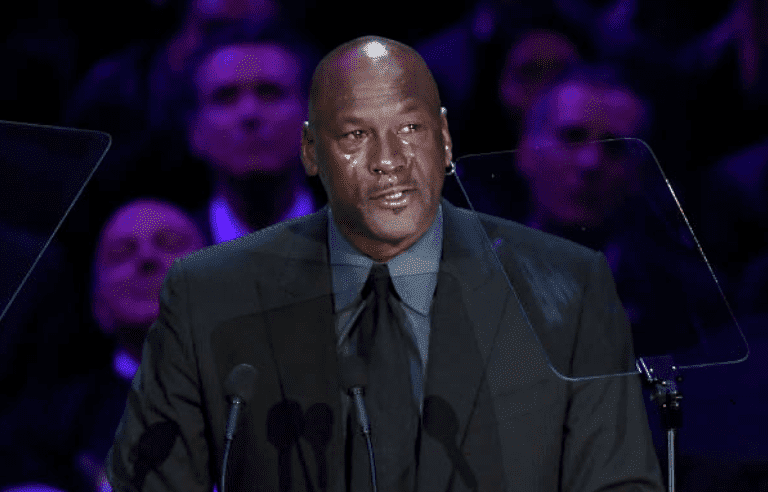 The joke had the audience in hysterics, and as the camera's panned over to Kobe's wife 
Vanessa Bryant
, she also shared a laugh as enjoyed the lighthearted moment. Michael ended his speech 
saying:
"When Kobe Bryant died, a piece of me died…those are the memories that we have to live with and we learn from."
The star-studded celebration of life included Kim Kardashian, Kanye West, Gabrielle Union, Dwyane Wade, Steph Curry, and Kris Jenner in the audience. Alex Rodriguez and Jennifer Lopez were also in attendance and were pictured wiping away their tears throughout the service. 
Jennifer shared a tribute before the event, in which she posted a picture of her nails that had Kobe and Gianna's jersey numbers printed on them in gold.