Duchess Kate Dazzles in Black Tweed Dress & Sparkly Heels Attending a Special Performance of 'Dear Evan Hansen' with Prince William
Kate Middleton sparkled in her choice of accessories as she as joined by her husband, Prince William, for a royal date night in London at the Noël Coward Theatre.
After Kate Middleton and Prince William took a short break from their royal duties to spend time with their three children, the royal couple made to some time for themselves and enjoyed a date night at the theater.
On Tuesday night, they arrived at the Noël Coward Theatre in London to watch a special performance of the critically acclaimed Broadway musical called "Dear Evan Hansen."
While William opted for a blue suit with a complimenting tie, Kate wore a black button-up design by Eponine. Her long-sleeved dress was perfectly fitted and flared out to a mid-length.
The diamonds on the front of her dress perfectly matched her accessories. She chose a sparkly pair of heels by Jimmy Choo and a matching clutch by the same designer.
Adding more glitter to her look, Kate honored her mother-in-law by wearing diamond chandelier earrings previously worn by Princess Diana. 
The glittering details in Kate's sparkling accessories were hard to miss, and so was the band-aid on her finger that she tried to hide behind her clutch.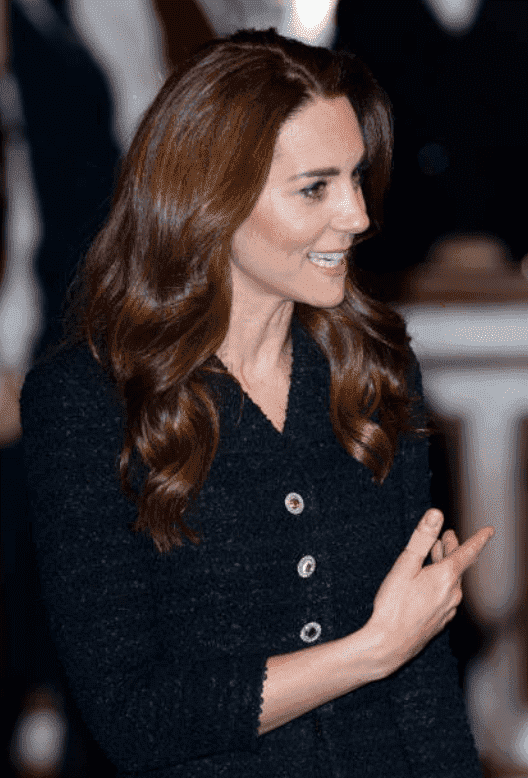 Kate might have gotten the injury while enjoying the farm life at country home in Norfolk. According to 
PEOPLE
, the couple and their children were helping around the farm and even participated in birthing lambs 
Making their return back to work, William and Kate had attended the theatre in aid of the Royal Foundation's efforts in shining the light on mental health. 
This evening The Duke and Duchess of Cambridge attended a special performance of @DearEvanHansen, in aid of The Royal Foundation.@DEHWestEnd | #DearEvanHansen pic.twitter.com/3rbDQYjK9k

— The Duke and Duchess of Cambridge (@KensingtonRoyal) February 25, 2020
It was revealed that the themes in "Dear Evan Hansen" had been credited by the Royal Foundation for helping to highlight the importance of mental health, William said:
"One of the issues that we care passionately about is mental health and we are pleased that Dear Evan Hansen is helping to start important conversations between parents and teenagers about this important subject."
🗣️ The musical @DearEvanHansen has been credited with helping to start important conversations about mental health between parents and teenagers.

The issue of mental health is a key priority for The Royal Foundation, who developed the free @GiveUsAShout text line 📱 pic.twitter.com/4DjCiqB9y0

— The Duke and Duchess of Cambridge (@KensingtonRoyal) February 26, 2020
With more work ahead of them, Kate's brother, James Middleton, showed his support for her UK child development survey, "5 Big Questions on the Under 5s."
He took to Instagram to give details about the survey and to encourage people to "join the biggest conversation on early childhood."