Bode Miller's Wife Morgan Bought Baby Dresses after Learning She Was Having Twins
Pro volleyball player, Morgan Miller, shared a picture of two identical blue dresses on her Instagram story last weekend and the reason why she bought them is pretty heartbreaking. 
Olympic skier Bode Miller and his wife, Morgan, are doting parents to their four sons, Asher, Aksel, Easton, and Edward, but Morgan could do with a baby girl or two. 
Morgan took to Instagram last weekend to share a snapshot of two identical blue dresses on her stories. The dresses from  Cat & Jack might seem ordinary to others, but they have a special place in Morgan's heart.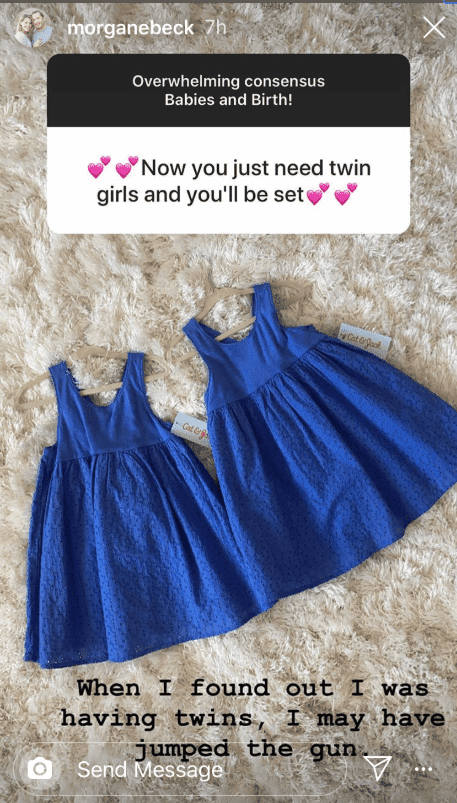 THE HEARTBREAKING REASON
In another snapshot that followed the story, Morgan shared the tragic story behind the reason why she bought the little blue dresses online. 
That's the dress my daughter was wearing the day of her accident.
As fans know, Morgan and Bode lost their baby daughter, Emmy, in an accidental drowning on June 10, 2018. The couple was devastated beyond measure. 
Little Emmy drowned into the neighbor's pool in Coto de Caza, Southern California. Although Morgan performed a CPR on the toddler following the tragic accident, the damage was too severe.
A PAINFUL LOSS
Although the desperate mother's lifesaving tactic seemed to have worked on her child at first, the doctor revealed that her brain had been deprived of oxygen for too long for her to survive. Morgan recalled the heartwrenching details of the day in an interview with "CBS."
"When I opened the door and she was floating face down in the pool. Every time I close my eyes at night to go to sleep, it replays in my head."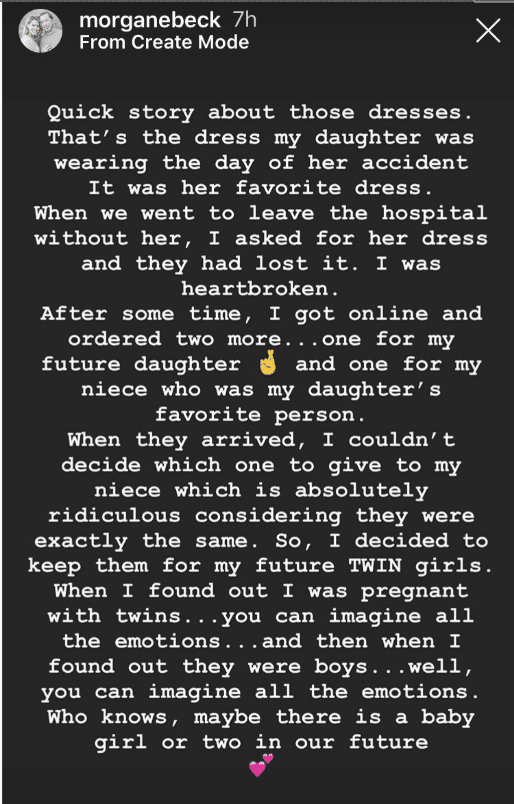 According to Morgan, the hospital had lost the little blue dress that her daughter was wearing on the day she drowned. A while after the incident, Morgan got online and ordered two other identical dresses. 
"When I found out I was pregnant with twins … you can imagine all the emotions."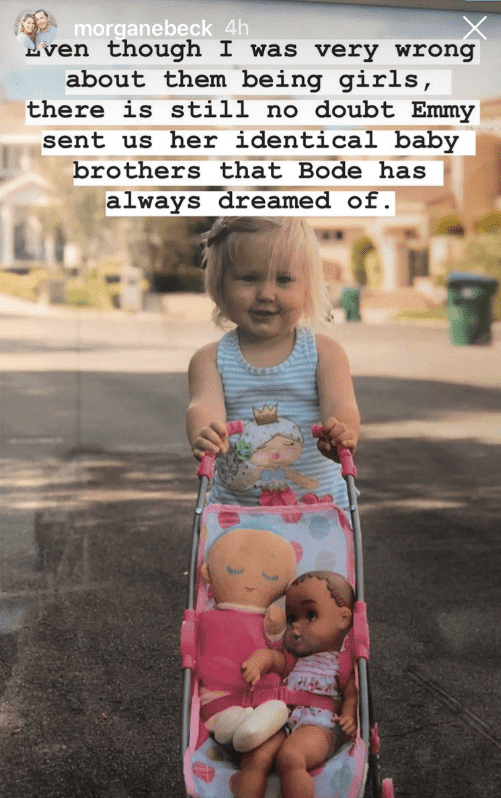 KEEPING THEIR HOPES UP
Although Morgan gave birth to adorable twin boys, she is still hopeful that she will have a baby girl or two in the future. In another snapshot, she shared that her late daughter sent her the identical twin brothers that her husband had always dreamt of. 
Today, Morgan and Bode advocate for the prevention of children's death by drowning. They even gave their son Easton some self-rescue swimming lessons to prevent any tragedy that might occur.