Amy Roloff from LPBW Is Thankful to Her Boyfriend Chris for Working on the New House
"Little People Big World" star Amy Roloff took to social media recently to share how grateful she is to her fiancé Chris Marek for working on her new house.
In an Instagram post on February 26, Amy, who recently moved out of the Roloff family farmhouse, documented the progress on her new house, and she seems thankful she is engaged to a handyman.
Alongside an adorable photo of herself and Chris, the 55-year-old reality star wrote, "I think my babe looks pretty good in a work belt!"
THE BEST FIANCÉ
Amy added that she's very thankful for all the big and little projects her fiancé is doing on the new house, including putting her new office desk together. She continued:
"I couldn't do all of this (without) him. Babe, you're the best."
On February 21, the Roloff matriarch also shared an update with her fans that she's almost done moving her things out of her former home.
VERY EXCITED
Amy announced last September that she is engaged to Chris. She told PEOPLE at the time that she's very excited and thrilled by the proposal. She added that she never thought she'd be getting married again.
Amy was previously married to Matt Roloff. The pair, who tied the knot in September 1987, ended their relationship in March 2014. After two years, their divorce was finalized.
The TLC star isn't just thankful to be a fiancée, but she is also thankful to be a grandmother.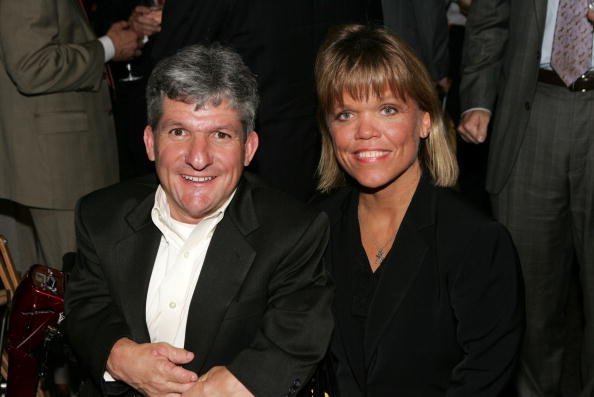 PROUD GRANDMA
As reported by InTouch, Amy said in an interview earlier this year that she would definitely feel the loss of the farmhouse when it's all said and done. However, she's beginning to embrace her new reality.
Meanwhile, the famous TLC star is not just thankful to be a fiancée, but she is also thankful to be a grandmother.
On February 26, she took to Instagram to share photos of herself and her beautiful grandchildren — Ember and Bode.
In the adorable snaps, Amy can be seen spending quality time with the children of Audrey and Jeremy Roloff. She shares that it's always a treasure and most valuable day when she gets to hang out with them.
The proud grandma has two other grandchildren, thanks to her son Zach Roloff and his wife, Tori. Zach and Tori welcomed their second child, Lilah, in November.
They are also parents to son Jackson. Amy also shared photos with Lilah after she was born and wrote about her excitement on Instagram.