Jamie Foxx Shows His Reaction to Older Daughter Corinne's Singing in a New Video
Jamie Foxx's reaction was priceless! His eyes grew big the moment her daughter Corinne belted out a song in a new video. 
While minding his business on the phone, the 52-year-old star got a shock of his life when Corinne sang "Empire State of Mind" by rapper Jay-Z featuring vocals by singer Alicia Keys. Her voice grew and filled the room with amazement. 
In the first few seconds of the video, Foxx stared at the 26-year-old and gazed a little to the camera. It was a proud moment for him as a father.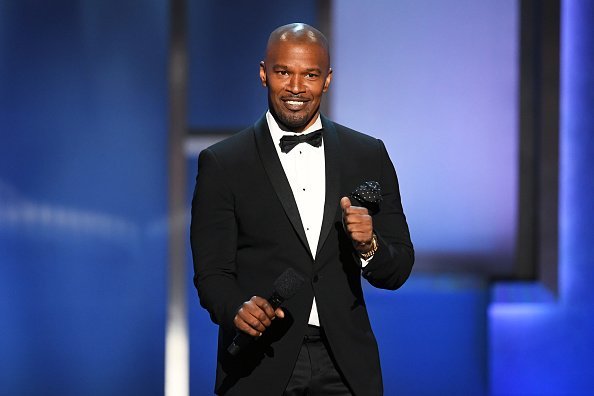 POSITIVE REACTIONS
Foxx's video earned positive reactions from his followers. "Could you and you're kids be any more talented," one follower commented. 
Corinne also posted the Tik Tok video, which was felt around the world. She thanked the fans for their heartfelt appreciation of her talent. Corinne said in her Instagram post:
"I appreciate all the love on this one guys, did not expect this! @iamjamiefoxx wasn't supposed to post this yet, but here we are."
CARVING HER OWN PATH
Corinne has been carving her own path to fame. She recently got her big movie debut "47 Meters Down: Uncaged," which was released last year, as reported by Daily Mail.
In addition to her journey to stardom, Corinne has two films currently in post-production. Her next movie is a biographical sports drama titled "Safety."
Corinne is co-hosting with Jaime in the popular game show "Beat Shazam" in Foxx.
FATHER-DAUGHTER SHOW
She will also appear in another sports comedy-drama, "All-Star Weekend." She will act together with veteran actors Robert Downey, Jr., and Eva Longoria.
Corinne is co-hosting with Foxx in the popular game show "Beat Shazam" on Fox. She couldn't help but feel happy whenever her dad felt proud of her while hosting the show. 
She started working side by side with his father at the age of six. She got a cameo role in "The Jamie Foxx Show," as reported by Closer Weekly.
When she's not doing on-screen work, Corinne is busy doing modeling. She worked together with international brands, including Ralph Lauren, Kenneth Cole as well as Dolce & Gabbana. 
Foxx shares Corinne with his ex, Connie Kline. In November 2014, Corinne made her formal debut at the Bal des débutantes and was named Miss Golden Globe 2016.
Foxx, who became widely known for his portrayal of Ray Charles in the 2004 biographical film "Ray," is also a doting father of Annalise, 11, with his former partner, Kristin Grannis.