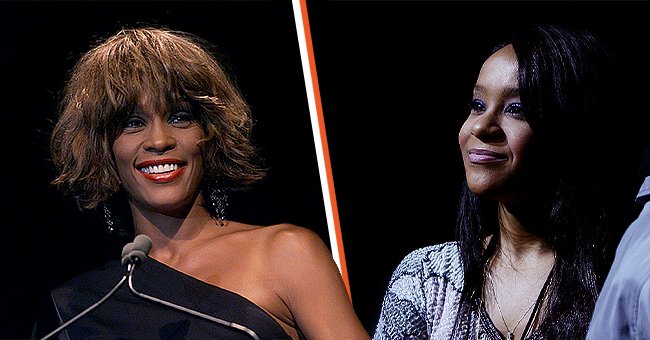 Getty Images
Whitney Houston & Bobby Brown's Late Daughter Bobbi Kristina Would Have Turned 29 This Year
Whitney Houston and Bobby Brown's daughter, Bobbi Kristina Brown, would have turned 29 this year. Sadly, at 22, she met the same fate as her mother in what appears to be parallel deaths.
Growing up with celebrity parents allowed Bobbi Kristina to get used to the spotlight. At a young age, she already took the stage and performed with her famous mother. But it seemed like having a powerful voice was not the only thing she shared with her mom.
At 22, not long after Whitney died, Bobbi followed her mother due to an overdose. No one thought that what seemed like a promising life ahead of her would unfold tragically as it did and would end in the same way her mother's ended.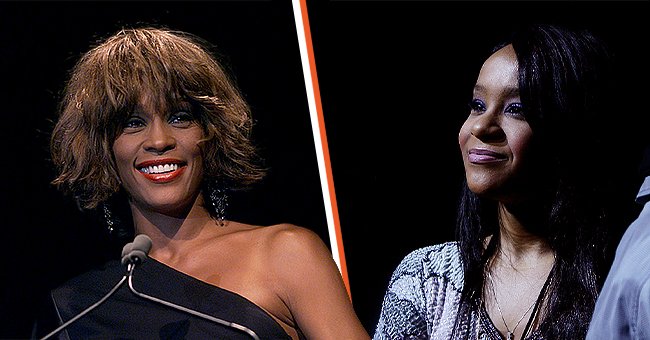 A side-by-side photo of Whitney Houston and Bobbi Kristina. | Source: Getty Images
BORN TO A FAMOUS COUPLE
Whitney Houston and Bobby Brown tied the knot in 1992 and welcomed their one and only child, Bobbi Kristina, on March 4, 1993. Bobbi quickly became the center of their lives and a constant source of motivation for the world-renowned singer.
Bobbi grew up in the spotlight, having been brought on tours with her mother at four months old. Whitney accepted her award during the 1994 American Music Awards while carrying Bobbi up the stage. According to the "I Will Always Love You" songstress, she could not leave her crying daughter behind.
The duo was undoubtedly close and shared a beautiful voice. Naturally, Whitney was delighted to have her daughter join her to sing duets on stage, including a "My Love Is Your Love" performance during a concert in Germany. Unfortunately, her singing talent was not the only thing Bobbi inherited.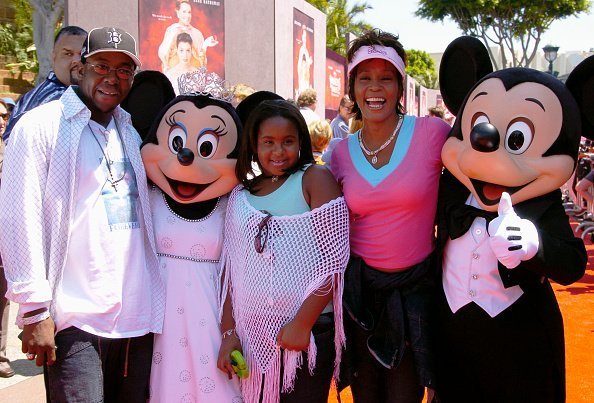 Whitney Houston, Bobby Brown, and Bobbi Kristina at Disneyland in August 2004. | Source: Getty Images
WHITNEY'S TURBULENT LIFE
Behind the incredible performances, Whitney struggled with drug abuse and a tumultuous relationship with her husband. Unfortunately, Bobbi had front-row seats to the bitter side of her parent's marriage, even witnessing her father spitting on Whitney.
After a series of drug charges and trips to rehab, the couple ended their marriage in 2006. Despite being away from hurting each other, Whitney tortured herself through drug use. On February 11, 2012, Whitney was found face-down in a hotel tub.
While her official cause of death was accidental drowning, her cocaine intake was a contributing factor. Traces of marijuana, Xanax, Benadryl, and Flexeril were found in Whitney's system.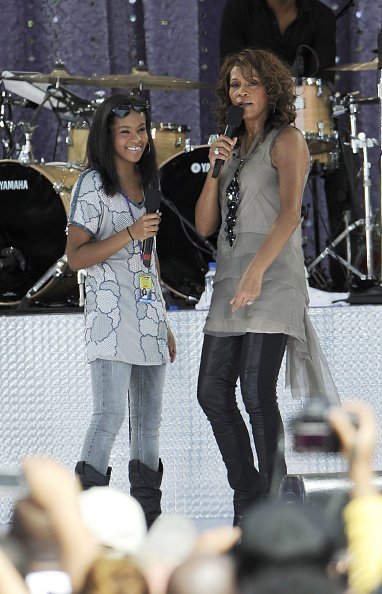 Bobbi Kristina Brown on stage with her mother, Whitney Houston, in September 2009 in New York City. | Source: Getty Images
BOBBI FOLLOWS HER MOTHER'S FOOTSTEPS
Bobbi was 18 when she had to face losing her mother, with whom she shared a special connection. The many traumatizing experiences in her life led Bobbi to tread the same path of destruction in her young adult years. She would soon find herself deep into drugs and in an abusive relationship.
She got engaged to Nick Gordon, a kid who Whitney took under her wing at 12, in 2012. However, many were against their union, including Bobbi's grandmother, Cissy Houston, who called the relationship "incestuous." According to Bobbi's close friend, Alex Reid, Gordon was controlling and abusive. She said:
"Krissy felt isolated from the whole family, and that left her completely dependent on Nick for everything. It was just her and Nick, and that was it."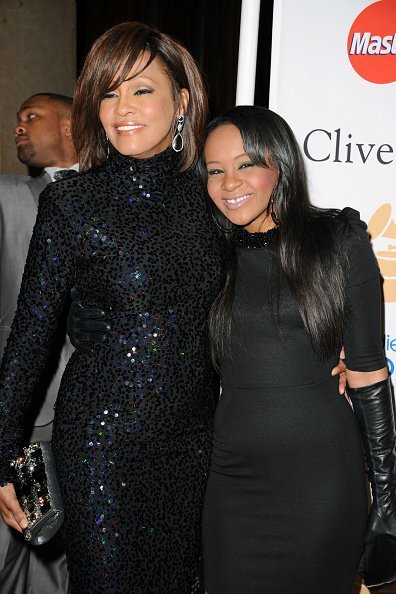 Whitney Houston and Bobbi Kristina Brown at the Beverly Hilton in February 2011. | Source: Getty Images
LIVING RECKLESSLY
On January 27, 2015, Kristina was involved in a vehicular accident after losing control of her wheel and hitting two cars. She also had an existing bench warrant for her arrest after skipping a court hearing.
According to Gordon, he blames himself for not saving Bobbi sooner, but he cannot take the blame for someone else's addiction. Sadly, Gordon died on December 31, 2019, from a suspected drug overdose.
Four days later, she was found unconscious in her and Gordon's home bathtub with her face submerged in water. It was discovered that Bobbi was intoxicated with a mix of drugs in her system. This left her in a coma for nearly six months before she passed away on July 26, 2015.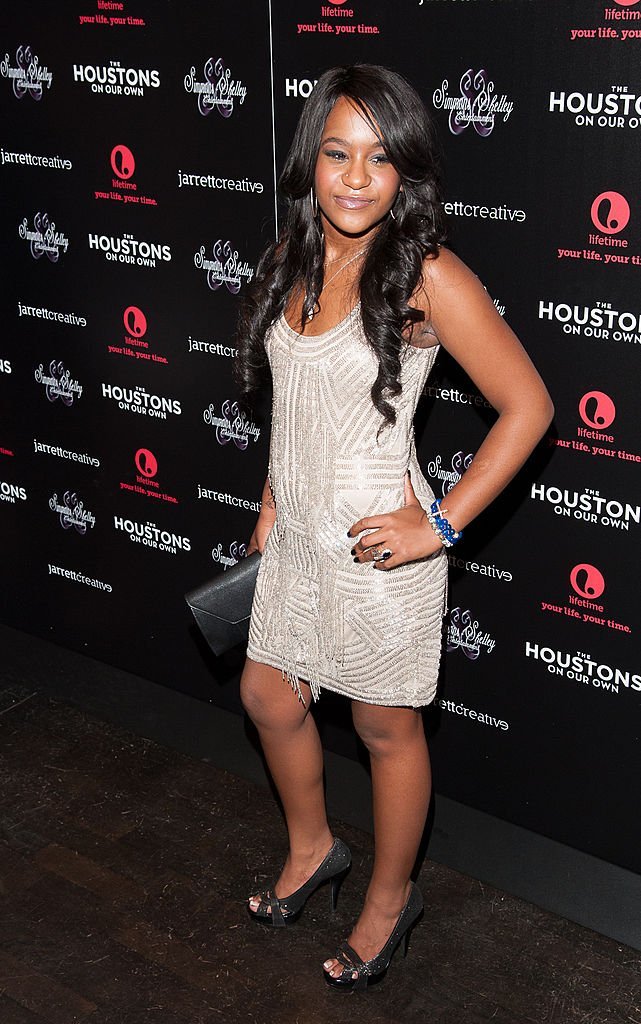 Bobbi Kristina Brown during "The Houstons: On Our Own" Series Premiere Party in October 2012. | Source: Getty Images
THE PARALLEL DEATHS OF WHITNEY AND BOBBI
Bobbi was only 22 years old when her life was cut short. Her manner of death eerily mirrored her mother's demise as both were found lifeless in a bathtub, submerged in water, and overdosed with drugs.
Traces of alcohol, morphine, marijuana, a cocaine byproduct, and a sedative treatment medication were found in Bobbi's body. The statement regarding her passing read:
"Death was clearly not due to natural causes, but the medical examiner has not been able to determine whether the death was due to intentional or accidental causes, and has therefore classified the manner of death as undetermined."
GORDON'S ROLE IN BOBBI'S DEATH
Gordon was asked to pay millions in a wrongful death lawsuit filed by Bobbi's estate after her death. He allegedly gave the "I Have Nothing" singer's daughter a toxic cocktail that left her unconscious.
It was also claimed that Gordon placed Bobbi's face in a tub filled with water, causing brain damage. Gordon has since denied the accusations and said he still dreams about Bobbi. He said, as reported by the Sun:
"I had no idea she was in the bath until I heard a friend scream. I raced upstairs and gave her CPR. She wasn't breathing, so I gave her mouth-to-mouth. Three minutes in, she spat out some water [...]."
He later revealed that Bobbi did not intend to hurt herself as they had planned their future together. "We would have loved to have a kid, but we weren't planning on it yet, and she was just such a young fragile person, it took a toll on her," he said. "We wanted to get clean, settle down, get married, [and] have kids."
According to Gordon, he blames himself for not saving Bobbi sooner, but he cannot take the blame for someone else's addiction. Sadly, Gordon died on December 31, 2019, from a suspected drug overdose.
Please fill in your e-mail so we can share with you our top stories!