Steve Harvey's Twin Daughters Karli and Brandi Turned Heads in Their Stylish Outfits at Recent Event
Steve Harvey's twin daughters, Brandi and Karli Harvey revealed their knack for fashion when they recently posed for a photo at an event. 
Steve Harvey's twin daughters served up stunning looks recently. The eldest children of the famous comedian posed with their best foot forward as they channeled their equally fashionable ensembles.
Before Marjorie Harvey, Steve Harvey's famous third wife, he was first married to Marcia Harvey with whom he shares twins, Brandi and Karli, and son, Broderick.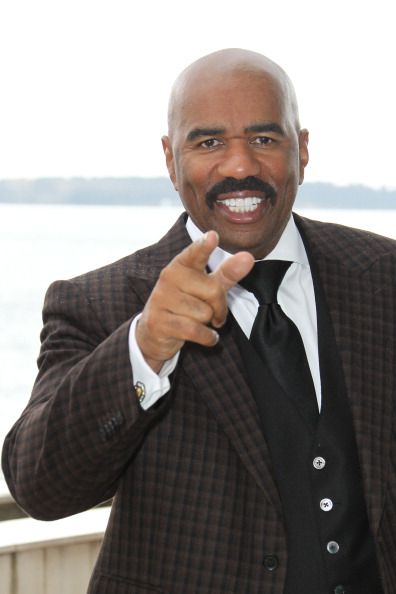 BRANDI THE WELLNESS GURU
The twins, now 37, are women who managed to make names for themselves even without the influence of their father.
Brandi is a wellness enthusiast who dabbled in amateur bodybuilding before establishing Beyond Her, an organization that provides women of color an avenue to learn more about active wellness. She is also a motivational speaker directed towards improving the lives of women.
In relation to her father, she is the Executive Director of the Steve and Marjorie Foundation where she also serves as the Chief Change Maker. Her sister, Karli is part of the initiative as a mentor for children.
KARLI THE ENTREPRENEUR AND FAMILY WOMAN
Like Brandi, Karli is a public speaker but she's professionally a hairstylist and an entrepreneur. She worked for her father for a time as the Creative Director of Steve Harvey Products for Steve Harvey Radio Network.
Unlike Brandi, Kardi is married. She wed Benjamin Raymond in 2014 and they share a son named Benjamin Troy Raymond II born in 2016.
Steve and the twins' mother, Marcia were married for 14 years until they parted ways in 1994 due to ambition.
FASHIONABLE TWINS
Brandi and Karli were recently together in a photo shared on Versatile Fitness' Instagram. The caption revealed the sisters "Dropped jewels" that day.
Judging from the backdrop of their photo, they appeared to have attended a conference for At The Well. It isn't clear if they were there as speakers or as guests The sisters stood toll on each side of a man and made quite an impression with their fashionable outfits.
Brandi, on the left of the photo, wore a beige short-sleeved button-down dress. She paired it with snakeskin print boots and a wide-brimmed hat. She accessorized with a thick band of bangles and giant hoop earrings.
Meanwhile, Karli's yellow two-piece suit contrasted well with her black top underneath. She wore a long necklace,  oversized gold hoop earrings, and pointy shoes to complete the look.
The sisters clearly know how to make a statement just by showing up.
Steve and the twins' mother, Marcia were married for 14 years until they parted ways in 1994 due to ambition. Steve wanted to pursue his dream of becoming a comedian and his family had to take a back seat. This didn't sit well with his then-wife.
They eventually moved on with other people - Steve with second wife, Mary Shackelford and now third wife Marjorie and Marcia with her current husband, Larry Greene.
Though the twins lived with their mother growing up, they managed to maintain a good relationship with Steve who is also a father to son Wynton with Mary. He likewise stood as a father to Marjorie's three children from previous relationships.