Tracee Ellis Ross & Anthony Anderson Transform into Beyoncé & Jay-Z in Iconic Pics for Upcoming 'Black-ish' Episode
Tracee Ellis Ross alerted her followers to an upcoming episode of "Black-ish" where she and co-star Anthony Anderson recreate a scene from Beyonce and Jay-Z's iconic music video. 
Fans of "Black-ish" may be doing a double-take once they see Tracee Ellis Ross and Anthony Anderson channel their best impressions of Beyoncé and Jay-Z in their upcoming episode. The co-stars recreated the famous couple's "Apesh*t" look and it's quite a visual treat.
Tracee alerted her followers to the March 17 episode by sharing photos of her transformation to Beyonce and Anthony's to Jay-Z.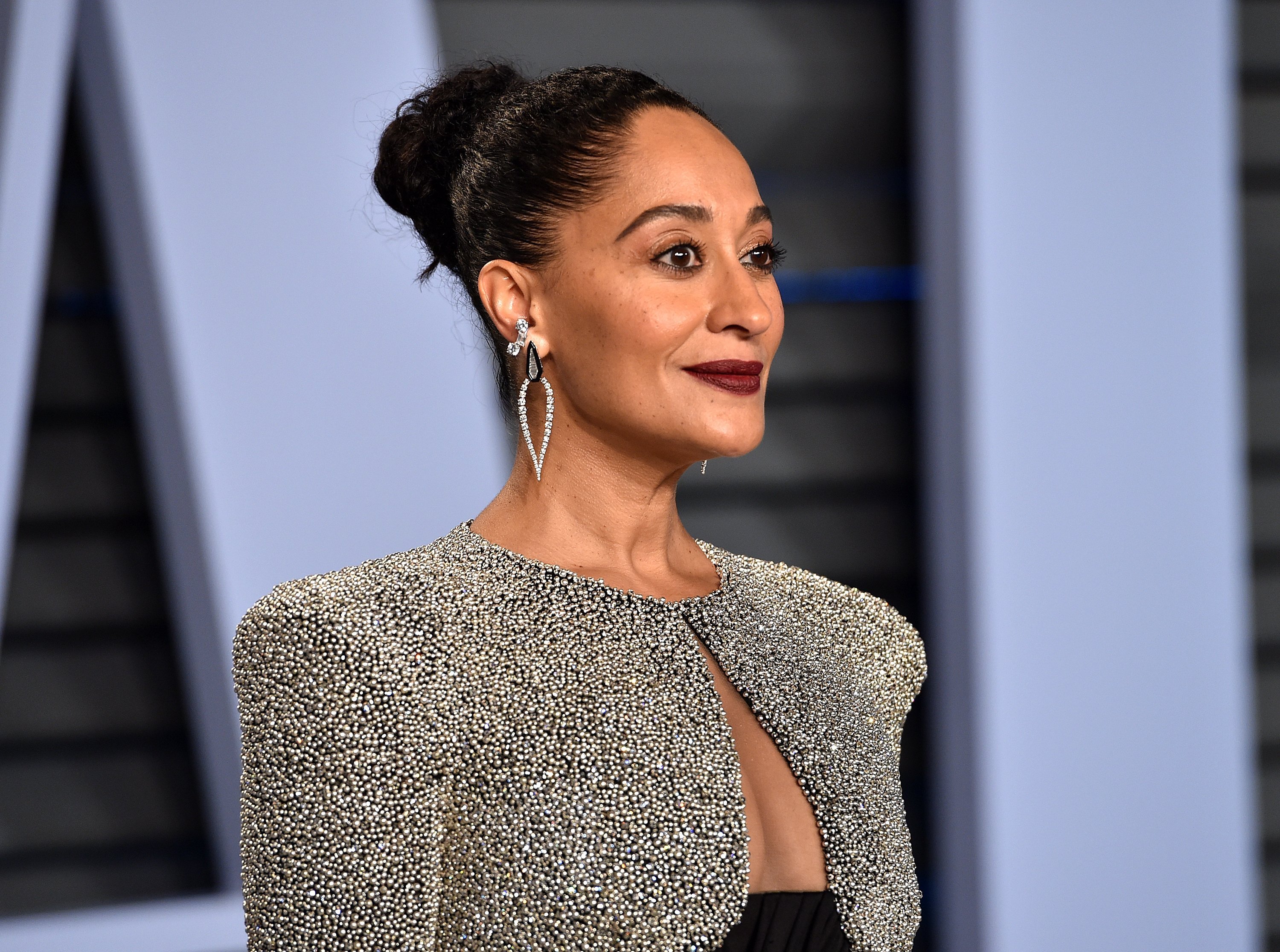 The photos were a recreation of the popular scene from the Carters' music video where they're standing in front of a painting of the Mona Lisa.  It was the same scene an artist recently painted but replaced with Prince Harry and Meghan Markle standing in front of a painting of Princess Diana. It was in response to the royal couple's announcement that they would step back from royal duty.
The Louvre now offering 90-minute tours inspired by JAY-Z and Beyoncé's "Apesh*t" https://t.co/4Sz6PU05H4 pic.twitter.com/Br2VsDvNQO

— Complex (@Complex) July 6, 2018
In Tracee's photos, she rocked long crimped hair parted to the side and styled with a ponytail. She also wore a suit similar to that of Beyonce's original light purple suit but in a slightly different shade. 
Meanwhile, Anthony styled his hair in Jay-Z's famous twists and donned a light blue-green suit to match the one the rapper wore complete with a gold chain and giant pendant.
It's unclear why Tracee and Anthony's characters, Dre and Rainbow had to go "Apesh*t" for their show.
According to BET, the episode titled "Best Supporting Husband" will see Rainbow being elected to the Board of California Medicine. She's extended an invitation to its fundraising gala and the invitation is addressed to Dr. Rainbow Johnson and guest. Dre will have a dramatic reaction to all these.
"Black-ish" has been making waves for six seasons, bringing to life relevant social issues pertaining to African American families. Anthony previously praised the show for opening doors for minorities to be represented in television.
In fact, it paved the way for a spin-off, "Mixed-ish" which brings to the forefront the experiences of mixed-race families by highlighting Rainbow's biracial roots. 
Tracee was thrilled to executive produce the show because she truly believes there's so much about the mixed-race experience that has yet to be explored. 
Mixed-ish debuted on television in 2019 bringing together stars Arica Himmel as the young Rainbow, Tika Sumpter as Rainbow's mother, Alice Johnson and Mark-Paul Gosselaar as Rainbow's White father, Paul Johnson. Tracee is still part of the show as the voice narrator of the adult Rainbow.