Harry & Meghan Have Priceless Reactions after Man Proposes to Girlfriend in Front of Them at Endeavour Fund Awards
While attending the Endeavour Fund Awards, Prince Harry and Meghan Markle had the sweetest response when one of the award recipients proposed to his girlfriend right in front of them.
Meghan Markle and Prince Harry looked regal in blue as they arrived at the annual Endeavour Fund Awards, attending the ceremony for the third year in a row.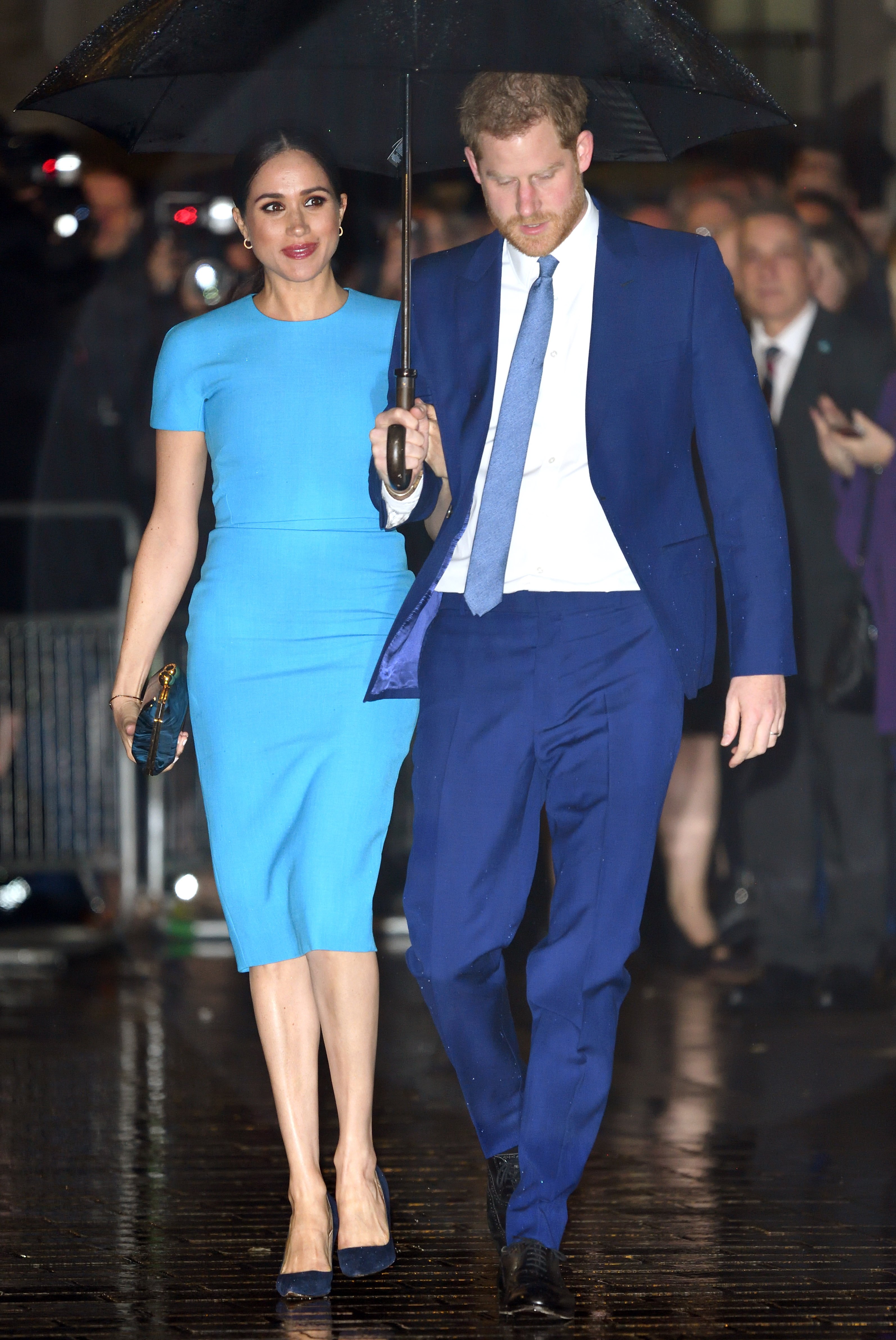 AN EVENTFUL FIRST JOINT OUTING
It's their first joint outing since relocating to Canada, and the royal couple looked cheerful as they got ready for an evening that celebrates injured veterans who took part in remarkable sporting events and their achievements.
The first award for the evening, Recognising Achievement, went to veteran Danny Holland for his work with the Forces' Motorsport Charity. 
It's time to reveal the first winner of the night, and the award for Recognising Achievement goes to Danny Holland for his incredible @Missionmotorspt success!

Congrats Danny #EndeavourFundAwards pic.twitter.com/vK7jNd8O9g

— Endeavour Fund (@EndeavourFund) March 5, 2020
The veteran became emotional during his acceptance speech before asking his girlfriend to join him on the stage. With Meghan and Prince Harry in the front row, they had an unencumbered view of what happened next.
THE PROPOSAL
As Danny dropped down on one knee to propose, Meghan clasped her hands together with joy as she glanced over at Prince Harry. 
The royal pair, along with everyone else in the audience, smiled broadly as Meghan put her hands on Prince Harry's knee in anticipation of the girlfriend's answer.
WATCH: One of tonight's @EndeavourFund Award winners just proposed to his partner in front of Harry and Meghan...
Watch the reaction from the Sussexes, the audience, and (of course) the bride-to-be!! 💍 pic.twitter.com/rlDp9FTZxD

— Chris Ship (@chrisshipitv) March 5, 2020
The moment she said yes, Meghan's hands went to her chest and held them together in excitement, happy for the newly engaged couple as they walked off the stage.
WHAT HAPPENS NEXT
Both Meghan and Prince Harry presented awards during the evening, which is one of their final list of engagements before their royal exit officially kicks in on March 31.
She said yes!!

A second enormous congratulations to Danny on his engagement! What an amazing proposal, and what a way to kick off the #EndeavourFundAwards! pic.twitter.com/v2bxaur9lr

— Endeavour Fund (@EndeavourFund) March 5, 2020
Monday will see the royal couple attend their last engagement as senior members of the royal family when they join the Queen, Kate Middleton, and Prince William for the Commonwealth Service held in Westminster Abbey.
WHERE WILL THEY LIVE?
Returning to Canada next week, it is reportedly unlikely that it will be their only residence, apart from Frogmore cottage, which will remain their UK home.
According to reports, Meghan and Prince Harry "love being in Canada," but due to Meghan's extensive support system in Los Angeles, they are scouting for property there as well.
They will reportedly spend time in Meghan's hometown this summer, during which they look at future possibilities as a source told PEOPLE that they are "likely to have houses in both places."
However, during lunch with Queen Elizabeth on March 1, she reportedly made it clear to Prince Harry during a "heart to heart" that he can always call his family home. 
The Queen doesn't want Prince Harry to feel "estranged" for them and reportedly said that she wants her grandson to be "happy."