Meghan Smiles & Holds Hands with Harry as They Attend 1st Royal Event since Returning to the UK
On Thursday, March 5, 2020, Duchess Meghan was seen in the UK with her husband Prince Harry. Meghan came back to London to perform some royal duties alongside her husband.
Duchess Meghan joined Prince Harry for their first official joint outing since she returned to the UK. The couple was in the country to perform their last royal engagements.
On March 31, 2020, Meghan and Harry are expected to officially step down from their senior royal roles. This week, the pair were seen smiling as they attended the annual Endeavour Fund Awards in London.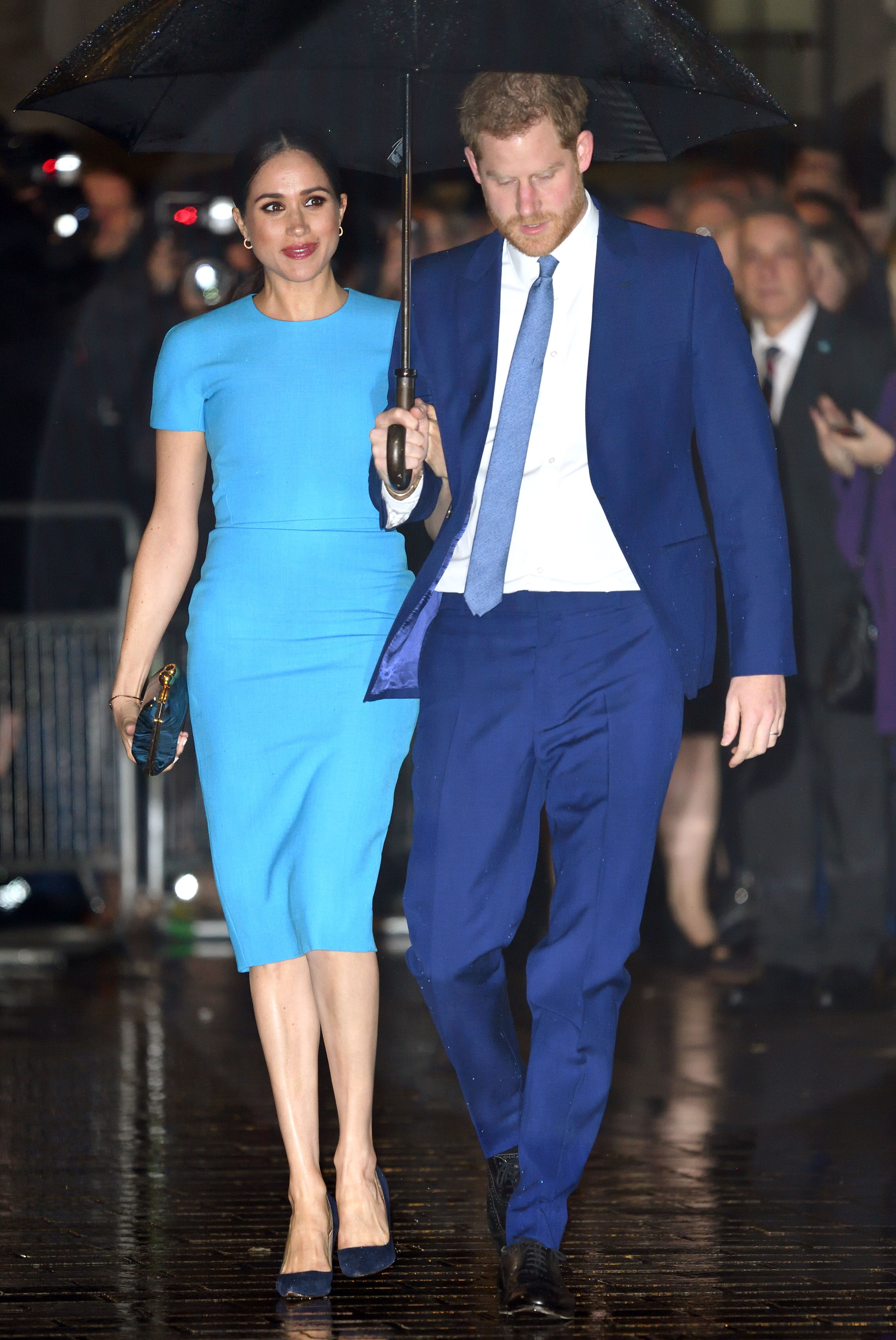 Attending an award ceremony together
The event honors veterans, servicemen, and women who have achieved extraordinary milestones in their recovery from injury. Over the past year, the honorees took part in sporting and adventure challenges.
The Duke and Duchess of Sussex first attended the event together in 2018. Arriving at the event in rainy weather, Meghan wore a fitted teal dress by Victoria Beckham.
Huge congratulations to @_leejspencer for winning the Celebrating Excellence award. Lee now holds a total of 4 Guinness World Records!

Lee can't be here tonight but his wife Claire acceped the award on his behalf from The Duchess of Sussex! #EndeavourFundAwards pic.twitter.com/stM2otK67I

— Endeavour Fund (@EndeavourFund) March 5, 2020
Meghan's first spotting on Thursday
She added BB pumps by Manolo Blahnik to her look and styled her hair into a low ponytail. The cute couple entered the venue arm-in-arm.
Prince Harry and Duchess Meghan have arrived at Mansion House for tonight's @EndeavourFund #EndeavourFundAwards to celebrate the achievements of wounded, injured and sick service personnel who have taken part "in remarkable sporting and adventure challenges over the past year." pic.twitter.com/Niig20DTkv

— Omid Scobie (@scobie) March 5, 2020
According to "The Sun" Meghan was spotted before the event they attended that evening. She was seen outside The Goring Hotel in London.
What Meghan wore for lunch
For that occasion, she wore a camel-colored wrap coat and black strappy stilettos. Harry was seen leaving before her wearing a navy blue suit and white shirt.
Attending Commonwealth Day
The couple was at the hotel, which is located near Buckingham Palace, for a private lunch. On Monday, the pair is set to join Queen Elizabeth, Prince Charles, and Prince William, and Duchess Kate at a service to mark Commonwealth Day in London.
Stepping down as senior royals
Part of Harry and Meghan's decision to step down included them no longer holding an office at Buckingham Palace. Instead, the pair will be represented by their UK charity foundation team.
I just wanna be able to wear a beige coat as well as Meghan Markle does. How is this picture so perfect?! pic.twitter.com/Unt8r13geU

— Nola Thee Journalist (@NolaMarianna) March 5, 2020
Establishing a new NPO
According to their spokesperson, they will split their time between the UK and North America. The Duke and Duchess were said to be attending meetings to establish a new non-profit organization.
Despite stepping down, the couple will still work with the "Commonwealth, community, youth empowerment and mental health, collectively."