Porsha Williams Shares Rare Pic with Dennis McKinley Amid Relationship Drama on RHOA
"Real Housewives of Atlanta" star, Porsha Williams shared her first joint picture with fiance Dennis McKinley in over two months, after his cheating drama.
First-time mother Porsha Williams recently shared a picture of her and fiance Dennis, while they were on a double date, on Friday, March 6.
In a move that surprised her fans, some of whom are still reeling from the shock of Dennis's cheating scandal, the reality TV queen looked gorgeous and in high spirits.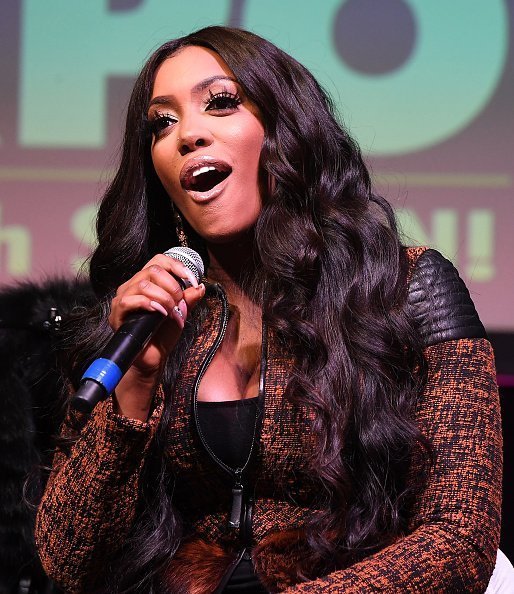 Cozying up next to her man Porsha, 38, looked absolutely stunning in a black long-sleeved top, black leather pants and brown boots. With her handsome fiance, who was also dressed in black, smiling in the background.
They looked so cute together and packed some PDA as Dennis wrapped his arm around her, while the group posed for the breathtaking picture. Posting the photo on her official Instagram page, Porsha put the caption:
"Doubles ... lol still on my Trini ish. Happy Birthday Paul 'All black everything NWH!"
The couple was out with their RHOA co-star Tanya Sam and her fiance Paul Judge. It seems the theme for the night was black, as they were all dressed up in black.
Interestingly, this is the first time Porsha will be posting any picture with her beau in over two months. 
Since Dennis cheating scandal came to light, she has avoided commenting or posting anything about their relationship. Instead, Porsha has focused on raising their daughter.
Her relationship with Dennis has had its highs and lows, but things reached a fever pitch when he admitted to cheating on her while she was pregnant. Things seem to be finally getting back to normal after a brief break up. A HollywoodLife insider recently revealed:
"Porsha and Dennis are keeping their relationship and the ins and outs of it a little more private now that they've reconciled, but they seem to be doing well."
It is good to see Porsha happy again, as it appears she just can't get away from drama.
The TV star who seemed to have mended fences with co-star, Nene Leakes, after a drawn-out feud, conspicuously left her out of a group picture which had other co-stars of the reality TV series. Thereby drawing speculation all isn't well with the divas.
Despite all this, she was able to kick back and take a well-deserved break from all the work and mommy duties as she went on a girl's night out with her half-sister Lauren Williams.
Porsha is one big ball of fun, with all the drama, the heartbreak, the controversy and messy fights; added to that is her soon to be adorable one-year-old daughter, Pilar Jhena.