Kim Kardashian & Kylie Jenner Leave Little to Imagination Posing in Swimsuits in a New Photo
Reality stars Kim Kardashian and Kylie Jenner recently showed off their fabulous figure while sunbathing in the pool.
The "Keeping Up with the Kardashians" stars left little to imagination posing in their sexy swimwear in a recent Instagram snap.
Referencing the pair's bikini colors with a tan and brown heart, Kim, who first gained media attention as a friend and stylist of Paris Hilton, captioned the shot, "Yin Yang."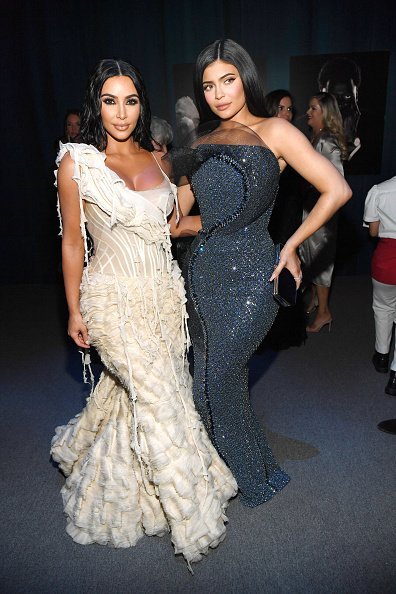 SOCIAL MEDIA RESPONSES
In the photo, Kim, 39, is seen wearing a black thong bikini while Kylie, 22, dons a crocheted, off-the-shoulder, tan bikini.
As of this writing, the photo has already received over four million likes. Many fans also expressed their admiration for the two.
One fan said he would never get tired of looking Kim and Kylie's photo and that it brings a tear to his eye. Another fan said the famous reality stars look very similar more and more these days.
PERSONAL PHOTOGRAPHER
As reported by PEOPLE, the picture came one day after their sister Khloé Kardashian, 35, and her daughter True, 1, spent quality time with Kim's children — North, 6, Saint, 4, Chicago, 2, and Psalm, 9 months.
Meanwhile, during their romantic Valentine's Day trip to Mexico last month, Kim recruited husband Kanye West to be her personal photographer.
Kim regularly works on her law studies for a total of 20 hours every week.
DOTING HUSBAND
In one shot, the mother-of-four can be seen leaning on the edge of the pool. Crediting her husband for the photo, Kim wrote "Valentine's Surprise Getaway."
As reported by PEOPLE, the famous rapper is known for pulling off fantastic and romantic experiences for Kim each Valentine's Day.
A year ago, Kanye, who is among the most critically acclaimed musicians of the 21st century, hired saxophonist Kenny G to perform for the pair at their home. 
The power couple, who are not just two of the most influential names on the Internet, but also in reality television shows, got married in a private yet extravagant ceremony in Florence on May 24, 2014. 
Kim regularly works on her law studies for a total of 20 hours every week. The star, who has just finished her first year of studying the law, revealed she'd discovered her actual purpose in life.