Apryl Jones of LHHH Fame Shares Photos from Daughter A'mei's 4th Lipstick-Themed Birthday Celebration
Apryl Jones celebrated her and Omarion's daughter's birthday with a grand lipstick-themed party complete with a spa, mini salon, and lots of pretty food. "Anything for my baby girl," she said.
March 7 marked the fourth birthday of Apryl Jones' daughter and the "Love & Hip-Hop: Hollywood" star went all out with a lipstick-themed party. 
Apryl's daughter, Amei Grandberry is a fan of lipsticks so a party themed after her cosmetic obsession was a no-brainer.
To stage the affair, April sought the help of her best friend who she thanked as she shared a video documenting the epic day.
ALL-OUT FOR LIPSTICKS
The party was held at Live Love Play in Glendale which had an indoor playground that was transformed into a girly girl's paradise.
Giant lipsticks stood out among the predominantly pink decor which lined the entrance to the party. Apryl, in all white, joined A'mei and her brother, Megaa as they posed for photos by the entrance.
A'Mei wore a denim vest over a pastel-colored ruffled skirt.
A'mei and Megaa are Apryl's children with her ex, Omarion who's the former bandmate of Apryl's more recent ex, Lil Fizz.
The video also featured what was in store for guests - pretty dessert and fruit carts, cotton candy, lounging areas, a mini spa and salon, and a table for arts and crafts. The food spread consisted of several types of sandwiches.
"Anything for my baby girl," Apryl wrote to caption her clip. She also shared a photo with her two kids leaning on her. "Attached to the hip…literally," she described it.
APRYL AND THE FATHER OF HER CHILDREN
A'mei and Megaa are Apryl's children with her ex, Omarion who's the former bandmate of Apryl's more recent ex, Lil Fizz. Apryl and Omarion dated during the first two seasons of "Love and Hip Hop: Hollywood" which premiered in 2014.
At the end of the first season, they welcomed their son, Megaa. And just shortly after they left the show on its second season, they welcomed A'mei. In 2016, the couple broke up.
APRYL AND THE FORMER BANDMATE OF HER EX
Last year, Apryl and Omarion's former B2K bandmate, Lil Fizz, confirmed they were dating through posts on Instagram. Many suspected this created tension between Fizz and Omarion who broke away from B2K shortly after.
Last month, Omarion broke his silence regarding his ex dating his former bandmate. He said he and Fizz had yet to talk but clarified that they were never friends, to begin with.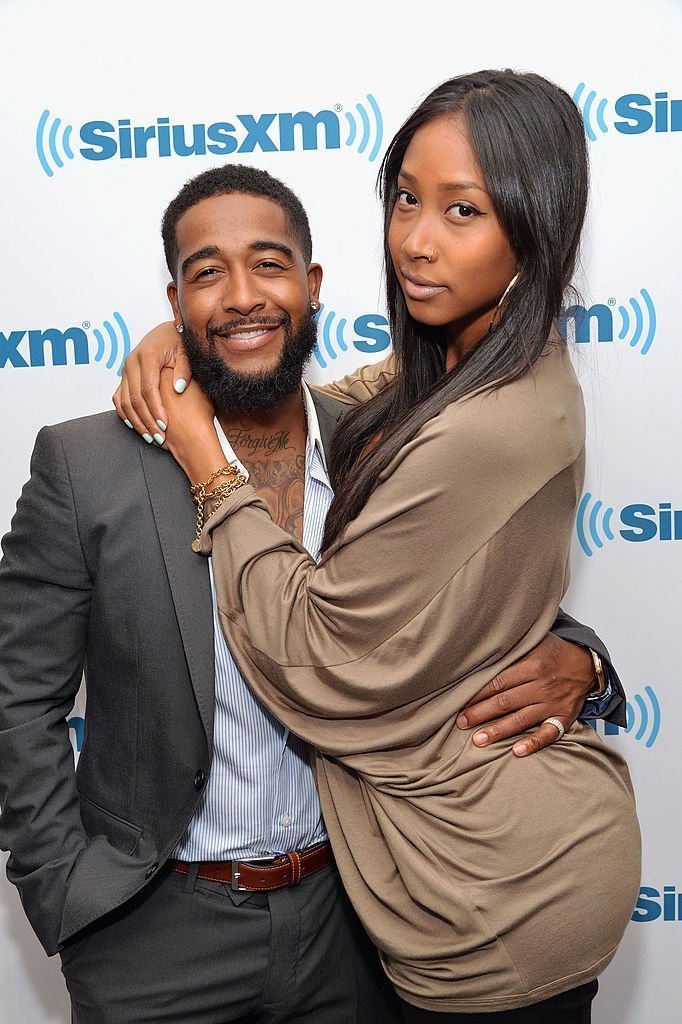 At the time, rumors were already floating that Apryl and Fizz had broken up. The rumors surfaced in January when the couple unfollowed each other.
Apryl appeared to deflect the rumors when she didn't directly answer when asked during an appearance on Fox Soul if she and Fizz were over.
Instead, she said, "Dreux [Fizz's real name] is a great man. His focus is on Kam [his son], my focus is on my children and we are where we are. I kind of want to leave it there."
And it looks like Apryl did focus on her kids recently judging by the way she celebrated her daughter's birthday.