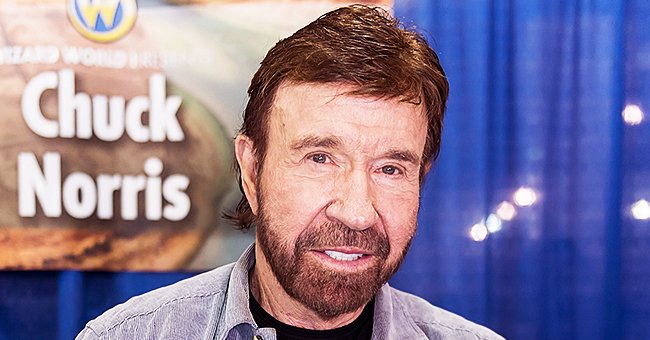 Getty Images.
Chuck Norris Turns 80 — Glimpse at Action Movie Star's Five Decades in the Entertainment Industry
On Tuesday, legendary actor and martial artist Chuck Norris turned 80 years old. A life filled with extraordinary achievements, a big family, and also boasts with a string of satirical joke factoids in his honor.
Born in 1940, the actor's name only changed from Carlos Ray Norris to his nickname Chuck when he served in the Airforce at the age of 18. Stationed in South Korea at the Osan Air Base at the time, he began his martial arts training, which in turn led to his one-of-a-kind career.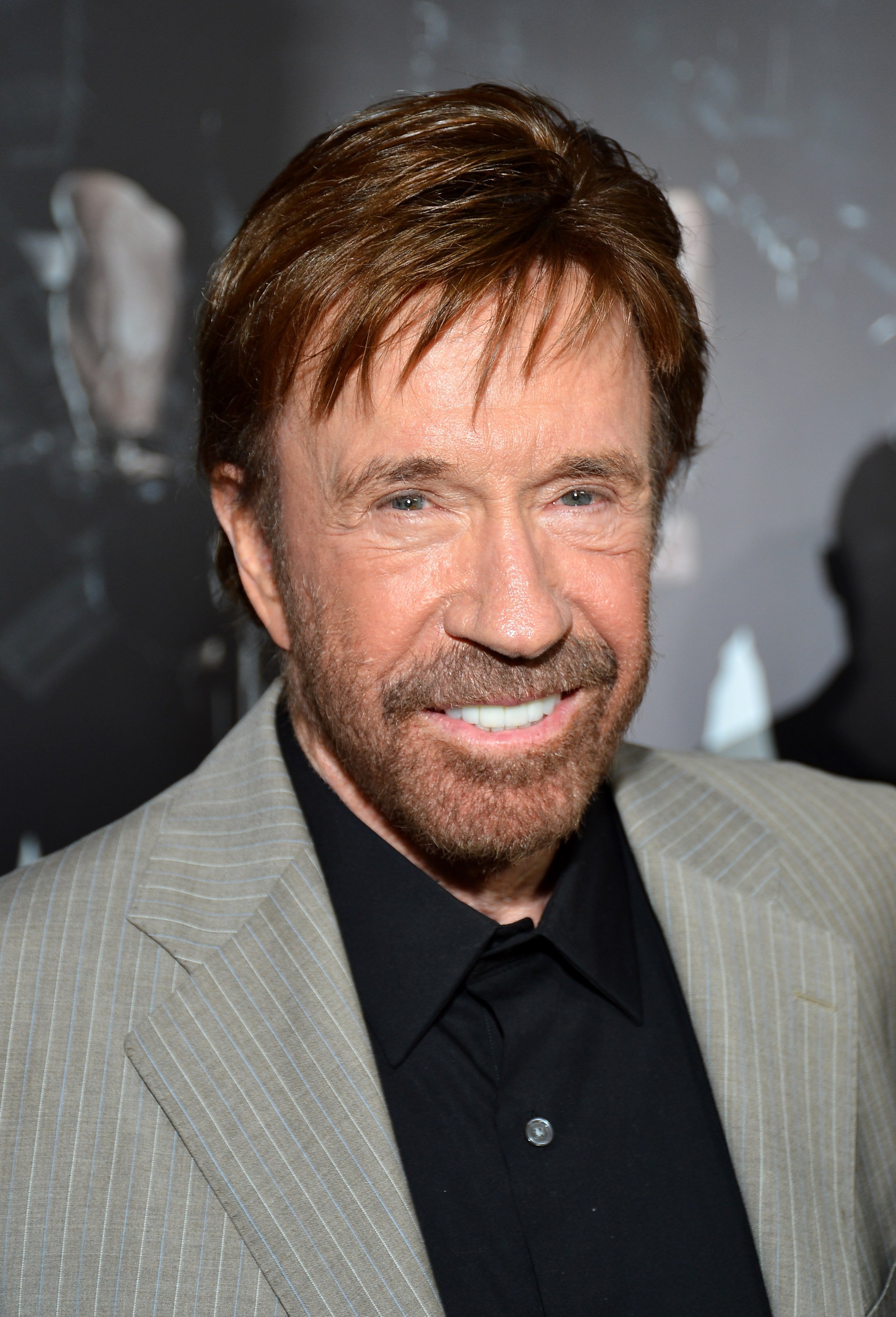 Chuck Norris attends the "The Expendables 2" premiere on August 15, 2012, in Hollywood, California. | Source: Getty Images.
HOW HIS ACTING CAREER STARTED
After leaving the service in 1962, Chuck became a karate instructor and became the first-ever westerner to hold the 8th-degree black belt in taekwondo. Spreading his wings further, Chuch then went to Hollywood, where he started training celebrities in martial arts.
It led to his first role, although a minor one in the 1969 film "Wrecking Crew," it was followed by his casting in the movie "The Way of the Dragon" with Bruce Lee in 1972 - the first in a line of over 23 films wherein he starred as the hero.
He notably appeared in movies such as "Forced Vengeance," "Good Guys Wear Black," "The Delta Force," and Code of Silence," while he also became a regular on television screens in the CBS television series "Walker, Texas Ranger" which ran for eight seasons during the 1990s.
HE HAS HEART
A charitable man, Chuck became a supporter of various charities, including United Way and the Make-A-Wish Foundation, during his career and even started his own called Kickstart Kids, whereby children learn discipline and respect through karate.
The actor has five children of his own from three different relationships. After marrying his classmate Dianne Holechek in December 1958, the couple welcomed their first child and son Mike four years later.
CHUCK'S BIG FAMILY
An extramarital affair led to the birth of Chuck's daughter in 1963, while Dianne gave birth to their second child together, Eric, the following year.
After separating in 1988, Dianne and Chuck divorced in 1989, having been married for 30 years, but he found love again with the former model Gena O'Kelley a decade later. The pair tied the knot in November 1998, and Gena, who is 23 years his junior, gave birth to twins in August 2001.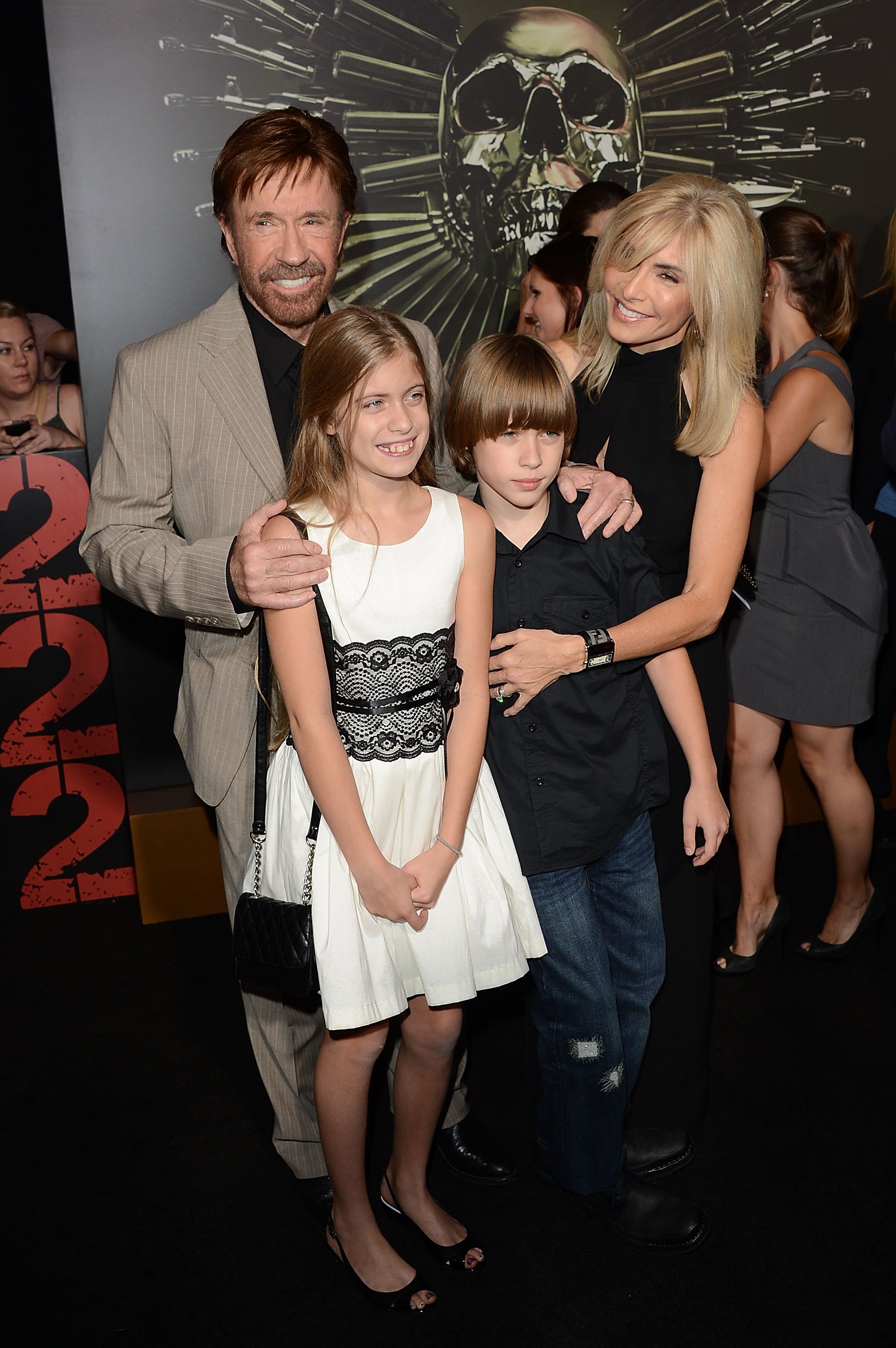 Chuck Norris arrives at Lionsgate Films' 'The Expendables 2' premiere on August 15, 2012, in Hollywood, California. | Source: Getty Images.
Chuck credited his mom as a significant influence in life during an interview back in 2004, when he said that she made sure they understood the value of having God in their lives growing up, as he explained:
"She influenced me spiritually and instilled in me a sense of responsibility that carried over in my later adult life. She always told me 'God has plans for you."
CHUCK NORRIS FACTS
The year after the interview, jokes that became known as the "Chuck Norris Facts" began circulating. Centered around Chuck's superhero strength and heroism, he didn't quite understand in the beginning whether it was to make fun of him or not.
However, Chuck soon joined in on the fun once he became aware that the jokes stemmed from admiration, as his co-star on "Walker, Texas Ranger," Sheree J. Wilson once told Fox News:
"It turned out that people really admired him. Revered him. Like Chuck Norris doesn't do push-ups, he pushes the earth down. They're just so funny."
THE REASON CHUCK STEPPED OUT OF THE LIMELIGHT
Having been absent from television screens in recent years, it's reported that Chuck Norris hung up his acting hat to take care of his wife, Gena.
In 2013, Gena had health issues that required testing, and when she went for an MRI scan, it apparently had an adverse effect on her, prompting Chuck to give his full attention to her needs.
Please fill in your e-mail so we can share with you our top stories!