Jordyn Woods Looks Stunning as She Poses in Black Velvet Dress & Sunglasses on a Bed in Photo
In recent photos, Jordyn Woods showed off her colorful hotel room in Dubai, where she's presently on vacation with her family.
Jordyn Woods might be out of Kylie Jenner's squad, but she seems to have moved on well. In a recent Instagram photo from the model, she was pictured posing on a bed in her colorful Dubai Hotel room.
Jordyn is currently in the Arabian city on a family vacation with her mum, Elizabeth woods, and sister, Jodie Woods.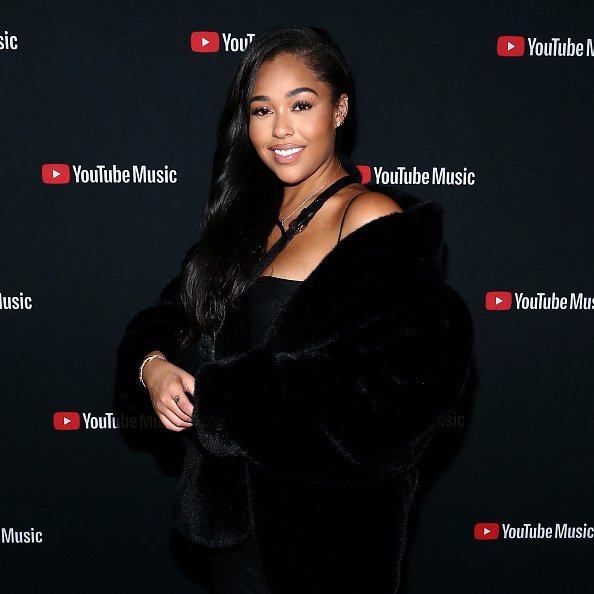 Remember that in 2019, Jordyn's friendship with then-bestfriend, Kylie Jenner, ended after Woods was involved in a cheating scandal with Khloe Kardashian's boyfriend, Tristan Thompson.
The former best friends met in 2012 after being introduced to each other at a party by a mutual friend, Jaden Smith.
The two teenagers kicked off their friendship after the party and started hanging out a lot. They went on to be friends for seven years until the cheating scandal hit the streets last year.
Approximately a year after, the two girls seem to have adjusted to life without each other. In fact, Kylie has a whole new squad with whom she spends time. A US Weekly source said:
"She loves hanging with all her crew of girls now, including Stassie, Yris, and Victoria."
The source went on to explain that despite having Jordyn as a major part of her life in the past, Kylie was very comfortable and felt complete with her new best friends. He added that the girls enjoy spending time together like every other girlfriend group.
Speaking on how the cheating scandal affected Kylie, the source disclosed that although Kylie is feeling a lot more settled, it was a lot to deal with when the scandal broke out.
In March 2019, Jordyn announced her second collaboration with fashion retailer Boohoo.
Another source revealed that the billionaire makeup mogul had felt stuck in the middle. Explaining that although it was hard for her, Kylie had to step away from her friendship with Jordyn because her family came first. 
In a 2019 interview, Jordyn confessed that she hoped the Kardashian family would forgive her, and she hoped she could be friends with the family again. She said:
"I hope everything falls into place and that we can all grow and build our relationships with our family and God and come back together one day and be stronger and happier."
Jordyn is the first daughter of parents, John Woods and Mother, Elizabeth Woods. Like the Kardashians, her mother also doubles as her manager. Jordyn has a younger sister, Jodie, who looks identical to her. 
Jordyn recently had fans do a doubletake on a photo with Jodie that she shared on Instagram. While a fan commented that Jodie had the whole of Jordyn's face, another asked that the real Jordyn stand up because he couldn't tell them apart.
In March 2019, Jordyn announced her second collaboration with fashion retailer Boohoo. This came three years after her first collaboration with the brand.