LL Cool J's Wife Simone Smith Praised for Stunning All-Black Look in Hoodie, Tight Pants & Boots
Fans gave their approval of LL Cool J's wife, Simone Smith's picture of her dressed in all black for a throwback she mentioned was inspired by the 1980s.
Simon Smith is the other half to rap legend and actor LL Cool J. The proud mother of four looked stunning in an all-black-ensemble she shared in a throwback picture. In her caption, she wrote:
"I've been Rockin Bells, Braids and Bamboos since 87'‼The more things change, the more they stay the same."
In the picture, Simone stood on a street corner dressed in an oversized black hoodie that had a gold medallion printed on the front.
She complimented her look with matching leggings, which were detailed with large black stars. She completed her look with knee-high, slouch drawstring boots. One fan loved every bit of the look from head to toe.

Simone showed off her ageless beauty in natural-looking make-up with her long black and brunette locks swept to the side. 
In her caption, she mentions how some things have changed, while others haven't, and her beauty has certainly stayed flawless. Another fan praised the 50-year-old for her gorgeousness.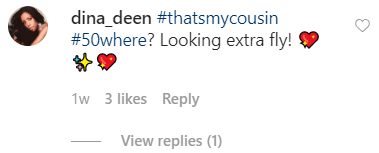 Simone's outfit wouldn't be complete if the jewelry designer didn't have a few statement accessorizes for her look. She opted for bold diamond rings on both hands and her go-to hoop earrings.
It is reported, she considers herself to be a "hoops connoisseur," and took the opportunity to start her jewelry line after her husband approached her about the idea.
Simone and LL Cool J met when she was 19-years-old and, she was introduced to him by one of his friends. The two have had a lasting relationship and been married for almost 25 years. 
He famously dedicated the 1998 song "Candy" from his album "Phenomenon" to Simone. On their 23 year wedding anniversary, she shared verses from the track and admitted that it was one of her favorite songs.
The couple has been through a lot over the years. In 2004, Simone was diagnosed with stage three chondrosarcoma, a type of bone cancer that was discovered in her shin.
After under chemotherapy and surgery, she has been cancer-free, something she admitted that she got through with the support of her husband, and her Christian faith got her through.