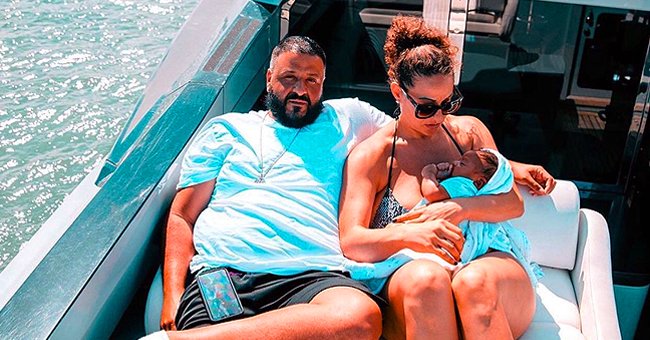 Instagram/djkhaled
Dj Khaled Shares Beautiful Candid Photos from Family Vacation on Board a Yacht
The Grammy Award-winning record artist and producer is living a great moment both as a family man and as an entertainer, and he wants to enjoy every minute of it with his love ones to his side.
44-year-old recording artist DJ Khaled is enjoying quality time with his wife and two children as his recent social media activity shows, with the hitmaker sharing a slideshow of photos taken during a day out in a boat.
In the first image, Khaled is pictured calmly looking at the camera while holding his 3-year-old firstborn Asahd Tuck Khaled in his arms on board of a private yacht
Asahd looked like he wanted to get free from his father loving embrace and willing to explore the amenities of the ship, and in further photos, he is seen on his own.
"Family time is all the time, ITS ALWAYS FAMILY TIME! Luv always from the KHALED FAMILY."
A NEW ADDITION TO THE FAMILY
Asahd is also discovering what it is like to be a big brother, since Khaled and his 44-year-old wife Nicole Tuck welcomed their second son Aalam a couple months ago, as the proud parents shared on their profiles.
"Thank you, Allah! Thank you, my Queen Nicole! Bless up, Dr Jin! Another one!" an excited Khaled captioned an image of himself giving the obstetrician who help deliver the baby a high five on January 21.
The successful producer used the occasion of the 2020 Grammy's a week later to share the good news with his fellow artists as he took to the stage to accept the award for best Rap or sung performance, shared with John Legend.
In his speech, the father-of-two explained the special meaning behind his baby boy's name, Aalam, which according to him means "the world" in Arabic.
ENJOYING THE SEASHORE
Established in Miami, Florida, with his growing family, Khaled seems to be very fond of the sea, and it is common to see him navigating in a yacht or riding around in a jet ski.
Khaled and his wife own a luxury beachfront home in Miami Beach, and the couple was spotted taking a ride in their jetskis near the property only a month after Aalam was born.
Khaled has been trying to sell another of his Miami properties for more than two years now, but since he put the home on the market in December 2018, its price has dropped twice, and it is currently valued in $5.99 million.
Please fill in your e-mail so we can share with you our top stories!