Fantasia's Grandson Proves Swag Is in His Blood as He Dances in New Video Shared by Grandpa Kendall Taylor
Proud grandfather Kendall Taylor, who is married to talented singer Fantasia recently shared an adorable video of their grandson Khoen dancing with a whole lot of cool attitude.
Fantasia's husband Kendall Taylor recently took to Instagram to post a hilarious video of his grandson dancing while music played in the background.
The couple welcomed their grandson in 2016, just barely a month after celebrating their first wedding anniversary.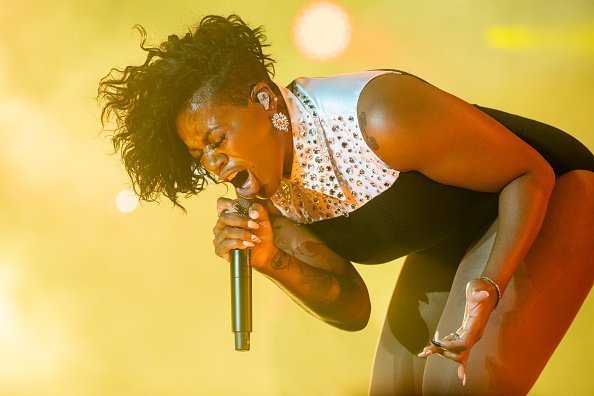 Khoen is the son of Trey, one of Kendall's children from a previous relationship. Baby Khoen is also elder brother to Kyan, who was born last year.
Kendall and Fantasia are super proud grandparents, and they dote on their grandkids relentlessly. Captioning the video, the excited grandpa wrote:
"When the Swag is in your Bloodline! King Khoen is letting y'all know now!!"
The "Free Yourself" crooner and her husband recently revealed how first, being parents, and then grandparents shaped their lives and priorities.
Fantasia and her hubby, who manage a popular "Taylor Talk" series on Instagram, explained how juggling their businesses and family, led them to make changes in their lives and choices. 
She went through a rough patch in her career and personal life which culminated in her attempting suicide.
The former American Idol winner, who won the coveted price as a 19-year-old single mom recently opened up about the positive impacts her husband has had in her life in an interview with ESSENCE.
In the interview, the 35-year-old mum of two described how meeting Kendall helped her discover herself and become a better artist and woman. In her words:
"I will have to say kudos to [my husband] because when he came into my life, he brought out a Fantasia that I didn't even know was there."
Kendall and Fantasia got married in 2015 in a red, black and white themed ceremony. The reception was held in North Carolina. A year later, the two peas in a pod renewed their marital vows in a beautiful ceremony that was attended by family members and close friends.
It has not all been a smooth running for the talented singer, as she went through a rough patch in her career and personal life which culminated in her attempting suicide in August 2010.
Today, Fantasia has managed to turn her life around with a loving husband, beautiful kids and sold-out shows. It is also worthy to note that during her lowest period, she gained nearly 50 pounds, but now, one can hardly tell as she's got back her hot body, regularly posting photos and videos on her social media.