Lara Trump Is President Trump's Daughter-In-Law and Eric Trump's Wife — Meet Her
Eric Trump has been happily married to Lara Trump for the past five years. Lara is a former pastry chef and TV producer, and she's now starting to take a more public role within the presidential family. 
Eric Trump's wife, Lara, never imagined in her wildest dreams that she would be part of a presidential family or that she would become an advisor to the president of the U.S during his 2020 re-election campaign.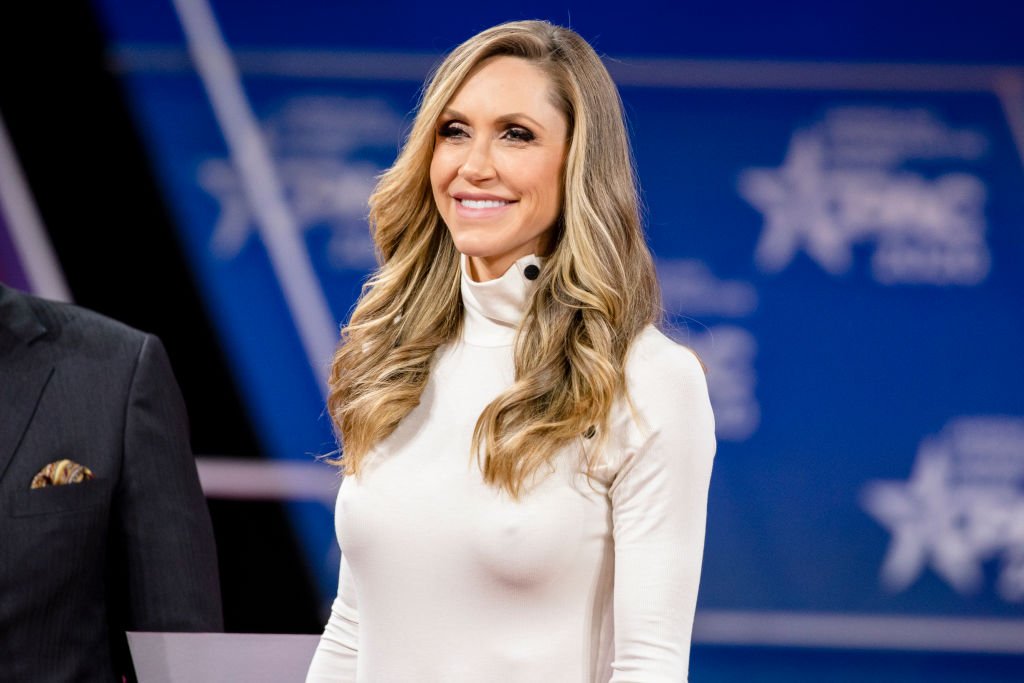 For the 37-year-old North Carolina native, life was pretty normal before she met Eric, Donald and Ivana's Trump third child and the president's second-oldest son.
MEET LARA YUNASKA
Lara was born on October 12, 1982, in Wilmington, North Carolina, to Robert Luke Yunaska and Linda Ann Sykes. She's the oldest of two kids.
Although Lara met her in-laws eight months into their relationship, it took Eric more than that to put a ring on her finger because.
Her younger brother, Kyle Robert Yunaska, was named chief of staff of the Office of Energy Policy and Systems Analysis in 2017.
Lara studied communications at North Carolina State University, and she was an intern at local networks WECT and WWAY.
"It was great to have that start in local news because it can get overwhelming going up from there," she said.
Then, in 2007, Lara moved to New York City—a city she said she'd always dreamed of living in—to study at the French Culinary Institute.
After earning a degree in the art of pastry, Lara started her own fondant-cakes business called Lara Lea Confections, and she also worked as a personal trainer.
She also worked as a producer for Inside Edition from 2012 to 2016, when she quit her position to join her husband and father-in-law on the campaign trail.
HOW SHE MET ERIC
As Lara recalled in an interview with Fox & Friends, she and Eric were both out one night in New York City with their respective friends when they spotted each other across the room.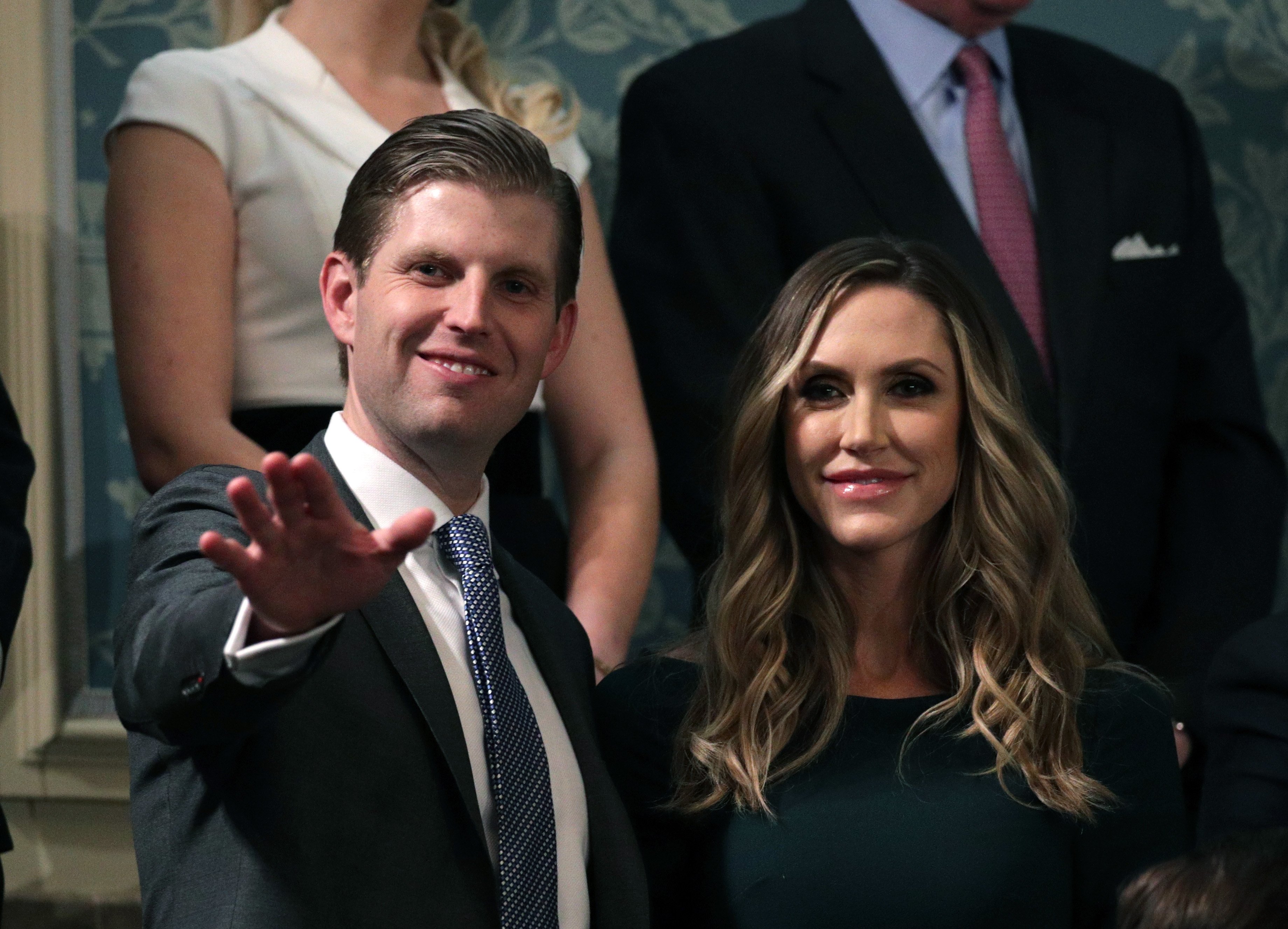 Considering that they were both the tallest people in the room, it wasn't that hard for them to meet eyes, and Lara became immediately intrigued.
She left that night with a promise to meet again, but it was until later, talking with her friends, that Lara found out Eric's last name and who his father was.
After that, it took the pair three months to coordinate a proper date around Eric's busy schedule—he's the vice-president of the Trump Organization—and when the day finally came, Lara didn't have high expectations.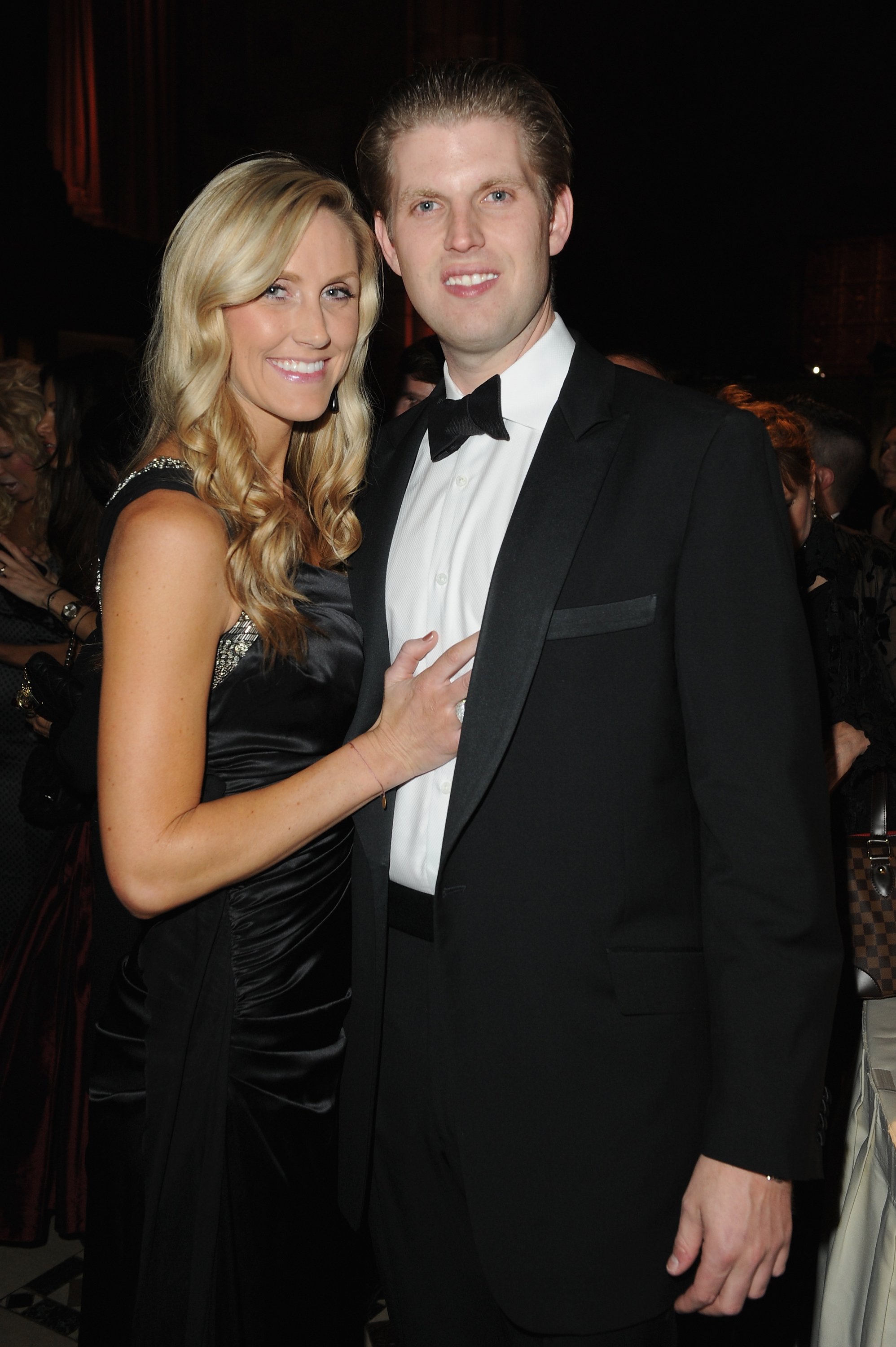 "I was sort of expecting it to be a bad date," she told Star News. And continued:
"I was like, 'This guy must be sort of what you would expect from a rich guy's son. I'll just go out with him to say I did.'"
It ended up being the best date Lara had been on. 
TAKING IT SLOW
Although Lara met her in-laws eight months into their relationship, it took Eric more than that to put a ring on her finger because the Trump heir wanted to be "very very sure" that she was the one before proposing.
However, two years into the relationship, Lara managed to convince Eric to another kind of compromise: adding a member to their little family, a beagle dog named Charlie.
When Eric realized that Lara's "southern charm" wasn't going away, he proposed with a diamond ring from his sister Ivanka's collection during a walk around the Trump Seven Springs estate in Bedford.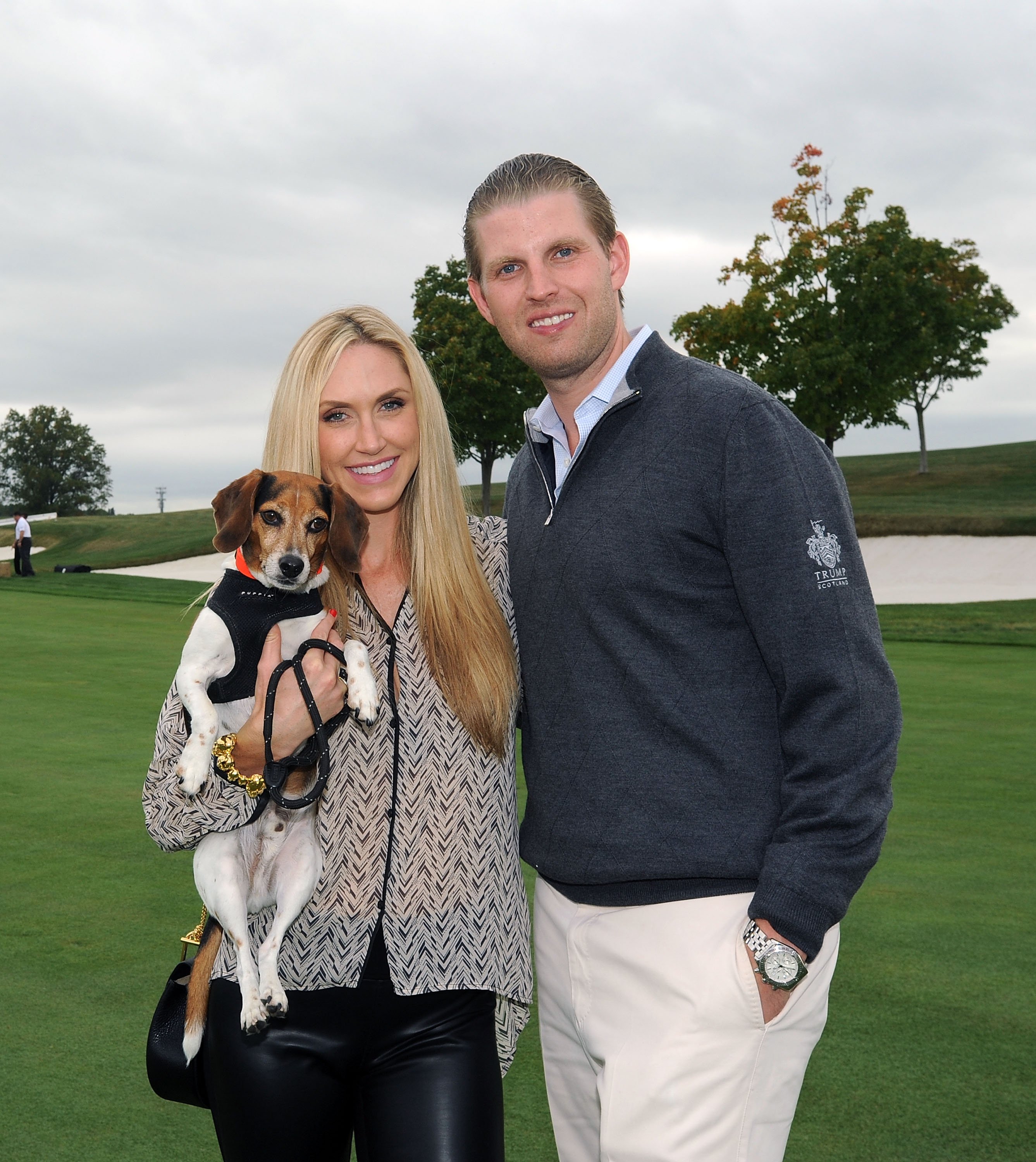 "I'm a girl from North Carolina who really has no business even being involved with this family," Lara once said. "But I just so happened to fall in love with a guy, we clicked, and it worked."
THE BIG WEDDING
The couple waited one more year before officially tying the not at the Trump's Mar-A-Lago estate in Palm Beach, Florida, on November 8, 2014.
Both of their families, including Donald Trump and his wife Melania, and among 400 guests were present at the ceremony, which was officiated by Ivanka Trump's husband, Jared Kushner.
Charlie, the beagle, was the ring bearer, and Ivanka was a bridesmaid, while her daughter Arabella was the flower girl
For the big day, Lara wore a strapless Vera Wang dress, and she had to add two unexpected accessories: gloves to cover the bandages in her arms.
Two weeks ahead of the wedding, Lara suffered an accident while riding a horse and broke her wrists. Still, she knew the show had to go on.
"I had to get creative with a way to make casts look bridal," she told People, and continued:
"Fortunately, my wedding planner and my designer came up with some fabulously bedazzled gloves to try and blend these casts."
The pair visited Africa and Europe for their honeymoon.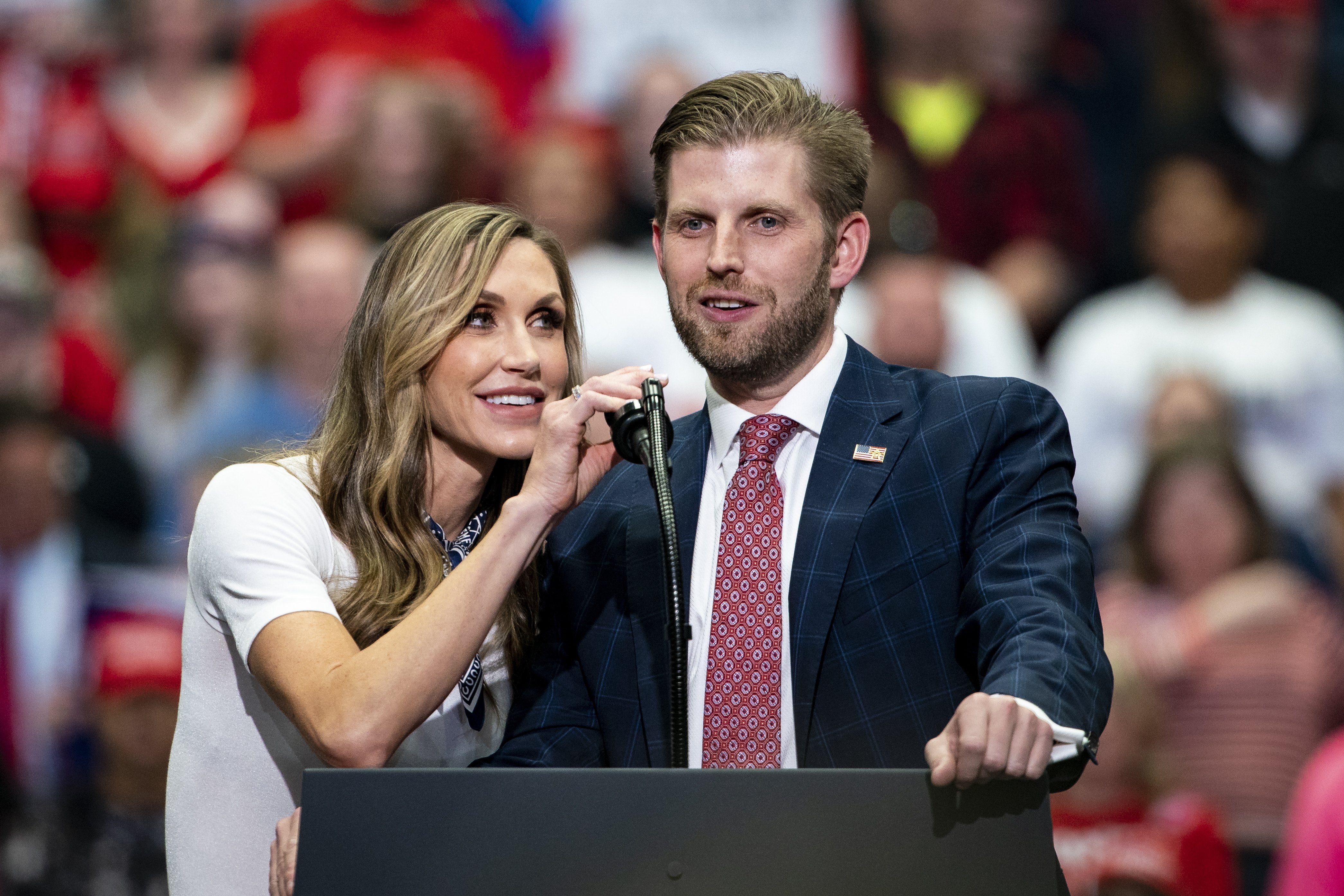 THE FAMILY GROWS
In March 2017, three years into their marriage, and after her father-in-law was elected President, Lara and Eric announced they were expecting their first child.
Their son Eric Luke Trump was born in September of the same year. Eric was the president's ninth grandchild.
Lara and Eric announced they were expecting a second child in April 2019, and they welcomed baby girl Carolina Dorothy Trump in August 2019.
Before becoming a mom, Lara once said that she and Eric led "a pretty normal life," and their favorite place to be was their home outside of New York City.
And despite the pressure and exposure that comes from being part of the first family of the U.S, Lara has kept her head up high while dealing with the hatred.
"We took a lot of hits and continue to, but overall, this has made us closer and stronger," Lara stated of her family.