Tiffany Haddish Clears up Common Dating Rumors and Asks 'The Real' Co-Host Jeannie Mai for Dating Advice
Tiffany Haddish guested on "The Real" recently, where she cleared up dating rumors with rapper Common and asked Jeannie Mai for advice on dating rappers.
People have been speculating about a relationship between Tiffany Haddish and Common, especially after being seen together more frequently in the past couple of months. To add fuel to the fire, Haddish made sure to greet her "friend" during his birthday on Instagram, showing them going to a painting class together.
Tiffany Haddish put her relationship with Common on the spotlight after posting a picture of them together on Instagram.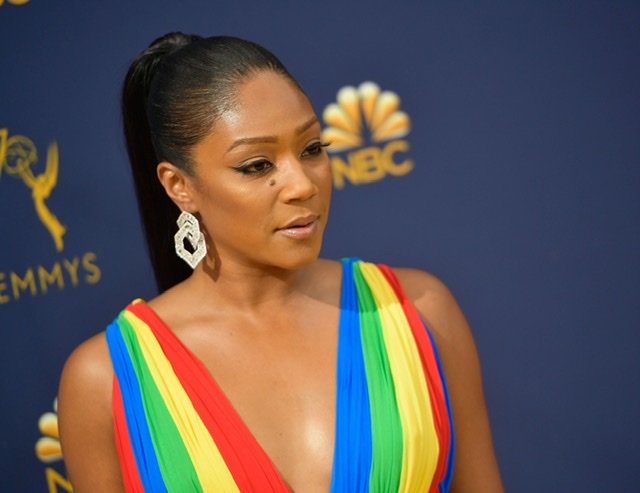 SETTING THE RECORD STRAIGHT
Now, on "The Real," the actress decided to set the record straight about who Common is in her life, before asking Jeannie Mai for advice on how to date rappers. 
"That's my friend, he's been my friend for a while. But if he wants to date me, I will date him!" 
ADVICE ON DATING RAPPERS
Ultimately, Mai did give Tiffany some advice about dating rappers after she asked, saying that before anything else, she has to be selective about the guys whom she would be willing to date. 
"Before you worry about what they gotta do, make sure you got your eyes on the right one."
CHOOSING THE RIGHT COMPANY
While Jeannie and her rapper boyfriend Jeezy are over-the-moon about one another, it all boiled down to how they made sure they were right for each other, which led to all the other right things. Unfortunately for Haddish, she disclosed that all the rappers she used to date had stints in jail. 
Tiffany Haddish put her relationship with Common on the spotlight after posting a picture of them together. It's not every day that friends paint portraits together, as this is often something that couples do on dates.
OPEN TO WHAT THE FUTURE HOLDS
However, for Tiffany and Common, it was something they did for fun which is one of the reasons why the actress enjoys hanging out with the rapper. According to Tiffany, she loves that Common is willing to go on "adventures with her."
Although fans are not convinced that the two are just friends and not actually dating, Tiffany just made things clear on "The Real." Luckily for those hoping for them to get together, she revealed that she is open to idea of dating Common if he ever chooses to date her.