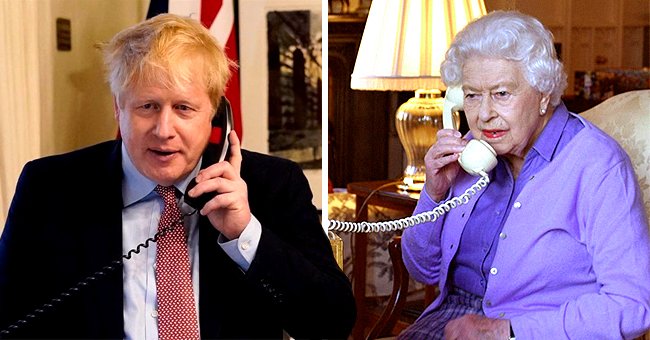 Instagram/theroyalfamily
UK Prime Minister Boris Johnson Stands during Weekly Audience with the Queen That Happened by Telephone
Queen Elizabeth held her weekly audience with the prime minister via telephone amid self-isolation, and followers had plenty of praise to dish out about this "meme in the making."
Queen Elizabeth held her weekly meeting with Prime Minister Boris Johnson on Wednesday over the phone since self-quarantining as a precautionary measure against the spread of the coronavirus.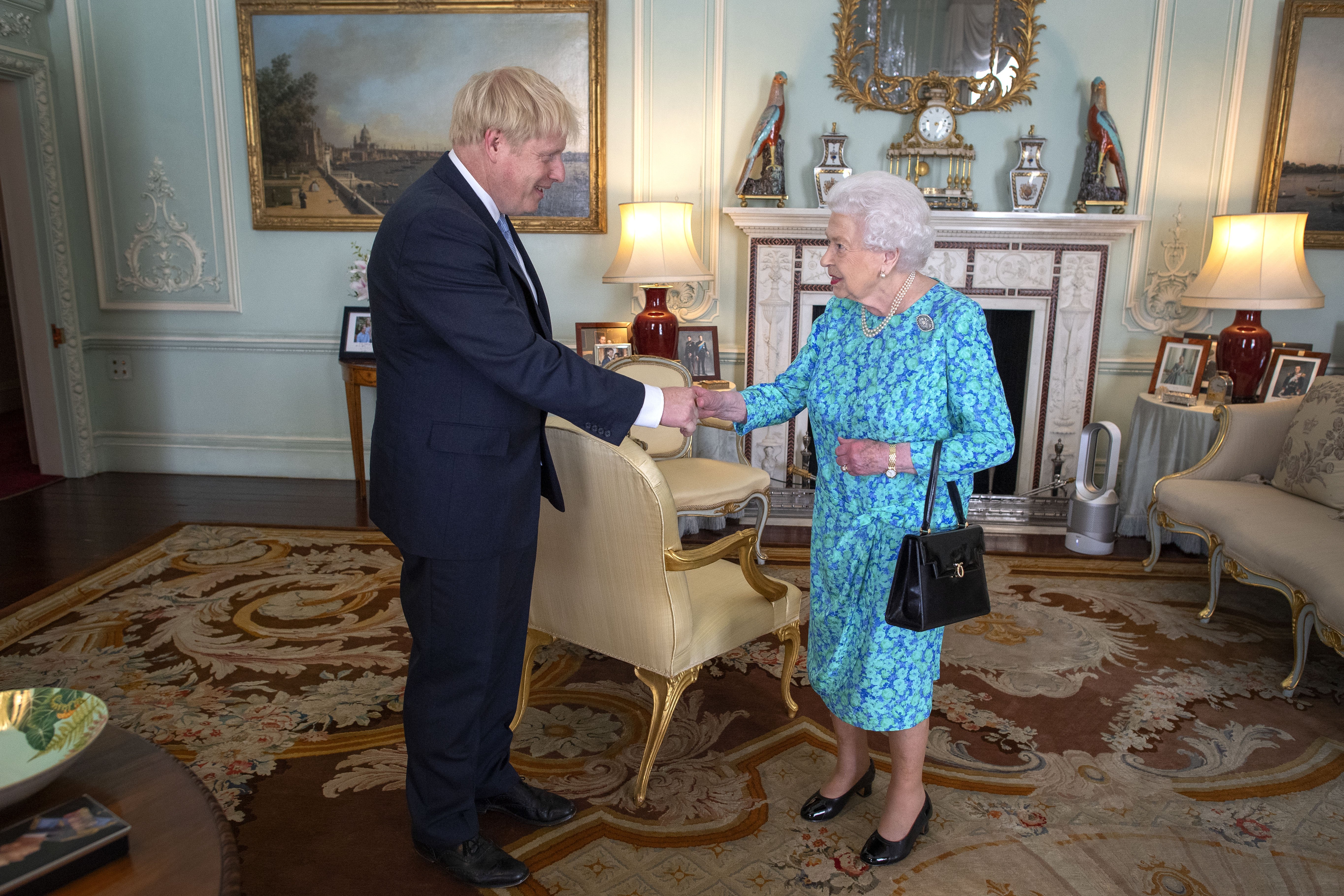 Queen Elizabeth II welcomes Boris Johnson in Buckingham Palace on July 24, 2019, in London, England. | Source: Getty Images.
UPDATING THEIR FOLLOWERS
The prime minister's office and the Royal Family's social media accounts shared a picture of the chat, and it reminded of earlier years when rotary phones still served as the standard. Amused, one follower asked, "Is she on a rotary phone???? "
Even though the throwback phone seems outdated, the Queen's team is looking into more technologically advanced and secure ways for the weekly meetings to take via video chats, including Skype and FaceTime.
THE PICTURE
The split photograph, which had followers buzz about its meme-worthiness, showed the Queen sitting at her desk at Windsor Castle - her home for the duration of her self isolation with Prince Philip. The bottom half of the picture showed Boris neatly dressed in a suit and tie.
But something else in the picture caught a follower's eye. With the Union flag right behind him and a picture of the Queen at Windsor hanging on the wall, Boris stood upright with the phone's receiver to his ear.
FOLLOWERS COMMENT
As the netizen pointed out that Boris stood for his weekly meeting, another gave a respectful explanation and replied: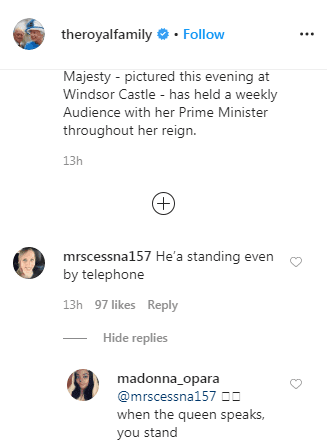 Followers comment on the Queen's weekly meeting with Prime Minister Boris Johnson via telephone on March 25, 2020. | Source: Instagram/The Royal Family.
THE QUEEN EXPECTED TO STAY AT WINDSOR
It is the second weekly meeting Queen Elizabeth held with her Prime Minister over the phone, as she reportedly left Buckingham Palace a week earlier than usual on March 19.
The Queen still carried out her official duties until the day before she left for Windsor Castle, and the 93-year-old monarch is expected to stay at the historic Berkshire residence for the foreseeable future.
Prince Philip joined the Queen later the day after being flown in from Wood Farm in Sandringham by helicopter.
The update on the weekly meeting between the Prime Minister and the Queen comes hot on the heels of Prince Charles' coronavirus test results.
While the 71-year-old royal tested positive, a spokesperson for Clarence House said that Prince Charles "remains in good health" despite having "mild symptoms" of the disease. Duchess Camilla tested negative.
Please fill in your e-mail so we can share with you our top stories!