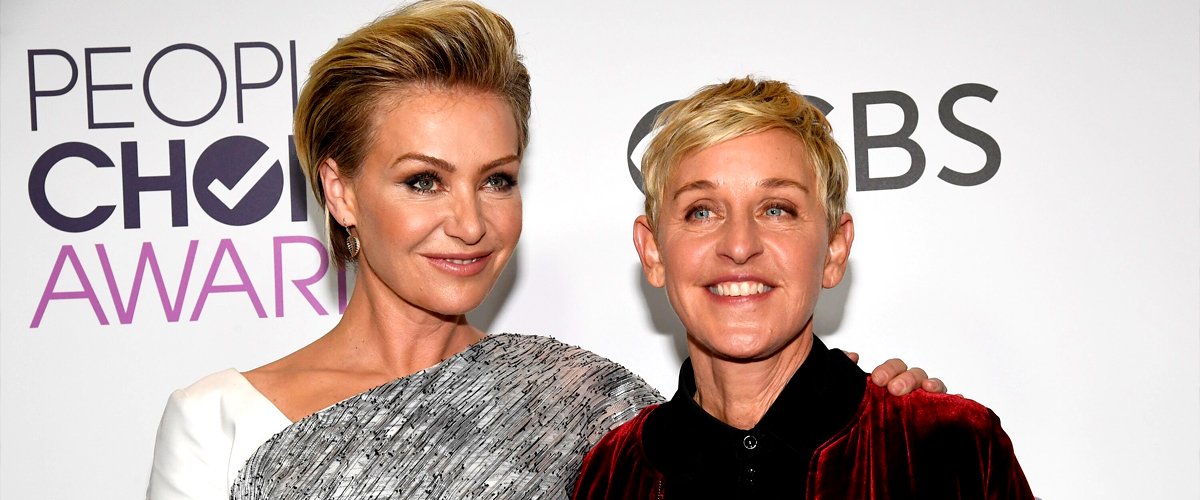 Getty images
Portia de Rossi Took 3 Years to Tell Ellen DeGeneres She Was the One as She Wasn't Openly Gay
Portia de Rossi shared the details of her romance with her wife, Ellen DeGeneres, and how they fell in love.
Actress Portia de Rossi revealed that she fell in love with wife Ellen DeGeneres at first sight, but hesitated to make her feelings known because she wasn't openly gay.
That was 20 years ago, and since then, the two have become one of the most iconic and beloved openly gay couples.
At the time they revealed their attraction to each other both were involved with other people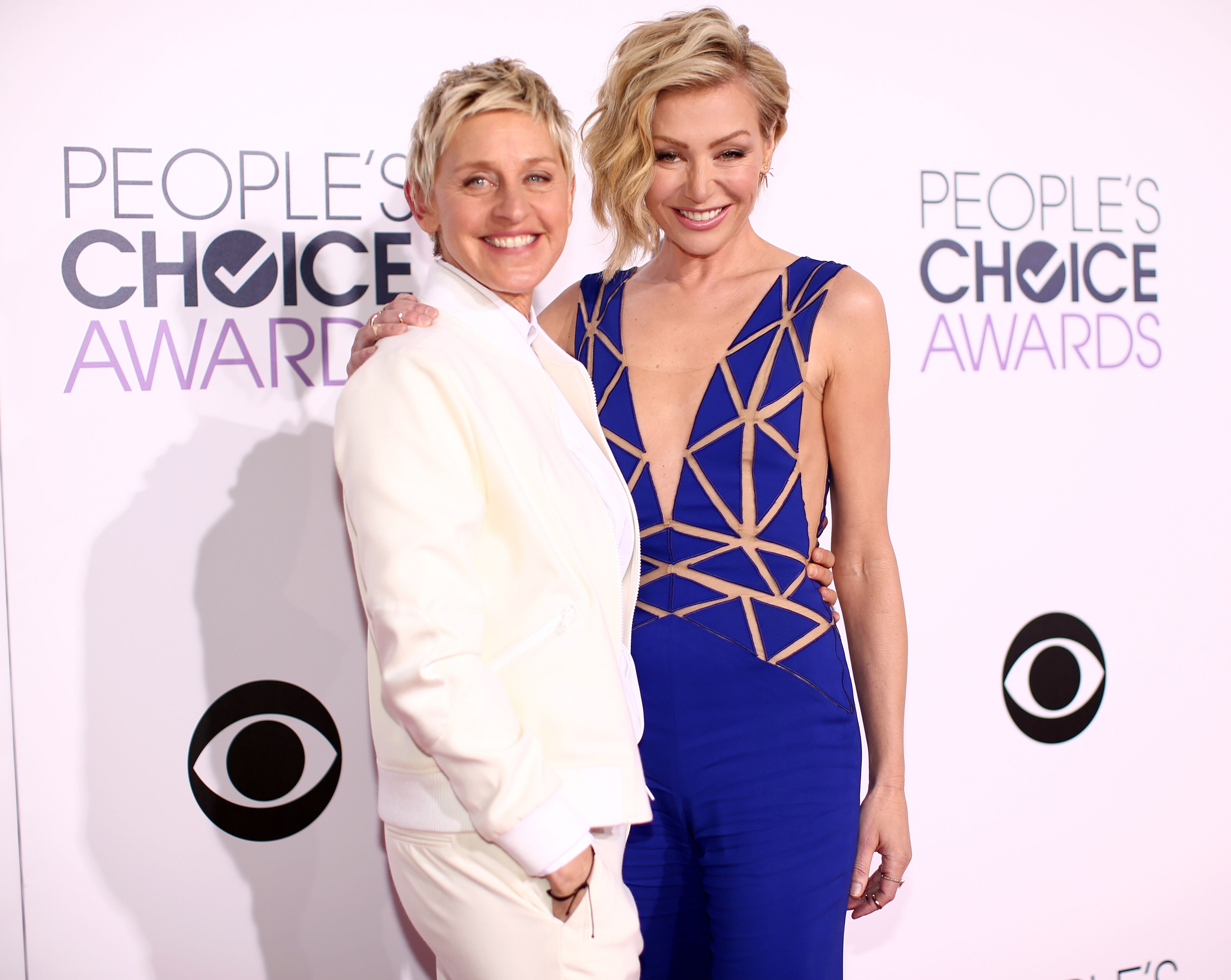 Ellen DeGeneres and Portia de Rossi at the 41st Annual People's Choice Awards in 2015 | Source: Getty Images
MEETING ELLEN DEGENERES
In 2000 Portia was introduced to Ellen at a party, and for she immediately realised the zany, blue-eyed comedienne was "The One."
But although Ellen was openly gay, and had been in a very public same-sex romance with actress Anne Heche, Portia was deep in the closet. She revealed:
"I was closeted and very, very afraid that if I talked about being gay, it would be the end of my career. So, I wasn't about to date the most famous lesbian in the world."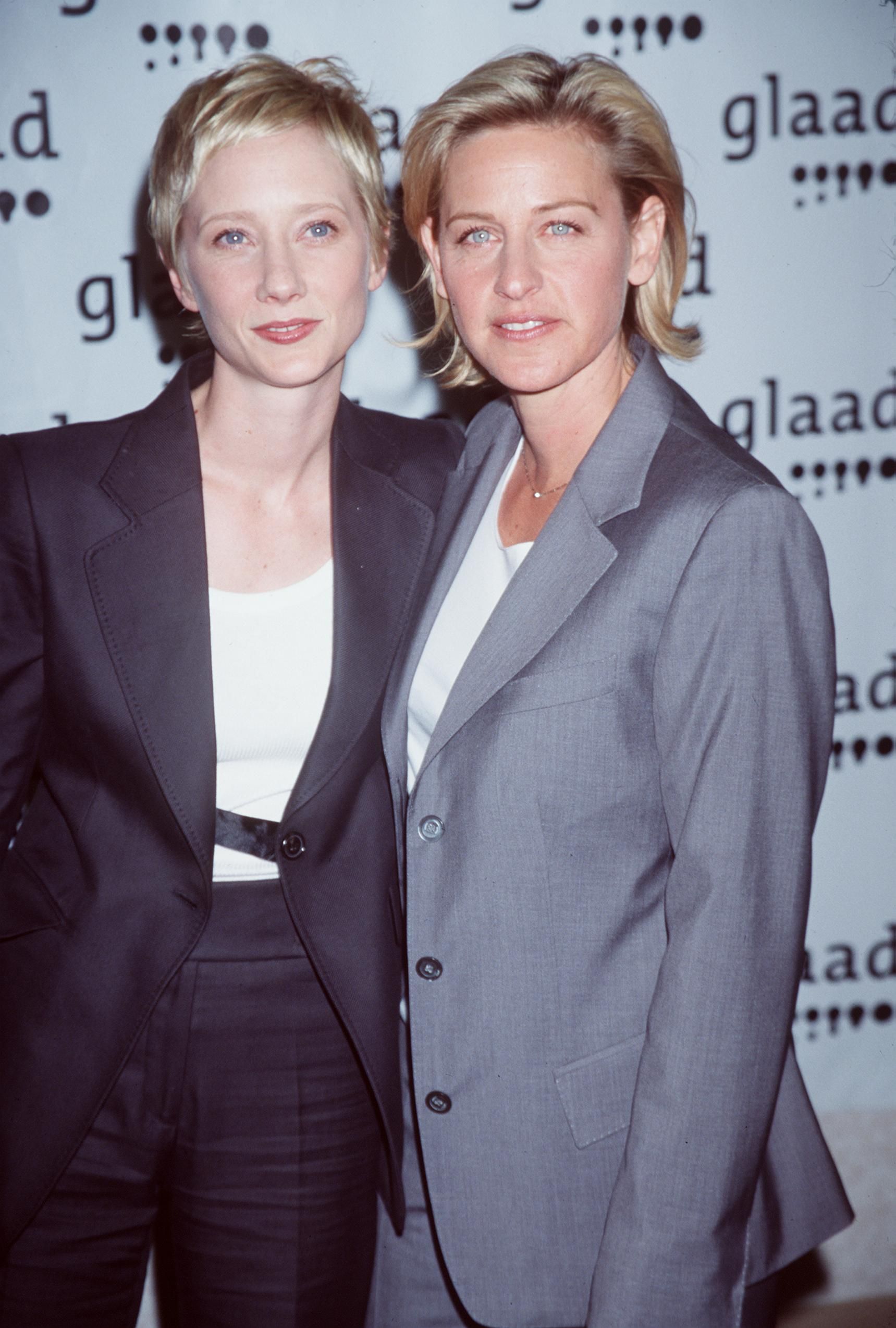 Anne Heche and Ellen DeGeneres at the 10th Annual GLAAD Media Awards Gala in 1999
SECOND MEETING
Portia ran into Ellen again 3 years later at the VH1's Big in '04 Awards, and for the first time made her feelings known. Ellen, who had felt equally attracted to Portia was stunned since she'd given up on the idea of the actress feeling the same way.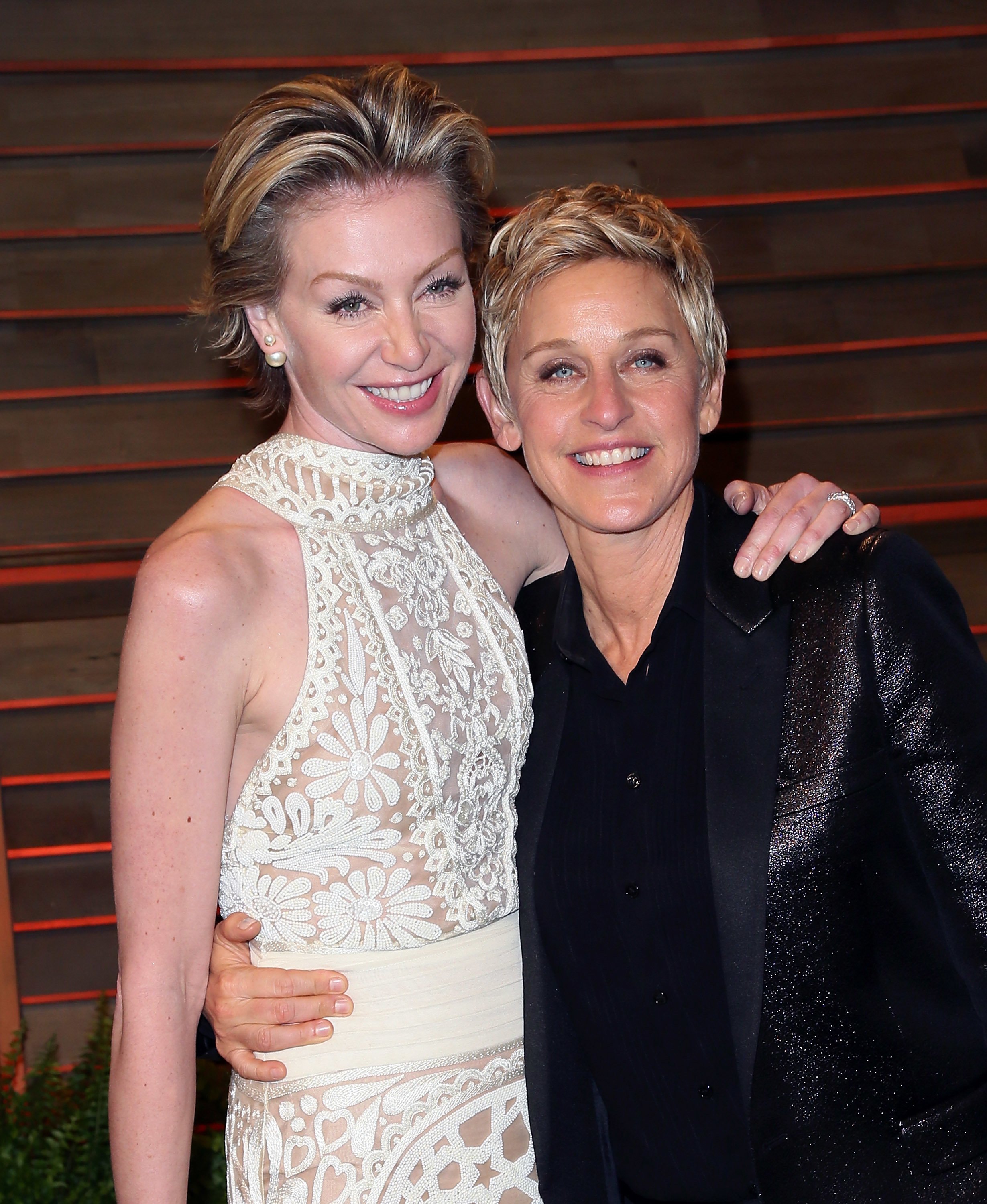 Ellen DeGeneres and Portia de Rossi at the 2014 Vanity Fair Oscar Party | Source: Getty Images
LOVE TRIANGLES
At the time they revealed their attraction to each other both were involved with other people. Portia was in a relationship with Francesca Gregorini, Ringo Starr's stepdaughter, and Ellen was dating director Alexandra Hedison. Ellen revealed:
"It was a tough decision. I was physically getting sick because I was trying not to say anything. So I told Alex and she told Francesca. It was really hard to uproot everything."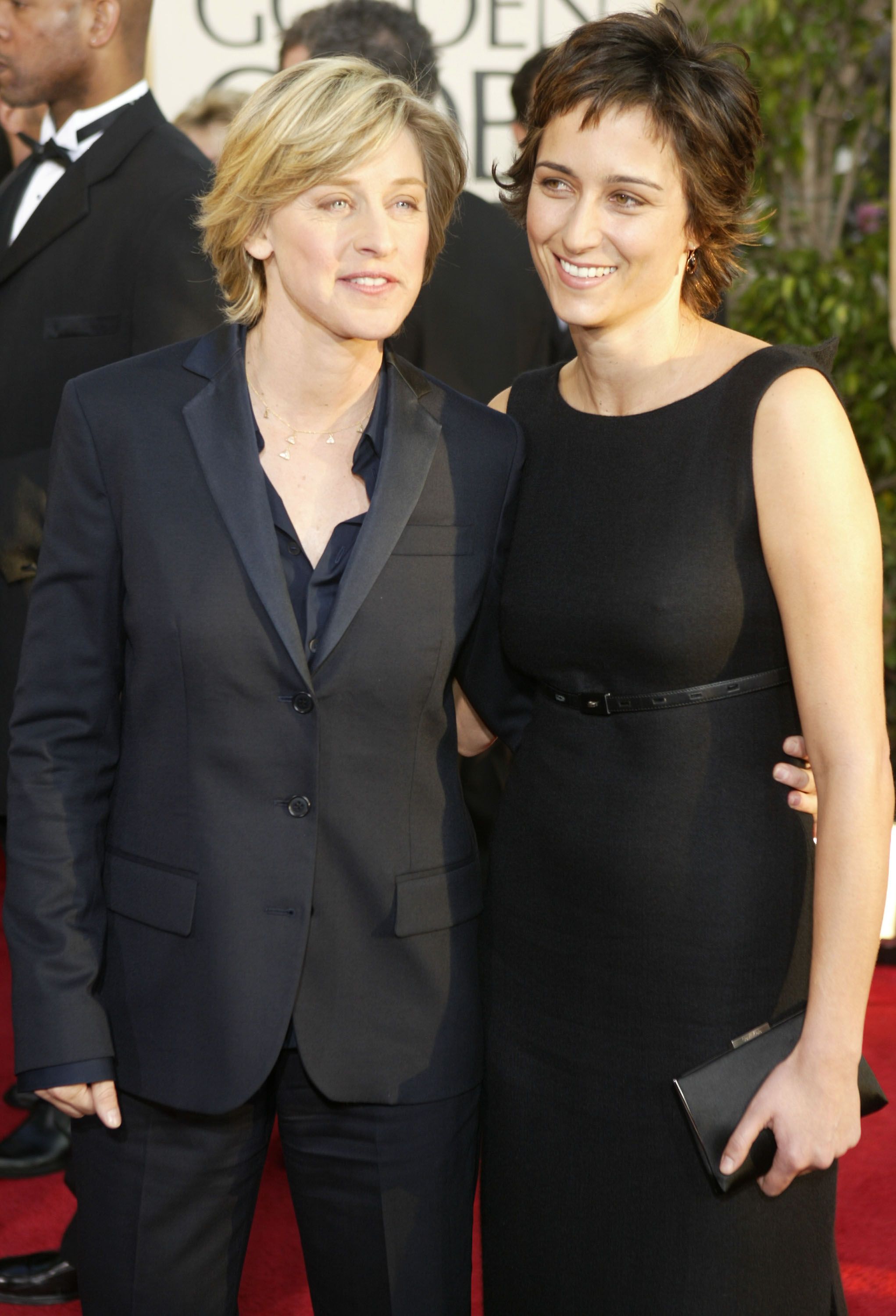 Ellen DeGeneres and Alexandra Hedison at the 61st Annual Golden Globe Awards in 2004 | Source: Getty Images
LIVING TOGETHER
In 2005, Portia who had been covertly dating Francesca came out as gay and moved in with Ellen. They became an official couple, the highest-profile, most famous same-sex couple in the world and an inspiration to many others who were still hesitant to reveal their sexual orientation. Ellen revealed:
"It's the first time that I've known in every cell of my being that I'm with somebody for the rest of my life."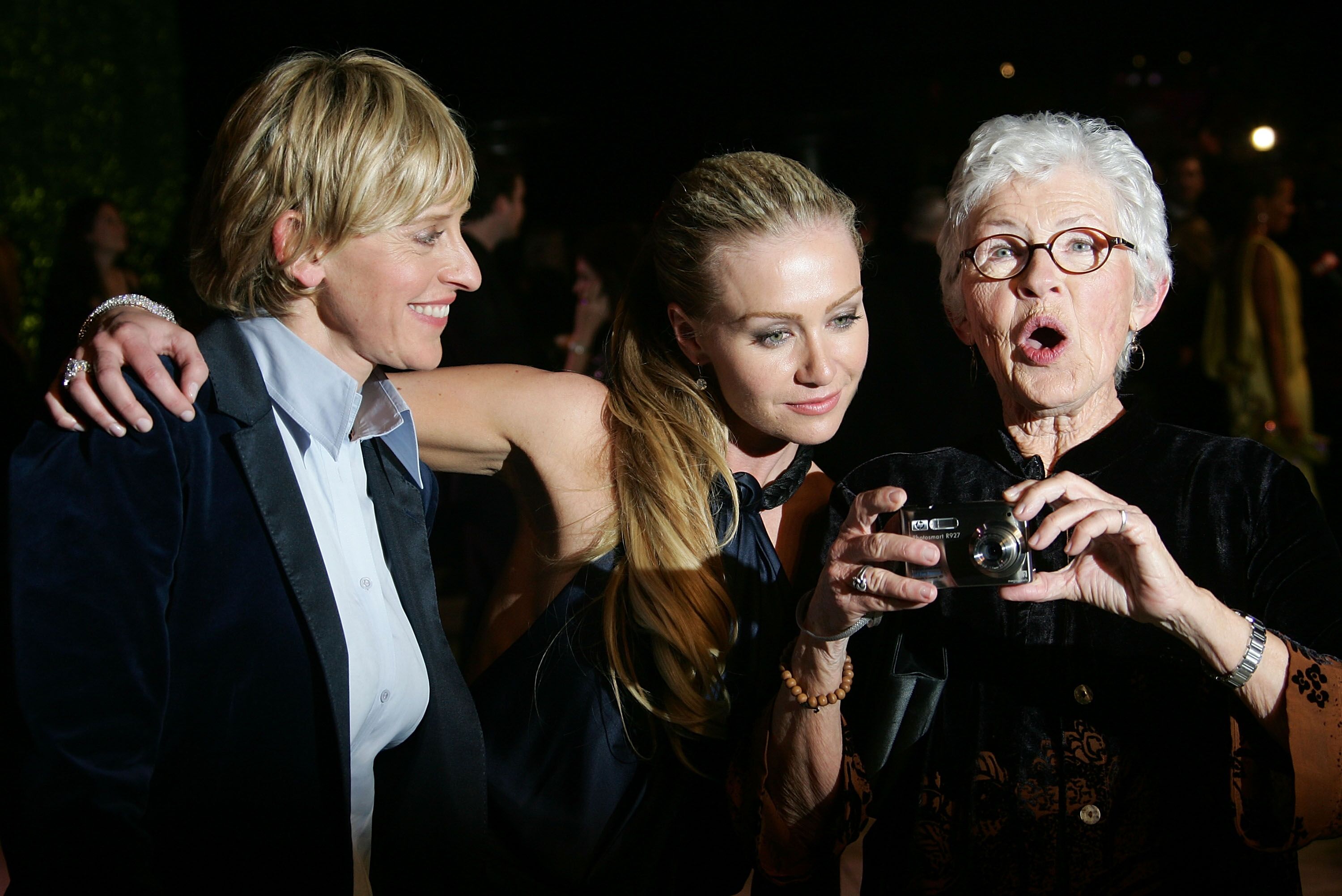 Ellen DeGeneres with wife Portia de Ross, and mother Betty DeGeneres at the 2007 Vanity Fair Oscar Party | Source: Getty Images
MARRYING ELLEN DEGENERES
In 2008, Ellen and Portia were planning a joint birthday party at which the comedienne was preparing to spring a commitment cerimony on the actress. At that time, California legalized same-sex marriages and Ellen and Portia were married in a lovely, romantic ceremony.
RUMORS OF TROUBLE
In 2014, tabloids published stories which claimed that Portia and Ellen's marriage was in trouble, and that the most famous same-sex couple in America was splitting up. Ellen refuted the claims, stating:
"There's not one ounce of truth to any of it. I am very happily married. The only thing we ever argue about is who loves who more, it really is true."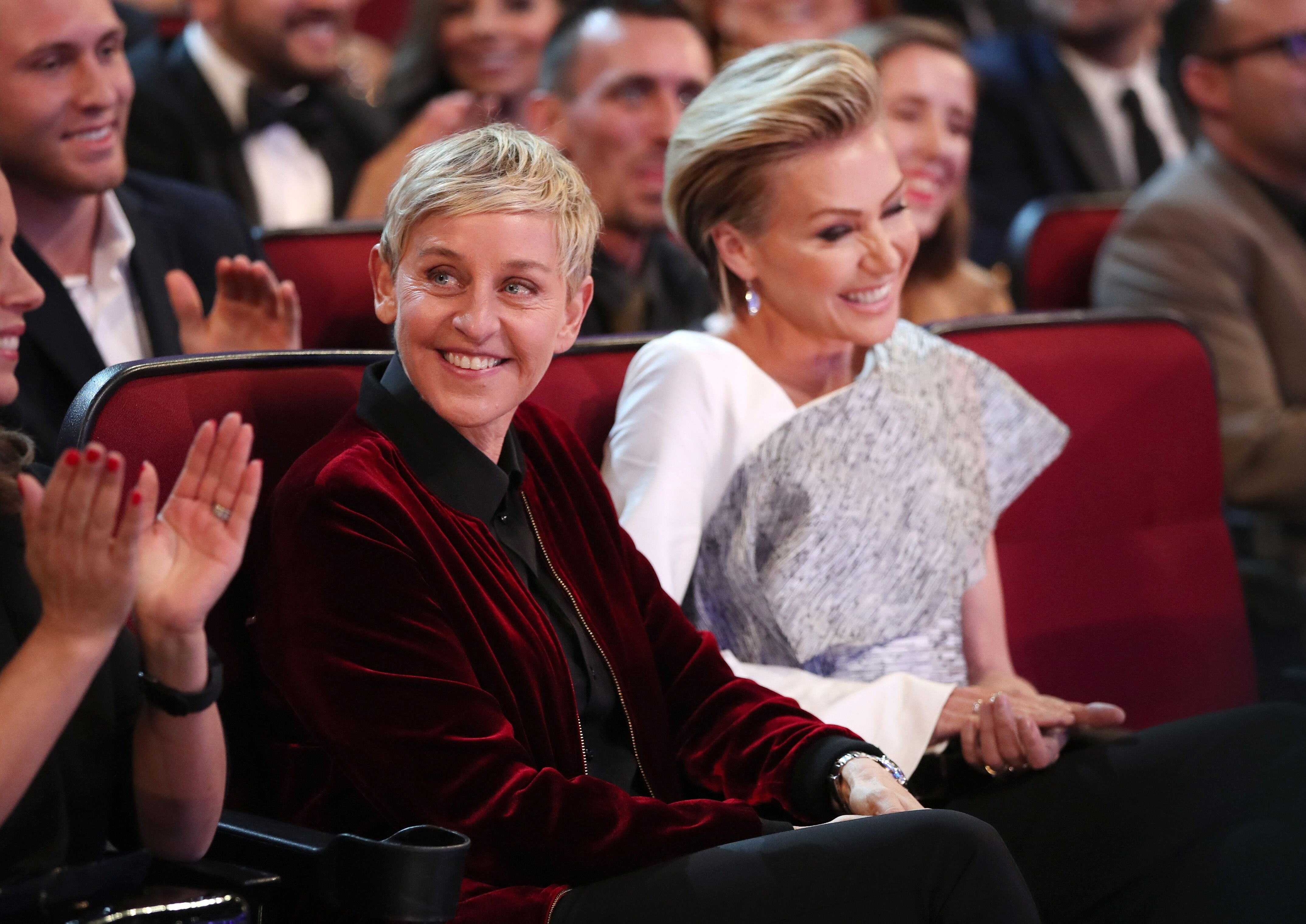 Ellen DeGeneres and Portia de Rossi at the People's Choice Awards 2017 | Source: Getty Images
In her typical Ellen DeGeneres tongue-in-cheek humor, the comedienne revealed that she'd been in a hairdresser flipping through a magazine when she'd come across a photo of herself and Portia. Ellen
said
:
"I read the headline underneath and it said 'Ellen and Portia's Marriage Crumbles.' I was like, 'Oh, what happened? They seemed so happy.'"
THE BABY DECISION
The couple admitted that they had considered having a baby, but their final decision was to remain childless, and pour their considerable resources into supporting organizations that provide care for African children with AIDS, and The Art of Elysium, an art foundation for terminally ill children.
A PASSION FOR ANIMALS
One of the passions Portia and Ellen share is their love of animals. In 2018, Portia's gift for Ellen on her 60th birthday was a wildlife sanctuary for gorillas established in the comedienne's name: the "Ellen DeGeneres Wildlife Fund."
Portia de Rossi and Ellen DeGeneres a the 77th Annual Golden Globe Awards in 2020 | Source: Getty Images
Both women are vegans, and Ellen is an enthusiastic supporter of Farm Sanctuary's Adopt-A-Turkey Project which urges people to start a new tradition by adopting a turkey for Thanksgiving instead of eating one.
Ellen and Portia's love and their work towards bettering the world has been an inspiration, and now, as most of the world faces the Coronavirus pandemic, the couple continues to inspire.
Ellen and Portia have self-isolated in their home and have been sharing their humor on social media. At a moment when most are facing fear and difficulties, Ellen's humor has become even more precious.
Please fill in your e-mail so we can share with you our top stories!