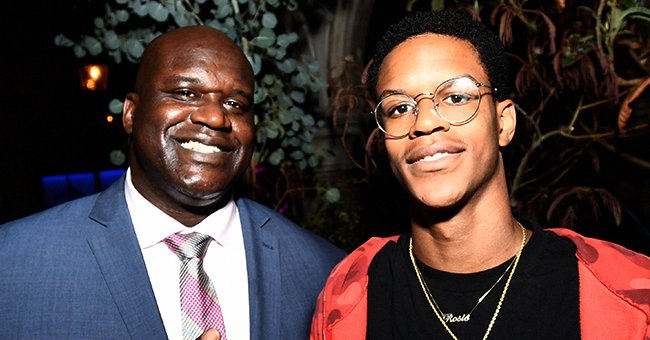 Getty Images
Shaquille 'Shaq' O'Neal and Sons Sareef & Shaquir Show off Their Dance Moves in a New Video
Shaquille O'Neal showed off his impressive dance skills as he was joined by his two son's Shareef and Shaqir for a synchronised dance, in which he posed a challenge to his fellow NBA players.
Shaquille O'Neal and his son's Shareef and Shaqir made their dance challenge on Instagram look easy on Friday night when they showed off their synchronised moves to Dem Franchize Boyz song titled "Lean wit It, Rock wit It"
Bragging about his family's dance moves, he wrote, "ya'll [don't] want none." In his caption, he teased NBA stars such as Stephen Curry, Dwight Howard, LeBron James and Dwyane Wade with the challenge and tagged them in the video.
Fans shared their surprise to how impressed they were with Shaq's ability to keep up with his son's and make the challenge look so easy. One fan gushed, "[you] been killing it with the dance moves!!!"
The video also had fans noticing how tall his sons were compared to him. Some fans shared their curiosity about how their height. Another fan joked about how Shareef and Shaqir's height made Shaq look normal.

A fan commented on a picture Shaquille O'Neal and his son's Sharif O'Neal and Shaqir O'Neal dancing to Dem Franchize Boyz song titled "Lean wit It, Rock wit It" | Source: Instagram.com/shaq
Shaq and his boys have been quarantined in his mansion, and to pass the time they have been turning to music to keep themselves entertained.
Showing his followers some of the fun he has been having in his household, he shared a video of himself playing DJ to his son and their friends. In his post, he encouraged people to stay safe.
Shareef and Shaqir are both rising basketball stars and are likely to follow in their father's footsteps. However, the two appear also to have a knack for music.
Calling themselves "DJQIR AND DJREEF," they shared a video of themselves jamming to music on a makeshift DJ set made from water bottles and a microphone for a virtual concert they called "CRIBCHELLA 2020."
It is not clear where the rest of his Shaq's children were while his family is under quarantined. He has four children with his ex-wife, Shaunie O'Neal
It is reported, Shaunie admitted that the first few weeks after their divorce in 2011 were the toughest, but the pair are now in a good place and have a healthy co-parenting relationship.
The former couple came together to support Shareef after he underwent heart surgery in 2018. Following his recovery, he was back on the basketball court and recently announced he was transferring from UCLA.
Shareef had a particularly close relationship with Kobe Bryant. In an emotional tweet, he revealed that he had spoken to him hours before his death.
Please fill in your e-mail so we can share with you our top stories!