EXCLUSIVE: Steve Cook Gets Candid With Amomama About His Best & Worst Moments on 'The Biggest Loser'
"The Biggest Loser" star, Steve Cook, revealed details about his personal life including the best and the worst moments on the show in this exclusive interview with AmoMama. 
One of the new trainers of the USA Network's "The Biggest Loser," Steve Cook's love story with fitness began when he was merely a kid. Today, he has come far in his fitness journey with impressive credentials under his belt.
He might be new in the world of TV, but the fitness guru is definitely not a stranger when it comes to fame. Over the years, he has graced the covers of multiple magazines including "Men's Fitness," "Iron Man," and "Muscle & Fitness."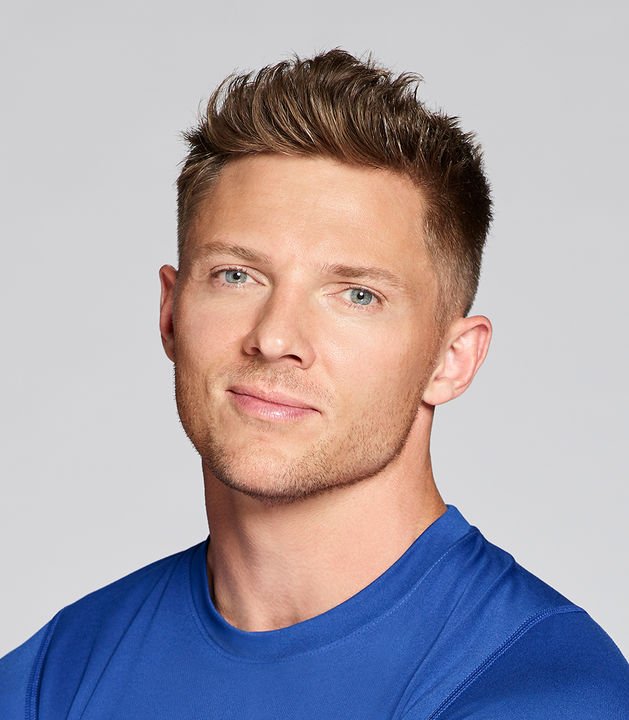 Through his strong social presence, Cook has garnered a massive fan following on Instagram and YouTube where he treats thousands of fans with regular fitness updates. 
Besides being a part of "The Biggest Loser," Cook is the founder and co-owner of the popular fitness app "Fitness Culture." The "Gymshark" athlete also owns a fitness center in St.George, Utah.
To fans' eyes, Cook might seem like a person who has it all, but in reality, his life hasn't been all rainbows and butterflies. In this exclusive interview with AmoMama, the pro fitness trainer talks about fitness, diet, and everything in between, including his personal struggle with anxiety. 
"For a long time, I was consumed with the idea of perfection and wouldn't accept anything less."
It was your first time being a part of a reality show. How has the response been so far?
The response has been incredible. When we were shooting the show in Santa Fe, we were so focused on our contestants and changing their lives. Since the show has aired, it's been incredible to get such positive feedback from all the viewers and to realize the many others that the contestants have inspired as well.
You grew up in a fitness-focused family. Do you think you would have chosen a different career path if this wasn't the case?
My family and upbringing are totally the reason I developed such a passion for training people. They always motivated to stay active from a very young age and were very supportive of my chosen career path. Actually, after helping my dad lose 80 lbs., I knew that physical training was the path I needed to pursue.
How do your fitness habits benefit your love life and personal relationships?
Making unhealthy choices in the long term hurts not only yourself but your loved ones. Taking care of your relationships should start by prioritizing your own health, both mentally and physically. Morgan and I have really bonded over our shared pursuit for a healthy life. This way we can help ready ourselves to live longer and happier lives together. 
How has your personal life changed since you became a part of the show? 
Morgan and I have loved sharing our fitness fun with everyone on social media. 
Your proudest moment on "The Biggest Loser" was when…
When Micah told me that he related and looked up to me.
What about your worst experience during the show?
I was very disappointed to let Rob go that first round. He was killing it in the gym and it was unfortunate circumstances that lead to his elimination. I know he went home and continued to focus on himself so I think people will really be impressed with the work he has put in at the reunion.
Whose fitness story has been the most inspirational, in your opinion?
Honestly, Teri blew me away. Despite her leg injury she really pulled it together and made it far in the competition. It's hard to make excuses for yourself when you see the Teris of the world absolutely crushing it.
Have you ever struggled with anxiety? Did exercise help you overcome it?
I have definitely struggled in the past with anxiety and insecurities. For a long time, I was consumed with the idea of perfection and wouldn't accept anything less. It created some seriously unhealthy fitness and dieting habits that I still work every day to overcome. I found that a balance is the best way to keep my internal demons at bay. Mental health and physical health go hand in hand. 
What attributes would you look for in exercises for those struggling with anxiety?
Find what you enjoy - working out with a partner, going for a walk, trying a HIIT workout or doing jumping jacks during a commercial break. 
What is your idea of a perfect diet?
There is no perfect diet. I wish I could give each individual a pre-prescribed method to ideal health but unfortunately, that isn't realistic. You should consult a professional for specifics or a personal diet regimen but what I can tell you is that moderation and balance are key no matter what.
What do you eat in a day?
I typically eat very similar things every day.  
Breakfast: Usually oats, two eggs, egg whites avocado and a piece of fruit
Lunch: Typically, deli (hormone and nitrate-free) turkey breast on whole wheat bread with tomatoes lettuce mustard and avocado mayonnaise. String cheese and an apple
Post-Training: Chocolate banana protein smoothie
Dinner: Chicken or steak with lots of veggies and 1/2 cup rice
What are your go-to cheat meals?
I don't really use the word cheat meal. It starts making some food taboo and that's when my unhealthy relationship with food comes back.
If I really need to splurge on something then I'll try to do it as healthy as I possibly can. But there are sometimes when I order pizza and I don't feel bad about it. It's all about balance. 
Thank you for sharing your story, Steve. Your life is definitely inspiring!
While "cheat meal" might not be a part of his personal dictionary, fans can definitely gorge on some pizza as they watch the season finale of "The Biggest Loser" reboot this Tuesday, March 31 at 9/8c on USA Network.