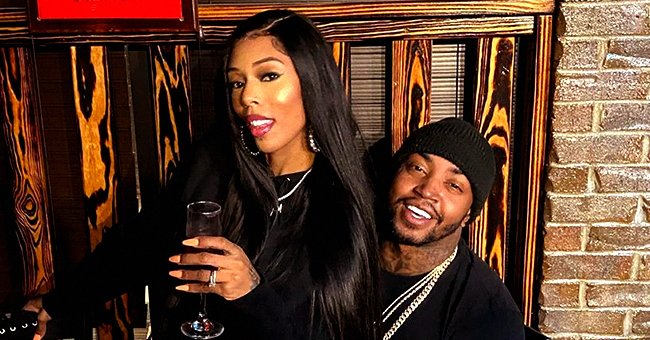 Instagram/adizthebam
Lil Scrappy's Pregnant Wife Adi 'Bambi' Benson Shows off Beautiful Black Wig in a New Video
Lil Scrappy's pregnant wife, Bambi, showed off a new hairstyle as she showed off a long curly black wig she styled with a pair of stylish silver hairpins.
Lil Scrappy's pregnant wife Bambi is looking gorgeous almost a month after announcing that the couple is expecting their second child
The soon to be mother of two is keeping herself busy with a simple hair makeover. Recently, she showed off a 26-inches long wig.
While promoting her brand of luxury hair extensions called "Shimmer Elite Extensions," she showed off a curly black wig. Bambi accessorized her hairstyle with several silver shiny hairpins.
In February, she showed the same hairstyle but styled it with a less casual look when she dressed up in a white blazer with sparkling fishnet pants for a night out.
The hairpins appear to be a favorite accessory of hers, Bambi also wore them during a photoshoot where show showed off her growing belly wearing another curly blonde wig.
She was looking glamorous for the shoot she used the hairpins to compliment the silver accessories that she chose to wear with a silver satin spaghetti strap dress.
According to TMZ, Bambi is in the early stages of her second trimester. A source has revealed that the couple is excited about welcoming their second child together.
Bambi and Lil Scrappy tied the knot in 2017. They have a one-year-old son together named Breland. Lil Scrappy has a teenage daughter Emani from a previous relationship with Erica Dixon.
The couple has not yet revealed the gender of their baby to the public, but have left many fans guessing after Bambi shared a video of her taking part in a DIY painting class. She posted a video on Instagram of her learning how to paint a diamond glass wall.
Fans quickly speculated that she is expecting a girl because the wall she was painting was pink. However, Bambi promptly shut down the rumors when she responded to a fan's comment about her baby's gender.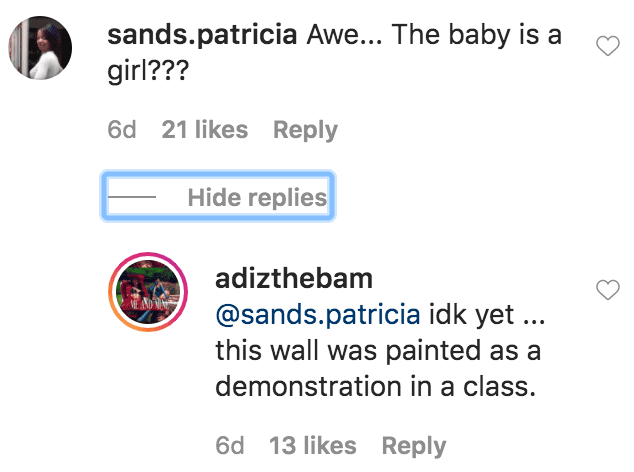 Bambi responded to a fans question about the gender of her baby after she shared a video of herself painting a pink wall | Source: Instagram.com/adizthebam
The arrival of Bambi and Lil Scrappy's second child comes almost two years after Lil Scrappy nearly lost his life in a car accident in June 2018, while they were expecting their first child.
According to Daily Mail, he was rushed to the hospital in a near-fatal crash after falling asleep at the wheel of his car in Miami. Lil Scrappy sustained a broken foot, which he has since recovered from.
Please fill in your e-mail so we can share with you our top stories!