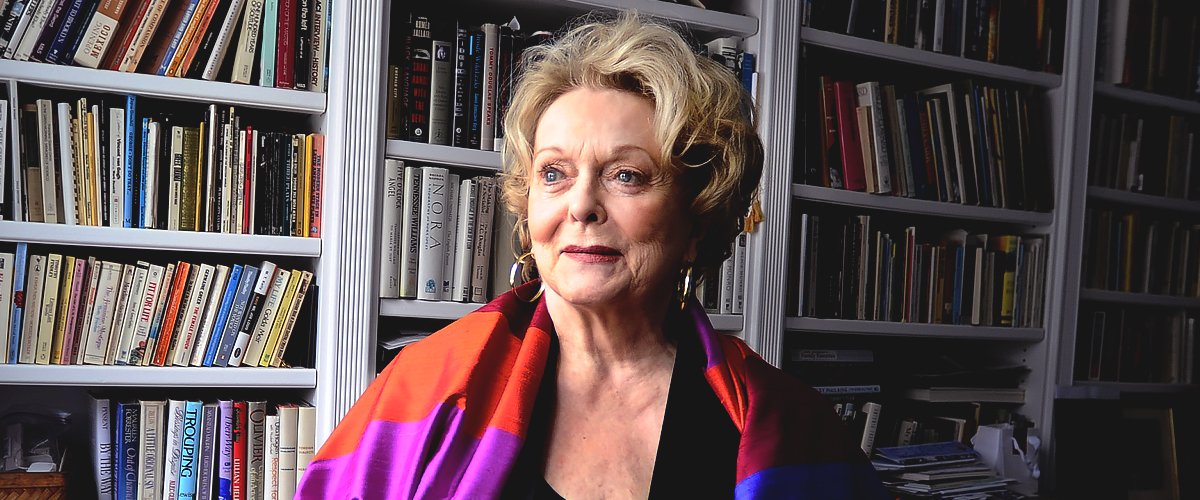 GettyImages
Shirley Douglas Is Survived by 3 Kids, Including Kiefer Sutherland and His Twin Sister Rachel
Canadian actress Shirley Douglas, who passed away this week from complications with pneumonia, was the proud mother of "24" star Kiefer Sutherland, his twin sister Rachel, and her oldest son, Thomas.
Shirley Douglas, who was better known for her work with directors Stanley Kubrick on the film "Lolita," and David Cronenberg on "Dead Ringers," passed away on Sunday.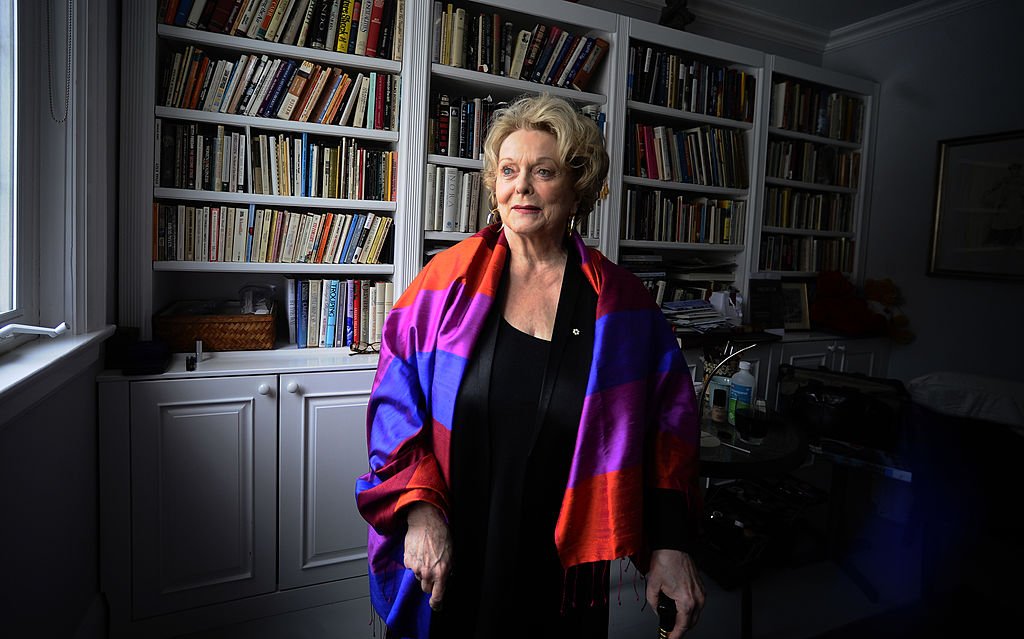 Shirley Douglas photographed in her home in the Beach area on February 15th 2013. | Photo: GettyImages
Kiefer Sutherland announced the sad news of Twitter, revealing that Shirley passed from pneumonia complications—no related to COVID-19—and that she had been battling health issues for a while now.
The actress was 86 years old and is survived by three children, Thomas Emil Sicks, from her first marriage to Timothy Emil Sicks, and twins Kiefer and Rachel, from her second marriage to fellow actor Donald Sutherland.
A FAMILY OF ACTORS
Kiefer Sutherland's father has been in the entertainment industry for over five decades.
Although he's familiar to many people for classics like "Citizen X" and "M*A*S*H," Donald Sutherland is now widely recognized as President Snow of "The Hunger Games" film franchise.
Shirley, on the other hand, was most recognized in her native Canada, especially for her work on theater. She was even named an Officer of the Order of Canada for her contributions to the performing arts.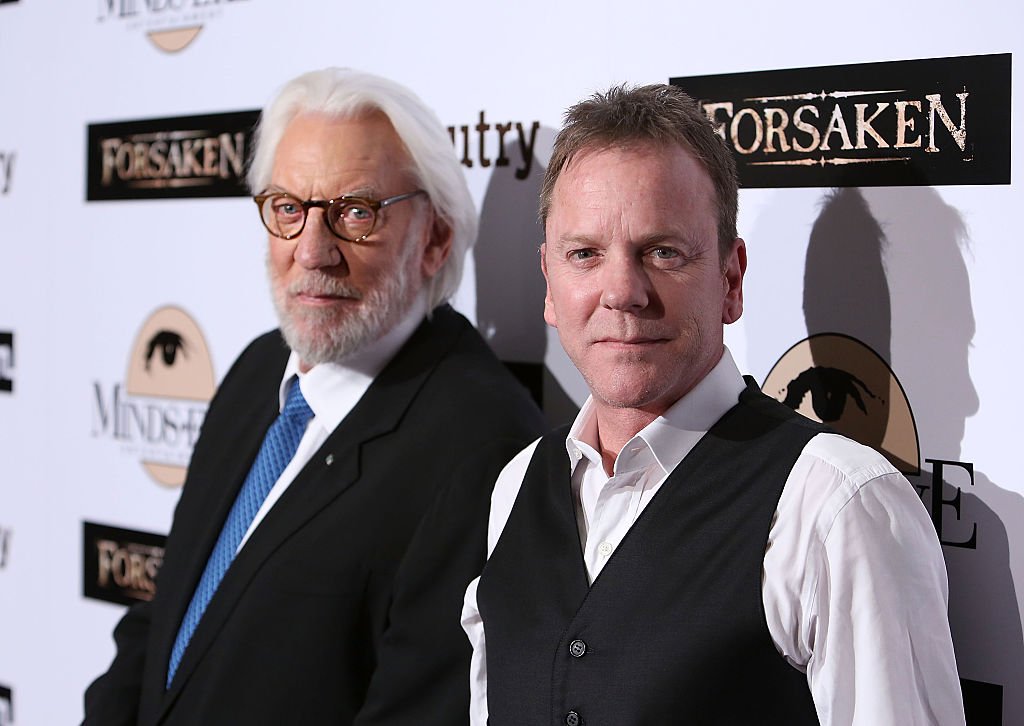 Donald Sutherland and Kiefer Sutherland attend the Momentum Pictures' screening of "Forsaken" at the Autry Museum of the American West on February 16, 2016 in Los Angeles, California. | Photo: GettyImages
Kiefer, following both of his parents' steps, made his acting debut in the 1983 film "Max Dugan Returns," and since then, he hasn't stopped.
The now 53-year-old actor has more than 70 movie credits, has appeared in many TV series, and has provided facial and voice material to some videogames.
Kiefer is perhaps better known for his role as Jack Bauer in the Fox drama series "24," for which he won an Emmy Award and a Golden Globe award, among many other accolades.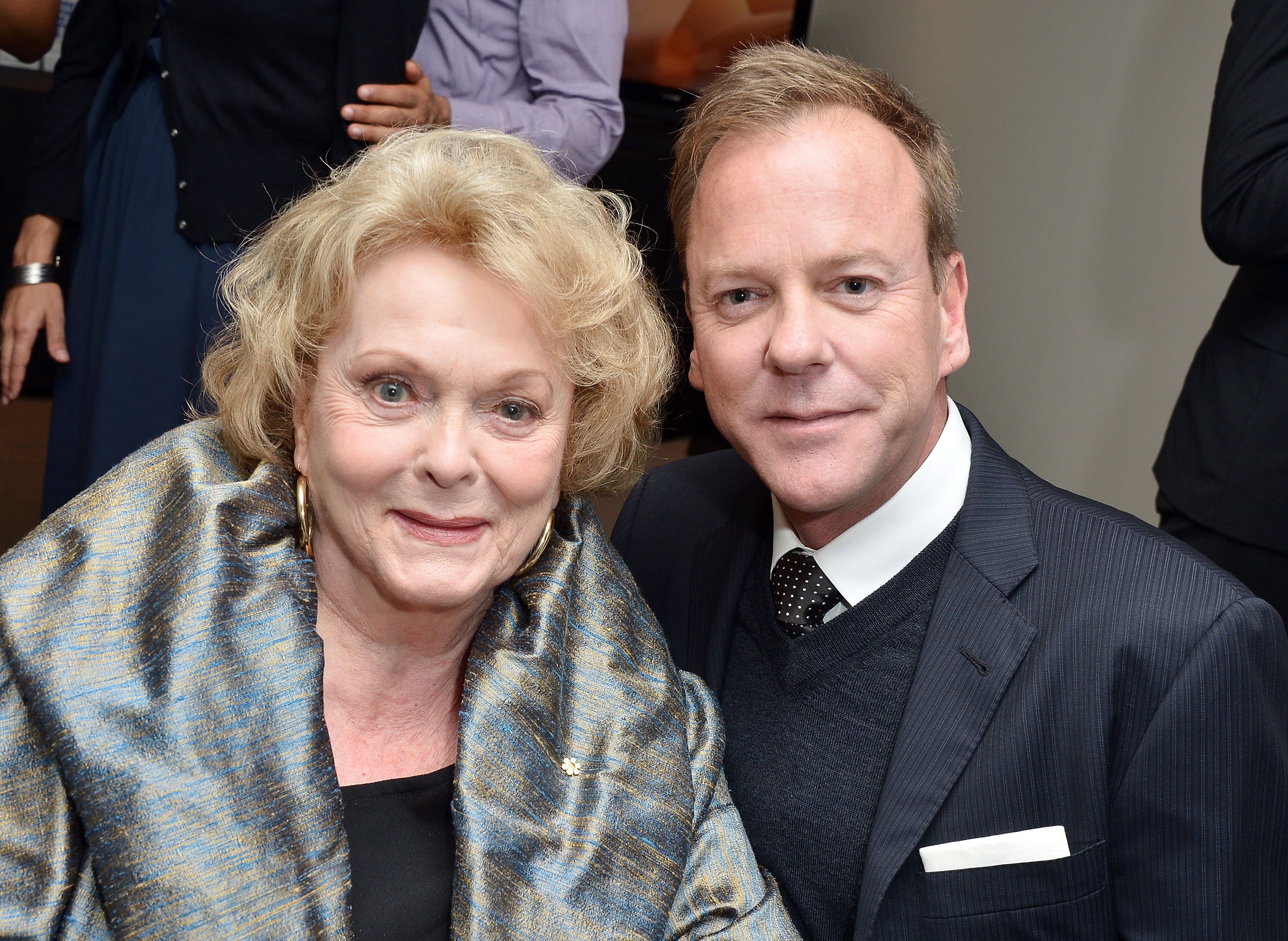 Kiefer Sutherland and Shirley Douglas attend "The Reluctant Fundamentalist" premiere during the 2012 Toronto International Film Festival on September 8, 2012 in Toronto, Canada | Photo: GettyImages
Kieger is also a musician and has released two studio albums. He's also the co-founder of the independent Ironworks.
Although Kiefer's twin sister Rachel is not an actress, she's still part of the family business in the entertainment industry, as she works as a post-production supervisor.
She's known for her work in "Rookie Blue," "Away from Her," "Lost Girl," and her most recent project, "Nurses."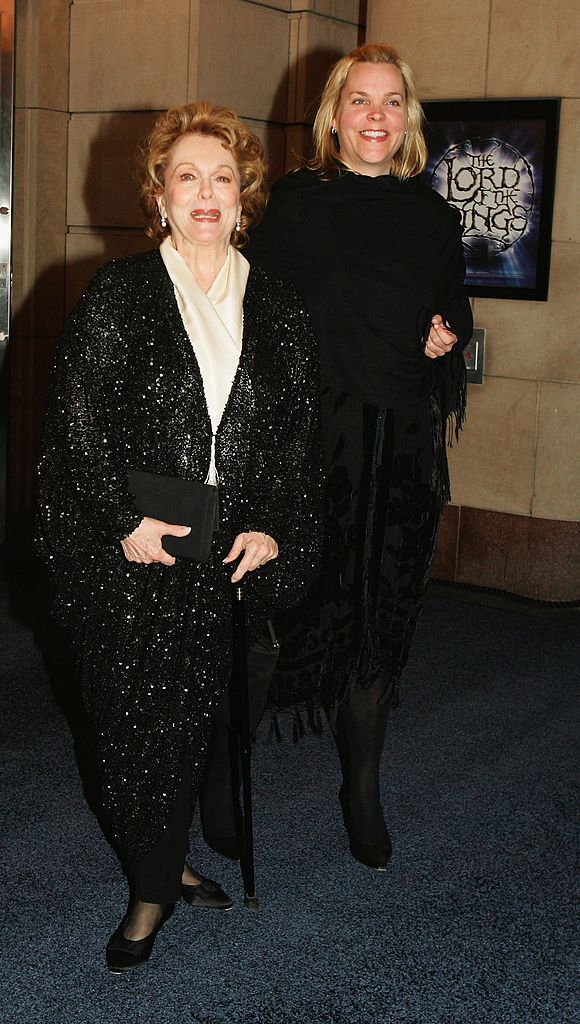 Shirley Douglas and her daughter Rachel Sutherland arrive at the gala premiere 'Lord of the Rings' play on March 24, 2006 in Toronto, Canada | Photo: GettyImages
As for Shirley's oldest son Thomas Emil, there is no available information about his life or what he does professionally. But it's safe to assume that he's not acting.
A TWIN BOND
Talking to The Guardian in 2018, Kiefer revealed that he and Rachel "are incredibly close," and that being a twin taught him how important it is to have a companion.
"Every time I experienced something, I could turn to my left and share it," Kiefer continued. He took the chance to share a story from the time his wife was having his first child. He remembers telling his mother:
"'My gosh, you had two at the same time.' She said, 'Oh, sweetheart, it was fine. By the time you were two you were looking after each other.'"
Kiefer says his mother made having twins sound like a deal, which always made him and his sister laugh.
KIEFER'S PERSONAL LIFE
Kiefer has been married twice. His first wife was Camelia Kath, whom he married in 1987 and divorced in 1990. They welcomed a daughter, Sarah Sutherland, on February 18, 1988.
After co-starring with Julia Roberts in the 1990 film "Flatliners," they started dating and eventually announced their engagement in June 1991.
However, the relationship came to an abrupt end only three days before the wedding, when Roberts accused Kiefer of cheating with a go-go dancer named Amanda Rice. Kiefer denied being unfaithful.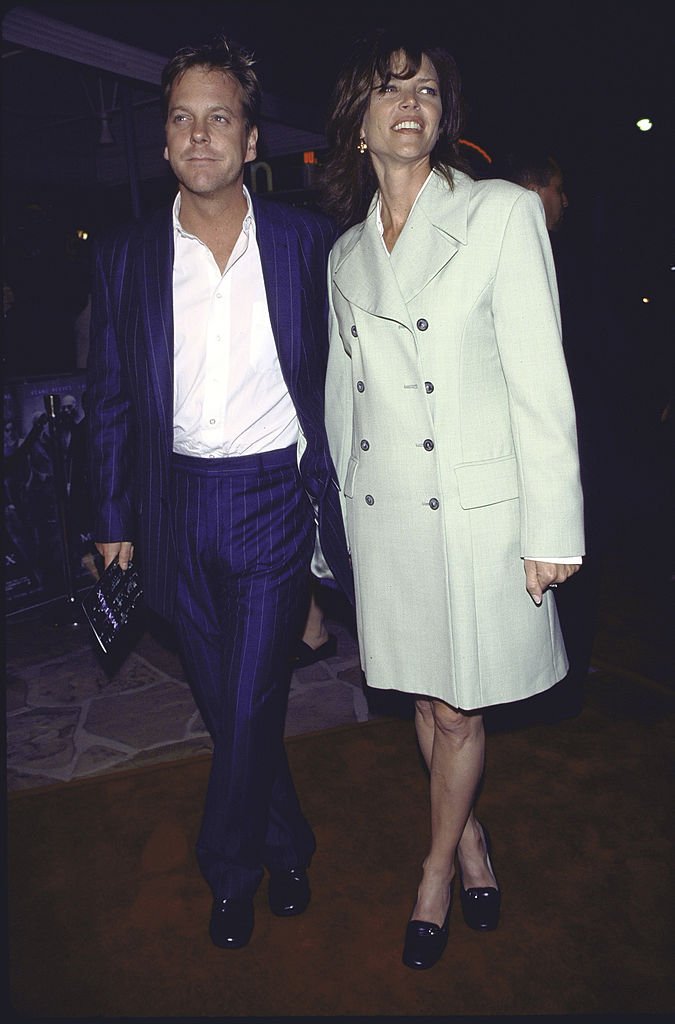 Kiefer Sutherland and wife Kelly Winn at film premiere of The Matrix, March 24, 1999 | Photo: GettyImages
Kiefer married Kelly Winn in 1996, but they separated three years later. However, it took the couple five more years to finally file the divorce, which was finalized four more years later, in 2008.
The handsome actor is currently engaged to model and actress Cindy Vela, whom he's been dating since 2014, although they made the relationship public in2017.
THE THIRD GENERATION
Sarah Sutherland is following her grandparents' and father's steps in the entertainment industry, and she's better known for her role as Catherine Meyer, the daughter of Vice President Selina Meyer in HBO's "Veep."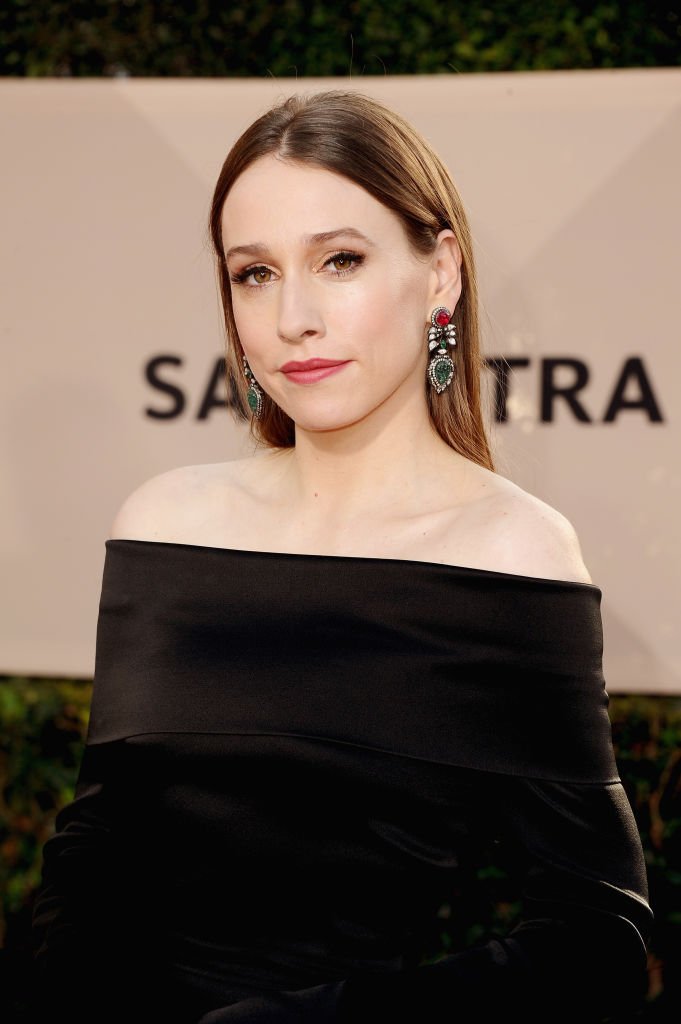 Sarah Sutherland attends the 24th Annual Screen Actors Guild Awards at The Shrine Auditorium on January 21, 2018 in Los Angeles, California | Photo: GettyImages
The 32-year-old trained at the Crossroads Drama Conservatory in Los Angeles, and later enrolled at New York University's Tisch School of the Arts.
Although some people might think Sarah took the easy road by using her last name and her family's influence in the industry to get somewhere, she has made it clear for her family that she wants to move forward on her own terms.
"She'll probably kill me for talking about it. She's so focused on doing this her own way," Kiefer said of his daughter, and revealed:
"I've actually offered her two jobs which she's turned down, respectfully, because she really wants to do this her own way."
Kiefer couldn't be prouder of his daughter, whom he refers to as a "wonderful actress" and a "wonderful writer."
Please fill in your e-mail so we can share with you our top stories!