Snoop Dogg's 1-Year-Old Granddaughter Eleven Plays with Dad Corde Broadus near Plastic Ball Pool
Snoop Dogg's son Corde Broadus recently shared a post on his Instagram Story showing his adorable daughter, Eleven enjoying some fun time with him while playing near a plastic ball pool. 
Snoop Dogg's granddaughter Eleven is having so much fun with her father, Corde Broadus, amid the coronavirus pandemic and is dragging him to join in with her fun games too. 
In a recent post made by Corde on his Instagram story, he shared clips showing moments he shared with his daughter while she played close to a plastic ball pool.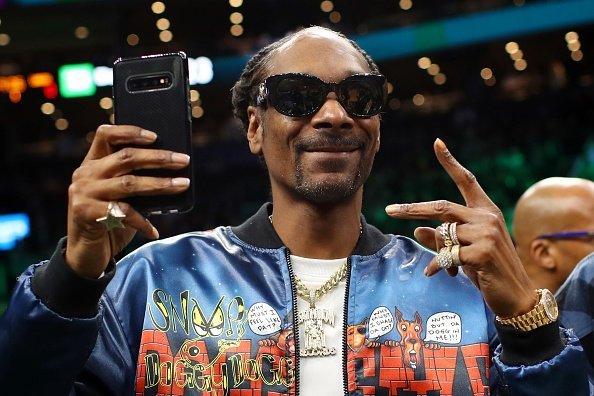 The little tot looked in the video clip, rocking a blue t-shirt with pink colors dotted on some parts. Eleven seemed to be enjoying herself, looked over to her dad at intervals as if urging him to join her. In the caption to the post, Corde did his best to represent the thoughts of his daughter towards him while they played, writing: 
"Daddy plays rough with me [emoji] @kaiiiloves." 
Snoop Dogg is a proud grandfather and celebrates the birth of his grandkids each time. The rapper also enjoys spending time with them whenever he can, and posts about their moments together. 
Snoop Dogg became a grandfather for the first time at the age of 43, and in the year 2015, when Corde, who is his oldest son, welcomed his first child and son, Zion Kalvin. 
Snoop Dogg is married to Shante Broadus, who has been his wife for 21 years and has been with him since their days in High School.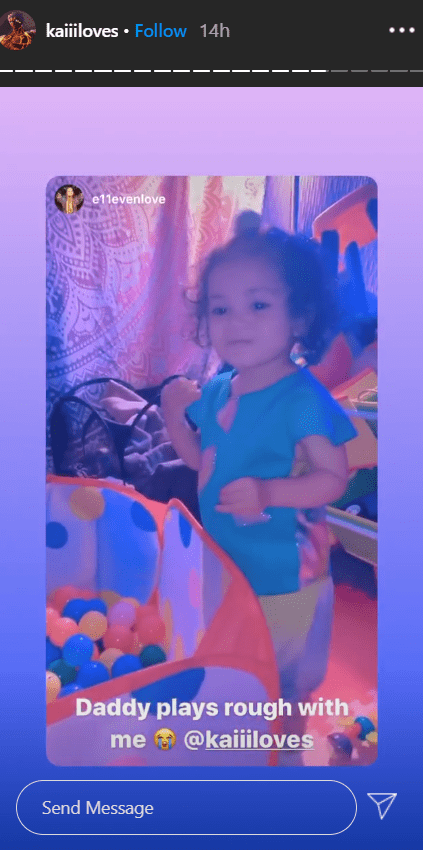 Corde's ex-girlfriend, Jessica Kyzer, birthed Zion. Corde announced the birth of his son on Instagram, sharing a picture of himself cuddling the baby, while Snoop Dogg shared a video of Corde holding Baby Zion and smiling. In the caption to the video, the proud grandfather celebrated the birth of his first grandchild, as well as his son, Corde, writing: 
"Proud grandad. My son spank n grandson Zion!! [emojis] Jah bless."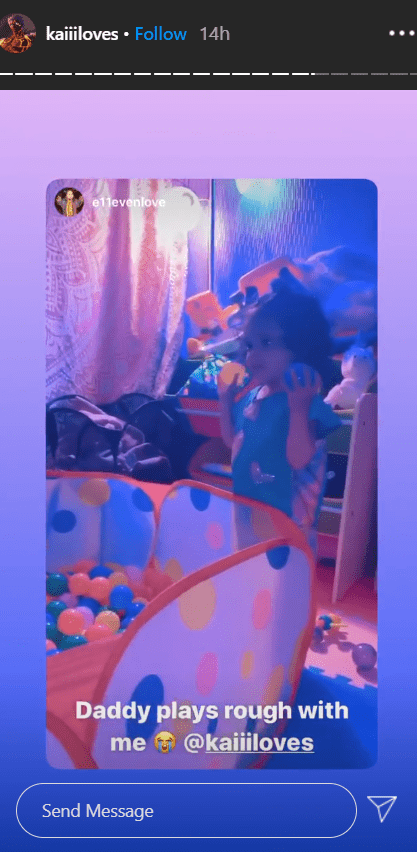 When Eleven was born in 2018, Snoop Dogg also celebrated her birth by posting a video of the cute baby sleeping while he praised her as a beautiful baby and gave kudos to her parents for a job well done. 
In the caption to the post, Snoop Dogg wrote, "My 1st granddaughter lovely day [emoji] be blessed y'all." With his grandkids now growing so fast, Snoop Dogg wouldn't be prouder. 
Snoop Dogg is married to Shante Broadus, his wife of 21 years and the couple has been together since their days in High School. That fact may sound surprising, given that the rapper is perceived to be all about the party lifestyle. 
He is, however, a family man, who has remained with Shante for all these years, though they have also faced numerous challenges, including divorce proceedings back in 2004. The couple was able to overcome that setback and renewed their marital vows in 2008.