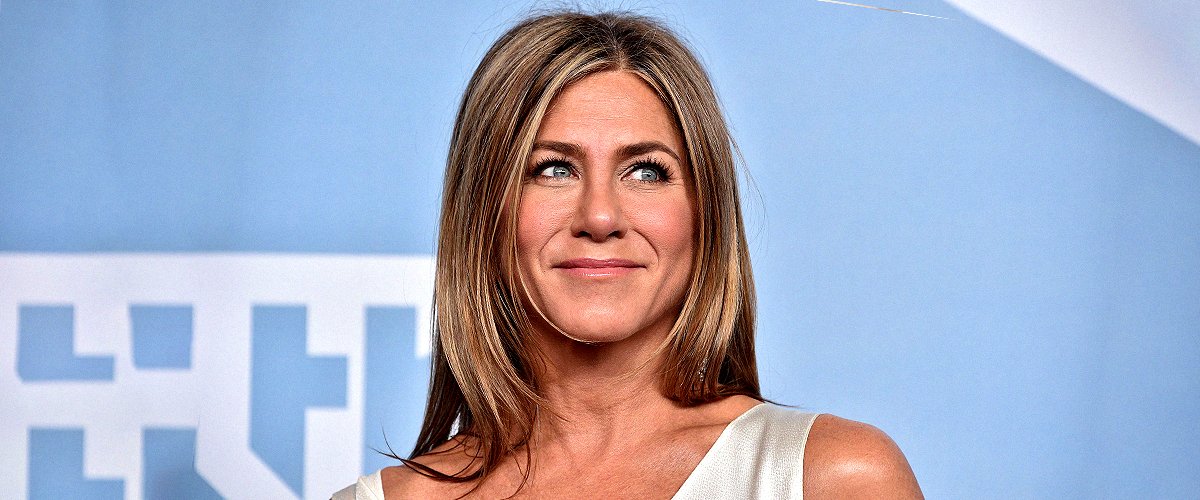 Getty Images
Jennifer Aniston's Relationship with Dad John Aniston Who Left in Her Childhood
Jennifer Aniston has been one of the most famous actresses in the industry for decades. Before her, though, the star of the family was her father, John Aniston.
John was born in Crete, Greece, in July 1933. When he was only two years old, his parents moved to Chester, Pennsylvania.
"I just remember sitting there, crying, not understanding that [John] was gone."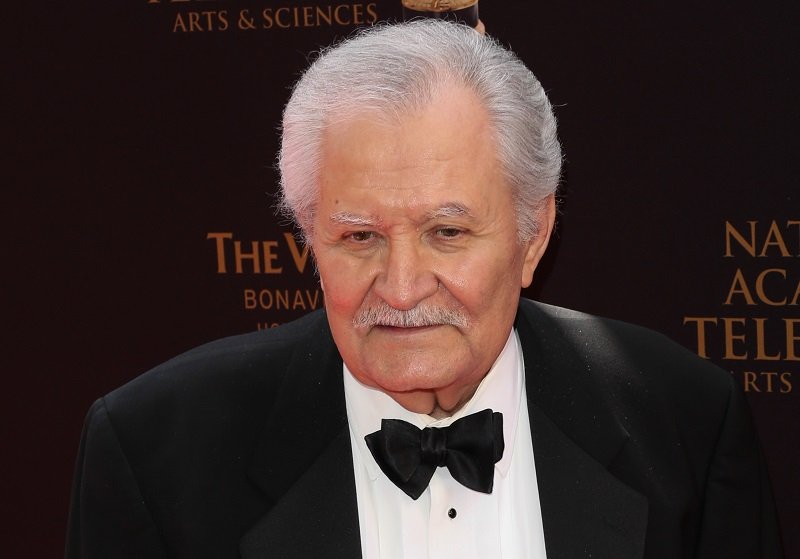 John Aniston on May 1, 2016 in Los Angeles, California | Photo: Getty Images
JOHN ANISTON'S CAREER
Years went by, and Jennifer's famous dad got a bachelor's degree in Theater Arts from Penn State and served in the US Navy.
His career in the entertainment business started in the early 60s when he took small roles in "87th Precinct," "Combat!," and "Accidental Family." In 1969, John landed the part of Eric Richards in "Days of Our Lives."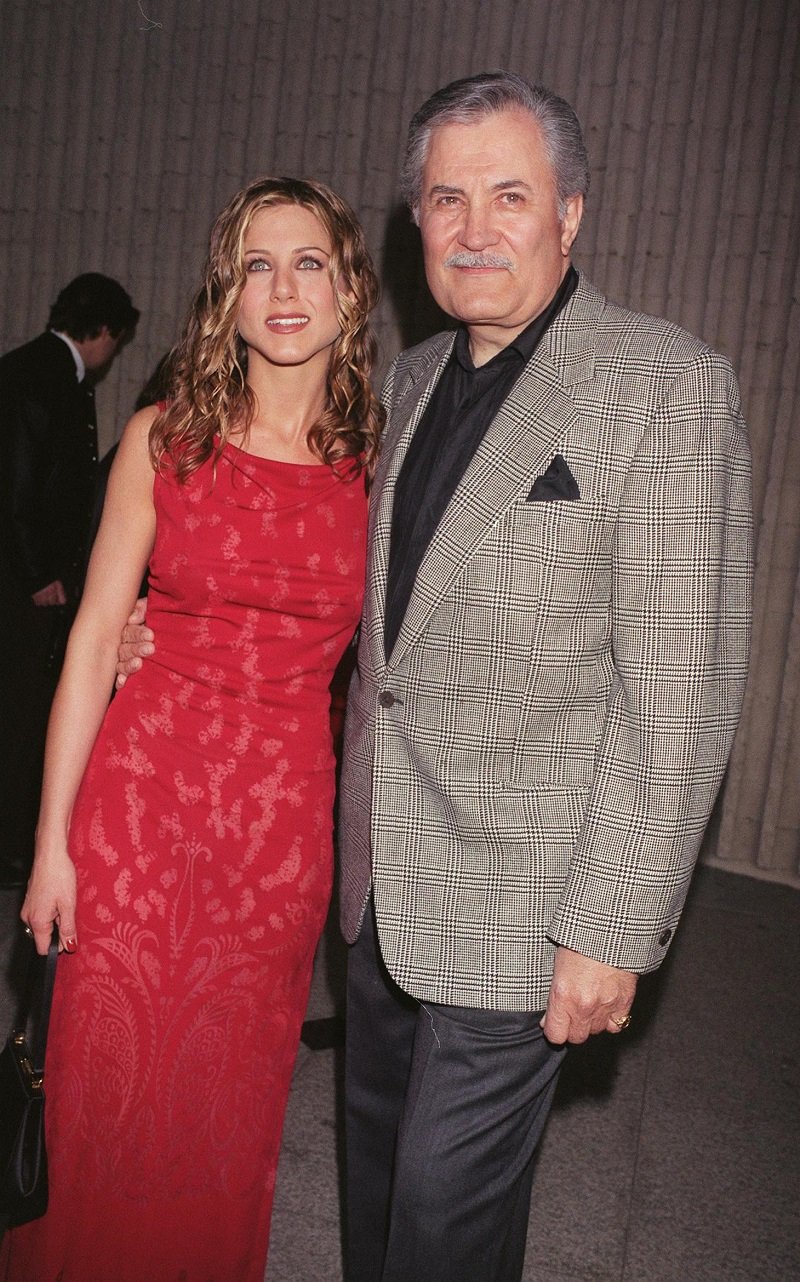 Jennifer Aniston and John Aniston on April 9, 1998 in Westwood, California | Photo: Getty Images
Even though he left after only one year, he returned to the soap opera in 1985 to portray Victor Kiriakis. From that point on, his career skyrocketed.
Not only he continues to play that character even now, but he was also nominated to the Daytime Emmy Award for Outstanding Supporting Actor in a Drama Series in 2017.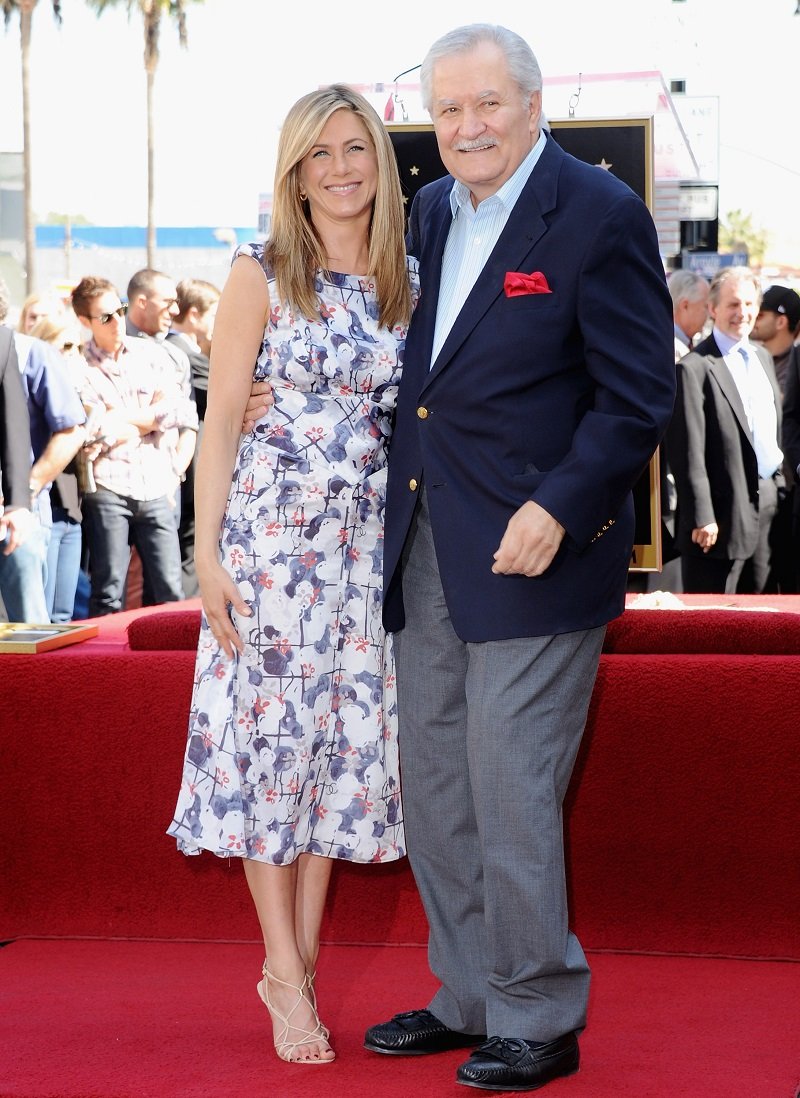 Jennifer Aniston and John Aniston on February 22, 2012 in Hollywood, California | Photo: Getty Images
HIS WIVES AND KIDS
As per John's romantic life, he has been married twice. His first wife was late actress Nancy Dow. They were together between 1965 and 1980 and welcomed Jennifer in February 1969.
In 1984, the legendary actor married Sherry Rooney, and they have been inseparable ever since. Their only child, Alex Aniston, was born in 1989. Unlike his famous father and sister, Alex is not involved in the entertainment industry.
Back in 1999, Jennifer opened up about her past in an interview with Rolling Stone. In it, she explained how she felt after learning that her parents were getting divorced when she was only nine years old:
"I don't know if I blocked it, but I just remember sitting there, crying, not understanding that [John] was gone."
JENNIFER AND JOHN'S RELATIONSHIP AFTER HE LEFT
She explained that it was her father who left Nancy for another woman and that she didn't hear from him for about a year after her mom broke the news of their separation.
John eventually reconnected with his daughter, and they started seeing each other on weekends. For a long time, she did everything she could to please him so that he wouldn't leave again.
Jennifer then asked him why he left, and after he explained his reasons "as best as he could" and apologized, they made amends, and, nowadays, they have a healthy father-and-daughter relationship.
In December 2019, she uploaded a then-and-now slideshow on her Instagram account that proved that their bond is intact. In the first photo, a much younger Jennifer appeared hugging John, who was rocking an abundant, dark mustache.
JOHN DIDN'T WANT HER TO BE AN ACTRESS
For the second pic, Jennifer was posing in a beautiful, black dress while side hugging her father. His mustache is still there, only that it is grey nowadays. In the caption, Jennifer wrote:
"Christmas with one of my creators. Then and now #TBT. Love you, papa."
In a different interview with Hollywood Reporter, the actress revealed that her dad didn't want her to become an actress. Instead, he would urge her to go to med or law school.
According to the "Friends" actress, John never meant to be discouraging. He just knew how difficult the entertainment industry could be, and he didn't want his daughter to be heartbroken. Fortunately for many of us, Jennifer didn't listen to her father and became the famous actress she is today.
NANCY WAS EMOTIONALLY DRAINING
Jennifer and Nancy's relationship was not as good as the "Dumplin'" actress would have liked, though. Talking to Elle, she confessed that Nancy became an emotionally draining figure after she and John parted ways. Jennifer explained:
"She was from this world of, 'Honey, take better care of yourself,' or 'Honey, put your face on,' or all of those odd sound bites that I can remember from my childhood."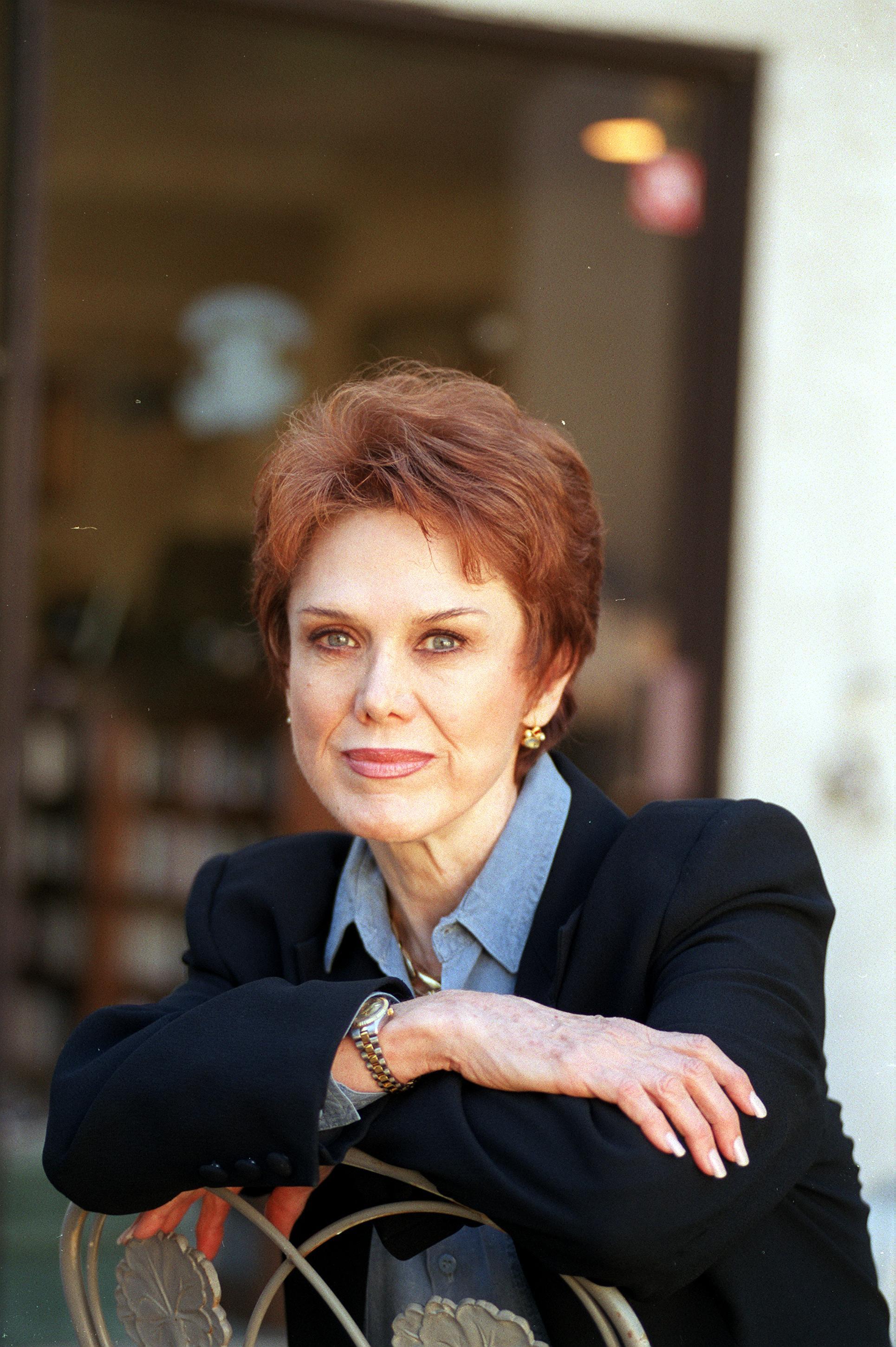 Nancy Dow on December 17, 1999 in the San Fernando Valley of California | Photo: Getty Images
They drifted apart, but Jennifer eventually learned that her mom was just trying her best and that she did all that because it was the way she was raised. Nancy passed away on May 25, 2016, at age 79.
John Aniston, on the other hand, is about to turn 87 and is still active in the entertainment industry, playing Victor Kiriakis in "Days of Our Lives."
Please fill in your e-mail so we can share with you our top stories!