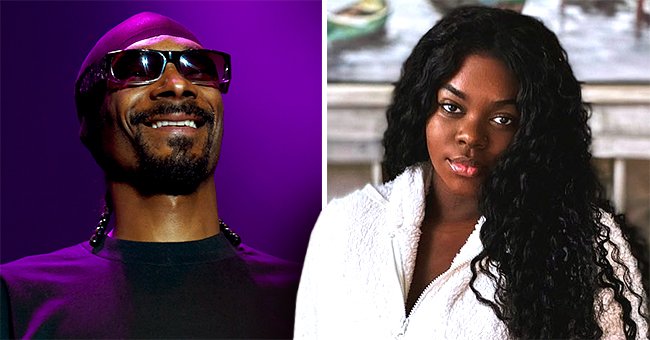 Instagram/princessbroadus//Wikimedia Commons/gcardinal from Norway/CC BY 2.0
Snoop Dogg's Daughter Princess Ditches Wig Posing in White Top & Camo Yoga Pants in a Photo
Snoop Dogg's daughter, Cori Broadus, ditched her wig and showed off her short natural hair as she posed in an outfit for Fashion Nova Curve.
Cori Broadus had gained a lot of confidence over the years and has been using her social media platforms to promote her body-positive message.
The 20-year-old is the daughter of the rapper, Snoop Dogg. She has partnered with Fashion Nova to promote their plus-size collection called Fashion Nova Curve.
Cori Broadus showed off her natural hair as she posed in an outfit for Fashion Nova Curve |Source: Instagram.com/princessbroadus
In an Instagram post, Cori showed off her natural hair while dressed in a white tank top and grey camouflage yoga pants from the famous brand.
She accessorized her look with small gold earrings and a gold necklace with the words "Baby Girl" written in bold.
"Baby Girl" is a nickname Snoop Dogg often calls his youngest and only daughter. According to Teen Vogue, the two shared a hilarious moment when he called Cori by her nickname during her high school graduation.
In 2017, Snoop Dogg and his family were taking pictures with friends and family at the ceremony when he called her "Baby Girl," and to his shock, she gave a typical teenage reaction by rolling her eyes in response.
Cori has also taken a liking to another name, which has been part of her journey to self-acceptance and celebrating her beauty.
The up and coming musician recently tattooed on the side of her eyebrow the French word "Belle," which means beautiful.
It is reported, Cori's face tattoo has not been received well by some of her fans. They have criticized her for the bold move. However, many of her fans have come to her defense.
Cori has embarked on a career in music, so there is no doubt her unique tattoo placement won't hinder her aspirations as she goes by the stage name, "CHOC."
Cori had gone through tremendous growth to be able to celebrate her body so confidently. As a teenager, she battled an illness until she was diagnosed with lupus.
The disease caused her to struggle with her weight, and she also experienced hair loss. With her lupus under control, she has used her social media posts to celebrate her short hair and flaunt her curvy figure proudly.
Please fill in your e-mail so we can share with you our top stories!