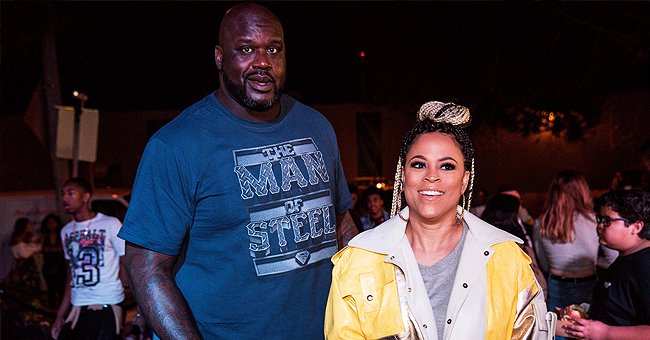 Getty Images
Shaquille O'Neal & Ex-wife Shaunie Celebrate Son Shaqir's 17th Birthday
Shaquille O'Neal and his ex-wife Shaunie O'Neal lead their children is sharing birthday tributes in honor of their son, Shaqir O'Neal's 17th birthday.
Shaqir O'Neal just turned 17-years-old and the birthday messages have been pouring in from all of his family members.
Shaquille O'Neal shared a rare throwback picture of himself sweetly holding Shaqir in his arms. In his caption, he said, "happy birthday to my twin."
Many of Shaq's fans joined him in sending birthday wishes to his son. Considering how tall all his children are, some fans wondered how old Shaqir was in the photo.
"That boy was probably six months in that picture," a fan joked. Sharing another hilarious photo, in which she called him "Goofy" in her caption, big sister, Amirah O'Neal, also posted a birthday tribute.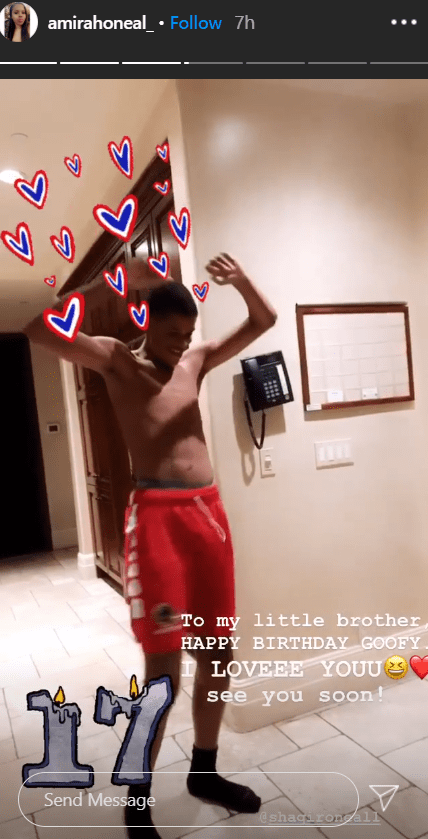 Shaqir O'Neal celebrated with his hands up in a birthday tribute for his 17th birthday from his sister, Amirah O'Neal | Source: Instagram.com/amirahoneal
Shaq and
Shaunie O'Neal
had two children, Amirah and Shareef, before they tied the knot in 2002. A year after their wedding, they welcomed Shaqir, and in 2006 Me'arah was born.
It is reported, in 2007, Shaq filed for divorce, and attempted to reconcile, but eventually split in 2010. However, their family has kept a close bond; for Shaqir's birthday, Amirah shared a photo of them together.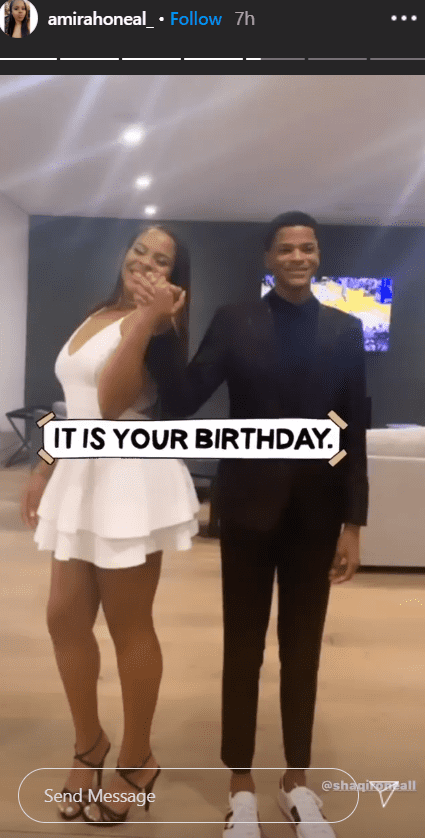 Shaqir O'Neal hold hands with from his sister, Amirah O'Neal in a birthday tribute for his 17th birthday | Source: Instagram.com/amirahoneal
In the photo, they both appear dressed for a formal event. Amirah was wearing a short white dress with black strappy heels, and Shaqir is in a burgundy suit.
Shaqir also honored his special day with a post he captioned, "Big 17 ❤" and posted photos from his childhood along with a recent picture of him on the basketball court for his high school team.
Family matriarch, Shaunie, shared a heartfelt message, in which she sweetly called him her baby boy. The proud mother of five gushed:
"Time is seriously going by too fast but for the record, you're still not grown. I love you so much. You are by far my favorite youngest son."
There was no mention if Shaqir was going to be treated to one of Shaq's infamous quarantine dance parties that he has been hosting for his sons in recent weeks.
Although, Shareef shared a few videos on his Instagram story of Shaqir and their friends having an intimate pool party.
Please fill in your e-mail so we can share with you our top stories!