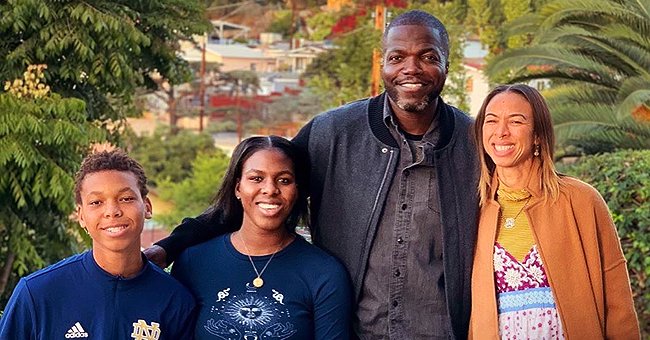 Instagram/thecyclingpigeon
Reno Wilson of 'Good Girls' Is a Proud Father of 2 Lookalike Kids

"Transformers" star, Reno Wilson, has settled down with his wife, Coco Fausone, and they have a son and a daughter who share a striking resemblance.
Reno Wilson took to Instagram to share a sweet photo of himself with his family on a plane. He captioned:
"Wheels up w the fam!! ?? @thecyclingpigeon @renz15wilson @denitrue100 @matthew.hardy23 is getting married!!!"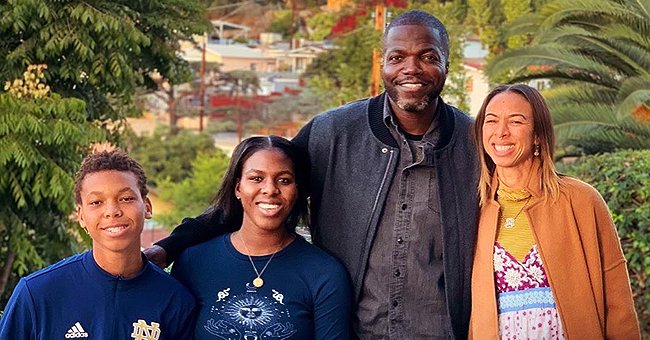 Reno Wilson, his wife, Coco Fausone and children posing for a photo | Photo:Instagram / thecyclingpigeon
Reno and Coco sat side-by-side while their lookalike kids sat across the aisle from them. The happy family gave the camera big bright smiles as they prepared to take off for Matthew Hardy's wedding.
On their way back to Los Angeles the next day, Reno took to Instagram once again to share a video of his kids waiting at the airport. His son, Renzo, did a neat trick by throwing a snack in the air and trapping it in his mouth flawlessly.
At the beginning of the year 2020, Reno gave his fans and followers a warm start into the year with a lovely photo of his family. The actor never hesitates to show them off.
Reno made his Hollywood debut on the iconic NBC sitcom, "The Cosby Show." He had a recurring role in the series, portraying "Howard" in the fifth and six seasons. Many decades after his debut, his career has remained very much alive.
In 2010, Wilson was cast on the CBS comedy show, "Mike & Molly" alongside multi-award winning actress, Melissa McCarthy, and Billy Gardel.
Luckily for Wilson, he was already good friends with both of them. Explaining his excitement after he read the script, he said:
"...Melissa and I stopped and said, 'Holy crap!' I picked up the phone and called Billy. I said, 'Dude, this is our show. This is it.'"
The pair auditioned for the show and, fortunately, were hired. Reno's character on the series, "Carl McMillan," shot him further into starlight. The series aired for the last time, in May 2016.
After "Mike & Molly" ended, the New York native moved on to some more movies, "Transformers: The Last Knight," "Bolden," and "Grand-Daddy Day Care."
In 2018, he moved on to his next show, "Good Girls," portraying the character, "Stan Hill," alongside Christina Hendricks and Mae Whitman. "Good Girls" became another hit, and his career continued to flourish.
The actor has done very well for himself in terms of his acting career, and he has also built a beautiful family.
Please fill in your e-mail so we can share with you our top stories!