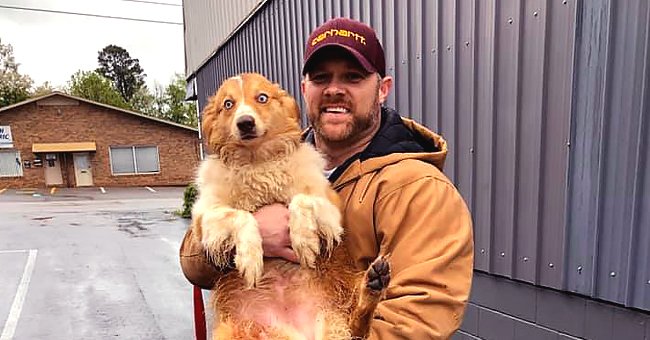 facebook.com/Eric Johnson
Tennessee Family Find Missing Dog 54 Days after Tornado Wrecked Their House

A family has been reunited with their dog 54 days after their house was wrecked by a tornado that ripped through Middle Tennessee in March.
Eric Johnson took to Facebook recently to share the great news. "So something amazing happened today," he wrote. "After 54 days missing from the tornado that leveled our home on March 3rd we have been reunited with our dog Bella."
In his post, Eric admitted that he had begun to lose hope of finding their dog. He and his wife, Faith Johnson, would pray every day that God was protecting Bella out there until he carried her home to them.
VERY GRATEFUL
"Well today those prayers came true, at around 6 pm this evening we were able to catch Bella over off of willow in the save-A-Lot area in between a little alley way," Eric shared, "there's a few pictures of where she was at in the photos."
Eric expressed gratitude toward everybody who helped them find Bella. He concluded his post, writing, "What an amazing (God) we serve."
In March, the National Weather Service office in Nashville said the twister that struck Putnam County was an EF-4 tornado. It winds up to 175 mph, as reported by Fox News.
A VIOLENT TORNADO
The twister killed 18 individuals and harmed 88 in the area. The tornadoes and severe weather were blamed for 24 passings in the district overall.
Since April 2009, the Putnam County twister was the first violent tornado in the Middle Tennessee area, according to Forecasters.
One month after the tornado, the couple said that they're not allowing dread direct their lives.
GIVES HOPE
Meanwhile, Eric and Faith intended to rebuild on the exact same spot where their home was cleared out, as reported by News Channel 5.
One month after the tornado, the couple said that they're not allowing dread direct their lives. Eric noted that it provides them hope, particularly with what's happening at this moment.
Bella was sent to Cumberland Pet Essentials for care. The couple's church friend, Sarah Romeyn, also took to social media to thank the local police department.
In her post, she said that the police never captured her for "skulking around dark parking lots in the middle of the night," searching for Bella.
News Channel 5 reported that survivors keep on recuperating from their injuries as they process what occurred.
Please fill in your e-mail so we can share with you our top stories!