Snoop Dogg Shares Throwback Photo with His Only Daughter Princess Broadus
Famous rapper, Snoop Dogg, is a proud father as he takes to social media to share a throwback picture with his cute daughter, Cori Broadus.
Snoop Dogg is one of the biggest names in the music industry, having sold over 23 million albums in the United States and 35 million albums worldwide.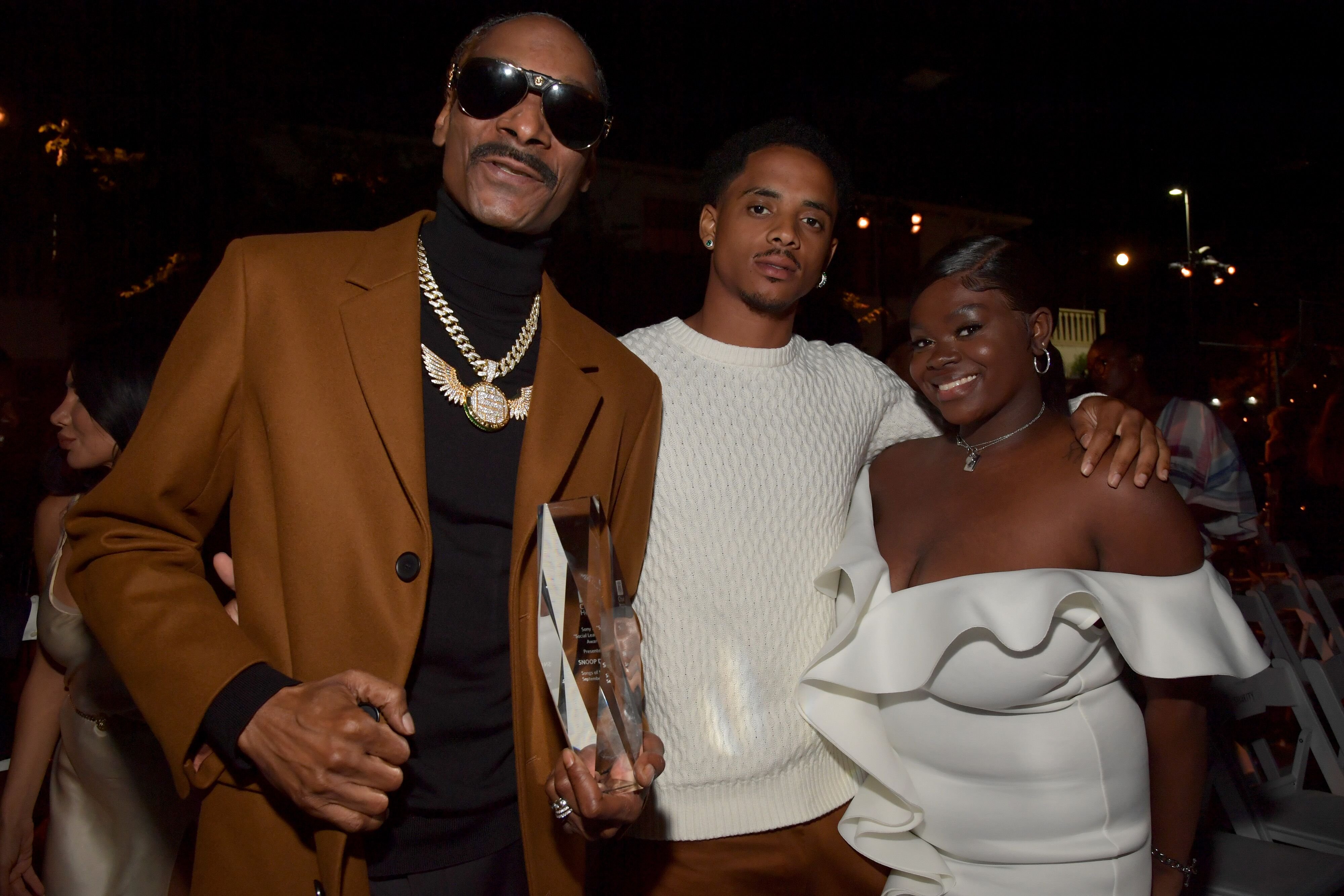 He is also a proud family man with three sons and a daughter. The "Gin & Juice" singer recently took to his Instagram page to share an old photo of himself with his daughter, Cori Broadus. 
The photo featured the famous rapper and his daughter seated side by side in a public gathering. Snoop appeared to be looking directly at the camera while Princess had her attention on something else. 
She wore her hair in a straight short bob and was dressed gorgeously in a white off-shoulder gown, which she complemented with matching accessories. 
"Baby girl," Snoop wrote in the caption while tagging her Instagram page and adding the year the shot was taken—2013. 
Since 2013, a lot has changed—Cori graduated from Ramon C. Cortines School of Visual and Performing Arts and is now following in her dad's footsteps. 
Cori dropped a video for her single "Sittin in My Room," and it is nothing if not adorable. The song was dedicated to her cousin, Brandy, and Seige Monstracity, and Terrace Martin produced it. 
Aside from being a full-time rapper, actor, and doting father, Snoop will also be adding wine master to his list of titles. The 48-year-old's wine, Snoop Cali Red, is scheduled to hit stores this summer.
Having aged in American oak, the wine gives off hints of smoke, vanilla, and chocolate notes.
The red wine is reportedly the end product of a partnership between Snoop Dogg and the winery 19 Crimes, and contrary to popular opinion, it won't be containing any weed. The iconic rapper had this to say concerning his product:
"I've been a fan of this wine, and I'm excited to unveil my "Snoop Cali Red" this summer and share the experience with all my fans." 
According to Forbes, the wine is the first California bottling from the wine brand 19 Crimes—a winery that gets its name from its Australian roots. 
It is a red blend that is a Lodi-sourced mic of 65% Petit Syrah, 30% Zinfandel, and 5% Merlot. Having aged in American oak, the wine gives off hints of smoke, vanilla, and chocolate notes.
It remains unclear if the ongoing viral pandemic hinders the wine's supply and sale.