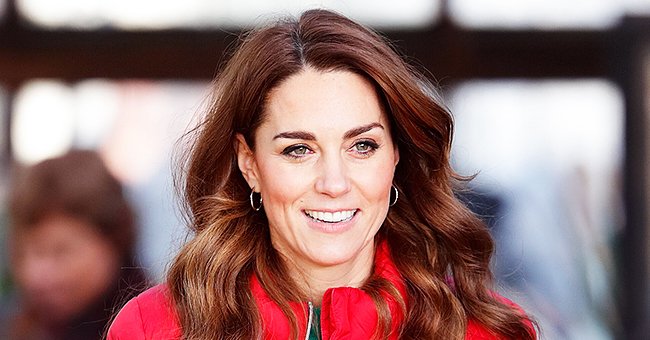 Getty Images
Kate Middleton Talks About George and Charlotte's Quarantine Life in a Rare Interview

Kate Middleton may be the Duchess of Cambridge, but her homeschooling experience is quite relatable. The royal opened up in a candid interview this week.
On Thursday, Kate Middleton did a rare casual interview with Holly Willoughby and Phillip Schofield on "This Morning." The Duchess glowed as bright as ever, but she's facing challenges these days.
As the world deals with the coronavirus, Middleton, her husband Prince William, and their kids Princess Charlotte, five, Prince George, six, and Prince Louis, two, remain in self-quarantine.
KATE TALKS HOMESCHOOLING
During the interview, Willoughby asked the Duchess about homeschooling during the outbreak, something she acknowledged was a challenge. The host has three kids, just like the royal.
She noted how it's especially tough to manage the kids who are all at different ages and so, have varying topics to cover. Middleton quickly agreed, saying, "It's so true."
WHY GEORGE IS JEALOUS
She continued: "And actually George gets very upsets because he just wants to do all of Charlotte's projects, like making sort of spider sandwiches is far cooler than doing literacy work."
Both hosts got a good laugh at that. It was also funny when Middleton revealed that she continued to homeschool the kids throughout the Easter holidays — they didn't know, of course.
Kate Middleton visits the Royal National Lifeboat Institution (RNLI) Mumbles Lifeboat station on February 4, 2020, in Swansea, Wales. | Source: Getty Images.
LOUIS' COLORFUL BIRTHDAY
The Duchess further talked about how the family celebrated Prince Louis' second birthday in April. The young tot got photos taken, and royals fans loved the adorable, colorful results.
Little Louis ended up with paint all over his cute face. Middleton shared the pictures just ahead of her son's birthday. In them, the happy child grinned from ear to ear, wearing a blue shirt.
KATE ALSO GOT MESSY
Somehow, the clothes managed to stay clean despite the Prince's fully painted hands. In the post, Middleton did two "Instagram vs. Reality," with the second slide showing Louis' face also covered in paint.
For her part, Middleton admitted that she ended up just as messy-looking as her son did. As usual, the Duchess was the one behind the camera, putting her photography skills to use even during isolation.
NEW PHOTOGRAPHY COMPETITION
Middleton further announced that she'd be launching a photography competition in collaboration with one of her patronages, the National Portrait Gallery.
The project, titled Hold Still, calls for UK citizens to submit photos taking during the lockdown. According to Hello, it's intended "to capture the spirit, the mood, the hopes, the fears and feelings of the nation."
Please fill in your e-mail so we can share with you our top stories!