Angela Simmons' Son Sutton Steals Hearts with His Funny 'Fruit Snack Challenge' Video
'Growing Up Hip Hop' star Angela Simmons shared a hilarious video of her son Sutton Tennyson perfectly nailing the fruit snack challenge on Instagram.
The fruit snack challenge is the latest parenting challenge on social media, which tests a child's obedience. "Growing Up Hip Hop" star Angela Simmons tried it out on her son, Sutton Tennyson, with hilarious results. In her caption, she admitted:
"Now you know I had to test my son ? I am crying on the floor!!! He is something else. What on earth #fruitsnackchallenge."
Angela placed a bowl of the fruit snacks in front of Sutton and instructed him not to eat any until she returned.
After agreeing to wait before he could eat his snack, Sutton waited patiently for a few seconds, then the happily waved at the camera and noted, "don't eat because mommy is going to be out soon."
The three-year-old looked like a natural in front of the camera. Before Angela returned to congratulate him for his patience, he attempted to engage in conversation and said, "well, I'm in here in New Jersey." 
Many fans gushed over his hilarious exchange with the camera and how he nearly divulged their address.
Angela's sister law and co-star, Tanice Simmons also found his commentary hilarious, she commented, "so Cute! Good kid, SJ! He was ready to tell all the business."
One fan praised Sutton, saying, "this kid is way too advanced for this. He said imma say hey to call and give y'all some content." Another fan admitted that this was her favorite video of Sutton.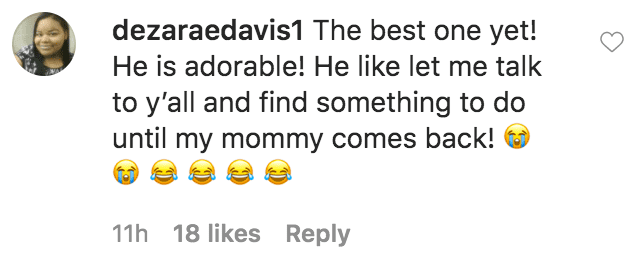 Angela has been raising her son has a 
single mother
 since her ex-fiancé, Sutton Tennyson Sr. was 
murdered
 in November 2018. 
During an episode of "Growing Up Hip Hop," she revealed that her son asked about his father, and even though he is usually a happy child, the questions he had about death left him feeling a little emotional that day.
While focusing on her love life, despite rumors of a love triangle with her and her co-stars Bow Wow and Rome Miller on the show, Angela is not in a relationship.
According to Page Six, she told them that she is interested in dating, but she doesn't want anyone who is going to bring drama into her life. She also said that her son has to approve of anyone she is dating first.